MLB: New York Yankees Captain Derek Jeter Is a Renaissance Man
April 22, 2012

What metaphysical or mythical figure whipped the baseball time clock back a decade on Derek Jeter?
To say the famed New York Yankees captain is performing more like a 27-year-old than a 37-year-old this spring is an understatement.
It is like Jeter has hit a second wind in his storied career, shunning critics with his usual class and a smile.
As a baseball fan, it is fun to watch this ballplayer perform so well at his age. While most ballplayers his age walk through the door toward retirement, Jeter, who will turn 38 this June, brushes by the other direction saying "let's play two!"
To Yankee fans, Jeter has become a legend, the Chuck Norris of baseball, as seen during yesterday's wild affair between the Yankees and Boston Red Sox at beautiful Fenway Park.
Jeter, already 2-for-3 with two walks, hit a routine "here's one right atcha" ground ball to Red Sox shortstop Mike Aviles. Aviles scooped the ball up, took a moment, and just when he was about to throw the baseball for an easy out—he fell right smack onto his bottom.
It looked as if some unexplained force tossed Aviles on his behind to enable Jeter to reach base safely. Even Aviles looked surprised, all the while wiping battered infield dirt from his Boston whites.
This episode was a head-scratcher to say the least.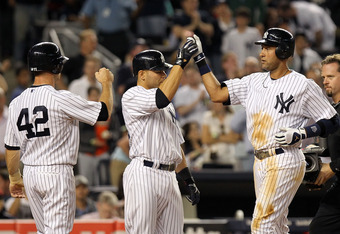 Nick Laham/Getty Images
But what is not surprising is that the play included Jeter, who has been part of several great moments the past two decades.
With that said, copy that it is still early in the season, but let's have a moment of statistical fun this fine Sunday morning.
Through 15 games, Jeter—still the team's leadoff hitter—is hitting an astounding .382 (26 hits in 68 at-bats) with an OPS of 1.029. Not usually a power hitter, Jeter has four home runs and 12 RBI. His slugging percentage is .618.
Right now Jeter is on pace for 281 hits, 43 home runs, 43 doubles and 130 RBI this season. These sound like gaudy numbers one could only conjure up for a comic book hero. Like Jeter meets Albert Pujols (now there's a scary thought).
Now, if this were a second- or third-year player, fans could easily argue "yeah, pitchers will adjust and the grind of summer will eventually wear on the guy."
But Jeter's a seasoned veteran who has seen pretty much everything a pitcher can toss toward one man in one scorching summer and cold drizzly autumn. Jeter's seen everything from Tim Wakefield's jumpin' and jivin' knuckleball to Randy Johnson's seething-with-vengeance fastball.
Understand Jeter's numbers will slow down a bit. But barring a major injury, Jeter has a great chance to win a batting title at the age of 38. This would put Jeter in the same breath with Ted Williams, who won the batting title in 1958 at the tender age of 39.
Call Jeter the Yankees captain, call him Chuck Norris, call him what you will love him or leave him. But at the end of the day, this first-ballot Hall of Fame ballplayer will go down as the most memorable player the game of baseball has ever seen.
As a lifetime Detroit Tigers fan, who has often cursed at the television during Yankees vs. Tigers playoff games, I cannot hide the fact that watching Jeter climb the big-league ranks and reach superstardom has been a blessing to say the least.
James Morisette is the founder and president of the Basebook Baseball Social Network (the ultimate funhouse for baseball fans worldwide). James can be reached at http://www.basebook.socialgo.com.