Baltimore Orioles: 2012 Team Showing Signs of Being Different from Past Seasons
April 29, 2012

Mitchell Layton/Getty Images
Perhaps it is the beautiful Sunday morning sunshine poking through the window of my home here in Maryland. Maybe it is the intoxicating waft of eggs and pancakes sizzling in the kitchen. Perhaps it is the exhilaration I still feel from watching Bryce Harper and Mike Trout make their big league appearances yesterday. Who knows?  
But on this blessed morning, I am going to make a bold statement. I am going to creep out on a limb, hoping I do not shatter my limbs in the process.
The Baltimore Orioles are not going to be father to a hundred-loss season.
There it is. I said it.
Wow. THAT feels great!
It feels great because I could have not disagreed more with early-season pundits—even some in Charm City—who marked the Orioles down for a season darker than The Raven.
But snatch a red marker and pin a calendar to your walls, for the Orioles are just 50 wins away from not hitting the century mark in the loss column.
Sad statement, though one cannot blame Orioles fans for feeling this way. After all, these faithful citizens have endured two decades of futility, aggravated by a repeated invasion of droves of New York Yankees and Boston Red Sox fans into Baltimore's empty ballpark.
With that said, something about this 2012 Orioles seems different, at least so far.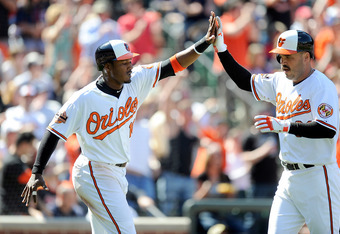 Greg Fiume/Getty Images
This year's version seems more efficient, more resilient and more importantly, more willing to punch back when confronted.
As things stand, the Orioles are 13-8, which is good for a first place tie with the Tampa Bay Rays in the American League East.
Last year at this time, the Orioles were 9-12 and already inhabiting in the division cellar. Baltimoreans had already begun talking about the town's beloved football team.
Watching this team so far this year, I can't help but think the O's are going to be better than expected.
Offensively, the Orioles are in the middle of the big league pack at this point. But things could get really interesting once Nick Markakis and Mark Reynolds get going.
Meantime, Nolan Reimold, who has potential to revolutionize the leadoff position, is off to the best start of his big league career. He is currently hitting .339 with five home runs, 10 RBI and an 1.039 OPS.
Adam Jones looks to be on the verge of that breakout season Orioles fans have been looking for the past two years. He is hitting .333 with 28 hits, six home runs and 12 RBI. And his defense has been superb.
Chris Davis, who struggled early on, has also come around. He has raised his batting average to .313 and his power numbers (4 HR, 11 RBI) are beginning to match expectations.
Pitching-wise, the Orioles have been equally impressive. Tommy Hunter has given the Orioles some much-needed veteran stability, and Taiwanese left-hander Wei-Yin Chen has been a very nice surprise thus far. While Jake Arrieta and Brian Matusz are still churning toward success, veteran Jason Hammel has been pitching like an All-Star (3-0, 1.73 ERA, 18 K, 5 walks, 1.00 WHIP).
Out the pen, Luis Ayala, Jim Johnson, Matt Lindstom and Darren O'Day have combined to give up just one earned run in 37 innings. Pedro Strop has stepped in the vacuum left by Kevin Gregg to potentially emerge as the Orioles' closer of the future.
While by no means am I ready to anoint the Orioles the cream of the crop in the American League East, it is really nice to see this team buck expectations. It is also great to see this team play with a chip on its shoulder. This has been missing for a long time now. Last, as a baseball fan, it is nice to see Orioles fans beginning be inspired to arrive in greater numbers at 333 West Camden Street.
For the beautiful brick and mortar ballpark that is Camden Yards has been lonely for way too long.
Time to eat breakfast!