NFL 2012: Can Tim Tebow and Mark Sanchez Coexist on the Jets?
May 15, 2012

Mike Stobe/Getty Images
The culture of football in New York changed on March 22, 2012 when Mike Tannenbaum and the Jets front office decided to make a trade for Tim Tebow.
Mark Sanchez was their golden boy, the player that they had selected fifth overall in the 2009 NFL Draft, and who was supposed to guide the team for the next decade. After two trips to the AFC Championship in three years, many expected Sanchez to continue to be the face of the franchise.
However, many, including myself, also believed that the Jets were winning in spite of Sanchez and not because of him. Clearly the Jets management agreed with that sentiment by going out and making a trade for the popular Tim Tebow.
The Jets now have one of the most interesting dynamics that the NFL has ever seen with Sanchez, a former top pick who is still developing, and Tebow, who is perhaps the most popular player in the NFL, but does not appear to have the skill set to develop into an elite NFL quarterback. Fans and media members alike have been asking lately whether or not the two can coexist.
Simply put, the two cannot succeed together and the Jets' decision to develop both quarterbacks will set back the organization.
There are certain roles that an NFL quarterback has to take on to succeed. A quarterback has to be a leader; it's rare that a team succeeds without having a team leader at the quarterback position.
Tim Tebow is a leader, but Mark Sanchez is not.
There are certain skills than an NFL quarterback has to have to succeed. A quarterback has to be a great thrower of the football. Mark Sanchez has a good arm, solid mechanics and has flashes of accuracy. Tim Tebow has an average arm, terrible mechanics and is not accurate.
Teams that succeed always have a sense of consistency. Neither Tim Tebow nor Mark Sanchez have shown the ability to produce on a consistent basis.
An under appreciated facet of this dynamic is that Mark Sanchez is right handed, Tim Tebow is left handed. In the Jets' two quarterback system, when Mark Sanchez is in, the left tackle is the blind side protector; when Tim Tebow is in, the right tackle becomes the blind side protector.
The rapport between quarterbacks and receivers is extremely important and cannot be understated. Quarterbacks like Tom Brady, Aaron Rodgers, and Drew Brees always seem to be in sync with their receivers and have perfected timing routes.
Now receivers in New York will be switching between quarterbacks and will not have that rapport. In addition, the right handed Sanchez will throw balls that spin clockwise while Tebow's throws will spin counter-clockwise, which is an adjustment the receivers have to make.
As the old adage goes, "If you have two quarterbacks, you have no quarterback." That cannot be any more true, and it will be exemplified in New York this season.
marginheight="0">
Fun with numbers:
If you combine the Total QBR of Mark Sanchez (33.6) and Tim Tebow (27.2) it equals 60.8 which would have ranked 14th in the league last year.

If you combine the pass EPA (expected points added on pass plays) for Sanchez (34) and Tebow (17.1) it equals 51.1 which would have ranked 17th in the league. Just below Rex Grossman.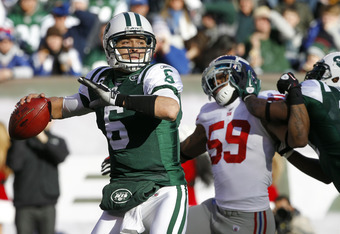 Rich Schultz/Getty Images

If you combine the Total EPA (total expected points added) for Sanchez (1.6) and Tebow (-10.4)  it equals  -8.8. which would be good enough for 30th in the league behind Kevin Kolb, Matt Cassell, and Tarvaris Jackson.

If you added the total EPA for Sanchez (1.6) and Tebow (-10.4) and then squared it, (-8.8)(-8.8) it equals 77.4 which still is only about half of Drew Brees' EPA of 135.4.

In their combined careers, Tim Tebow and Mark Sanchez have combined to throw for 72 TD and 60 INT. The ratio of 72/60 (1.2-1) would have ranked 25th in the NFL last year.

Drew Brees and Tom Brady each threw for more yards in 16 games last year than Tim Tebow and Mark Sanchez threw for in 30 games combined.