Boxing Needs More Marquee Matchups
April 21, 2012

Ethan Miller/Getty Images

Talk to any sports fans under the age of 30. Any of them wearing a baseball cap backwards or an Affliction T-shirt, and ask what they'll watch this weekend.
Just an idea of what they'll go out their way to see Saturday night and there is a likelihood, possibly a good chance they'll tell you they'll find a way to see UFC 145 and the premier matchup between Jon Jones and Rashad Evans.
There's a strong chance they won't tell you they'll be going out of their way to see Jose Gonzalez battle Daniel Attah. Or Abner Mares and Eric Morel. Or will have any idea about the who-are-they, who-cares poorly matched fight between Adonis Stevenson and Noe Gonzalez Alcoba.
It's why MMA continues to blossom and boxing is drying out.
Non-competitive fights are a strain that's been running viral through boxing at the worst time, as the sport continues to eat its young. Look at last weekend's pay-per-view fight headlined by Juan Manuel Marquez and some guy named Serhiy Fedchenko.
Marquez filled the Mexico City arena against a guy who only lost two fights, but his previous bout came against a fighter who had just nine fights.
If fight fans want to continue watching pink slime disguised as competitive fights, they'll continue to be tread on.
While UFC chief Dana White gets it, pitting popular, elite fighters against each other, old-school promoters, like Bob Arum, says his version of bacon grease was a premier event that you, the fight fan, should have watched.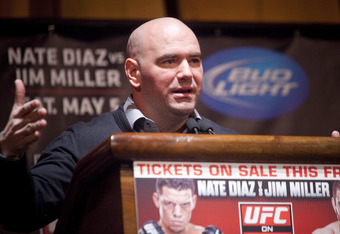 Michael Nagle/Getty Images
Ahhhh, no.
How about this, something simple and easy: Don't buy it.
Marquez and Fedchenko should have been an ESPN fight. Something a fight fan should pay for with his monthly cable bill, not the added sum, whatever it was (because I refused to pay for it, nor was interested in it), for a woeful fight between an untested Fedchenko and the fading Marquez.
Before you sigh, it gets worse, much worse. How about these former fight stars (now retreads) being trotted out and, you, the fight fans, is being asked to accept their returns: Former middleweight champion Jermain Taylor beat Caleb Truax Friday night, but not before Truax blew on Taylor's chin and knocked him down again; and former lightweight world champion Acelino "Popo" Freitas is coming back after a five-year hiatus to take on Michael Oliveira in June as a junior middleweight.
Who cares?
The dearth of quality matchups and promoter's inability today to find super matchups is a reason why boxing fans are rapidly dwindling. Most boxing fans are over the age of 50, but that generation got Muhammad Ali, Joe Frazier, George Foreman, Carlos Monzon, Ken Norton, and a host of other stars in the 1970s and '80s.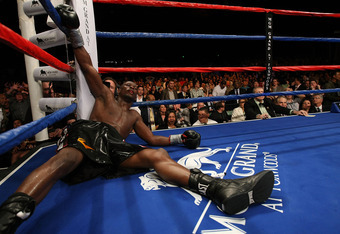 Nick Laham/Getty Images
Today's generation possesses stars that could have competed in any era, like future all-time greats Floyd Mayweather and Manny Pacquiao. But it's a thin lot, and fight fans need to choose what they'll pay for.
A Brandon Rios-Yuriorkis Gamboa fight is PPV-worthy.
Though it would have been nice to see Rios take on Gamboa last weekend, what we got instead was Rios fighting Richard Abril. Give credit to Abril for his first-rate performance in a fight many thought he won against the woefully shabby Rios.
Still, Rios' total disdain for the fight couldn't have been more emphatic than coming in two pounds overweight. That translated into his shoddy, dubious showing against Abril.
If Rios didn't care, why would anyone reach into their pockets and pay for it?