FC Barcelona: 5 Reasons the Odds Are Looking Good for Them to Win the CL Title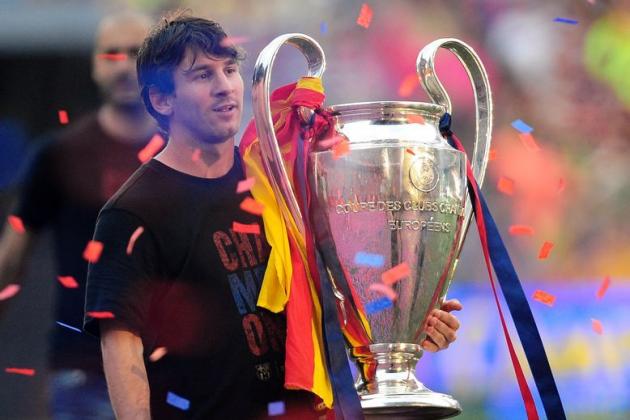 No stopping us now!
Things are looking good for FC Barcelona right about now.
Barcelona are looking for a third UEFA Champions League title in four years and their fourth in seven years.
What a dynasty if it happens!
Barcelona will head to London and take on Chelsea on April 18th with the second leg at the Camp Nou on April 24th. El blaugrana will look to be in the Champions League Final on Saturday, May 19th in the Allianz Arena in Munich to take on the winner of Real Madrid or Bayern Munich.
While the rest of the football media focuses on referees, conspiracy theories, and other ridiculous excuses (people acting like this team isn't talented and good; ridiculous), I decided to look and see why the odds of el blaugrana bringing in the European title for the fifth time in the club's 112-year history are looking very good.
It's looking very tough for any of the remaining teams to take the crown away from Lionel Messi and Barcelona.
For those who dislike Barcelona, insert some "UEFAlona," referee, Jose Mourinho-esque quote or joke here. Glad to help you out.
Here are five reasons why the odds are looking good for FC Barcelona to win the UEFA Champions League title.
Begin Slideshow

»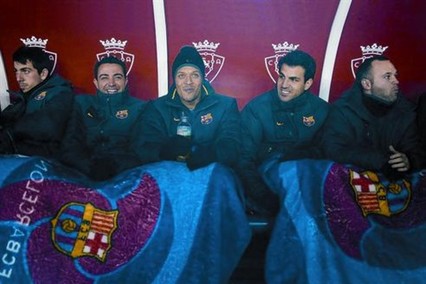 Players resting
Barcelona has three Liga games before their first meeting with Chelsea—Real Zaragoza, Getafe and Levante. With a roster of good young talent like Thiago, Issac Cuenca, Cristian Tello and Martin Montoya, resting older players like Carles Puyol and Xavi will be key to get them ready for Champions League action against Chelsea on April 18.
Players who have been struggling to fully recover from injuries like Gerard Pique, Xavi, Adriano and Cesc Fabregas will be able to rest as well.
The easier Liga schedule will benefit the Barça players who are usually non-starters get more experience as well. Look for Issac Cuenca, Marc Muniesa, Thiago, Sergi Roberto, Jonathan Dos Santos and Martin Montoya to get plenty of playing time in La Liga.
While key players will get rest, they won't be completely taken out of action. Look for Pep to have a nice rotation of resting players while making sure those same players get enough playing action in Liga to keep them in rhythm.
The April 22nd Clásico will be the lone exception of regular starting XI players resting.
After the second leg of the semifinals (April 24), Barcelona can continue resting players for the Champions League final as the final four Liga games are against relatively weaker opponents.
FYI: Leo Messi and Victor Valdes will not be out of the lineup for any games.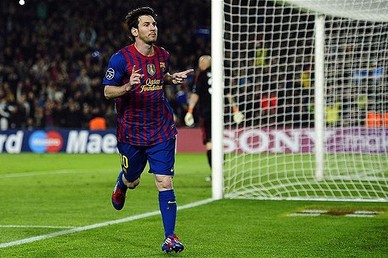 Messi on fire!
Barcelona is finally playing their best football in months. The club has won eight in a row in La Liga since their 3-2 loss to Osasuna on February 11th. In the Champions League, the 0-0 tie to Milan has been their only struggle this year.
Enough cannot be said on how Lionel Messi has led the blaugrana resurgence. Since February 11, he has scored 14 goals in La Liga and eight goals in Champions League play.
Messi is taking on all defenders—as usual—and this leaves his teammates open for opportunities. One thing that must be said is that we still haven't seen the best of Alexis Sanchez yet.
Plenty of goals will be needed by Sanchez, Cristian Tello and/or Pedro as the Barça defense continues to be the weak point of this team.
Messi and Barcelona getting hot this time of year is bad news for Chelsea and whoever they face in the final.
Who can stop Messi right now? It certainly looks like no one can.
Sorry Roberto.
For me, playing on the road in the first leg is a major advantage.
If you are the road team in the first leg and you lose or end in a scoreless tie, you always have the second leg at home to rely on where you unfortunately have immense pressure on you because you must win.
This is what happened to Barcelona against Milan.
But if the road team in the first leg ties (1-1 or more) or wins in the first leg, you have the away goal(s) advantage PLUS you have a home game coming up.
Advantage: FC Barcelona. I doubt that Chelsea can emulate AC Milan and shut out Barcelona in the first leg.
Chelsea is a good squad and has made a great run in this tournament. They will give Barcelona a tough time in the first leg. But I honestly don't see Roberto Di Matteo's team being able to hold on against Barcelona for too long. I like Di Matteo (keep him, Roman) and his squad, but ball possession will be won by Barcelona and will subdue the Chelsea attack.
Besides, if Chelsea plays like they did in the second leg of the quarterfinals against Benfica—not being able to cash in on excellent opportunities to score—it's going to be very tough to get a win let alone a tie at Stamford Bridge.
In Champions League play this season, Barcelona has only given up four goals at the Camp Nou. Getting goals will be tough for The Blues in the second leg.
Let's be realistic; Chelsea is the weakest of the four teams left. I'll take the better, more talented team to win.
And no, please don't compare both teams to the 2008-09 Chelsea and Barcelona teams. These are (obviously) two different teams.
Here's the stat to remember: Since Pep Guardiola took over the team in the 2008-09 season, Barça have gone through in 93 percent of ties over two legs in all competitions. The seven percent is the 2009-10 Copa Del Rey matchup against Sevilla and the famous semifinal defeat to Inter Milan in 2010.
Ninety seven percent. Wow! Sorry, but this Chelsea team is no 2009-10 Inter Milan.
With the talent this FC Barcelona team has and the club's record in two leg competitions, the odds are figuratively and literally against Chelsea.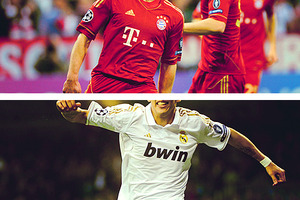 Bayern v. Real
Real Madrid and Bayern Munich will expose each other's weaknesses when they collide in the semifinals. This will help Barcelona more with planning to face Bayern in the final more than if Barça play Real in the final.
Bayern Munich have not faced as strong a team as Real since Bayern took on Manchester City in the group stages of the Champions League. Bayern lost to City 2-0 at Manchester. Real Madrid is a much stronger team than Man City and will give Bayern their biggest challenge in this competition.
Can Bayern's defense contain Cristiano Ronaldo, Karim Benzema and Mesut Ozil's attack?
It's going to be very tough. Barcelona will keep an eye on how Real are able to expose Bayern. To be fair, Bayern will attack Real strong with Arjen Robben, Franck Ribery and Mario Gomez. Bayern can rack up goals just like Real can.
If Bayern Munich move on to the final, Pep Guardiola will look at the tape and see what Real did right and how his team can expose Bayern's weaknesses. Much attention will also go to what the Germans do right as well and how Barcelona can counter that.
Remember, if Real Madrid goes to the final, Barcelona will not need much help from watching Bayern since Real Madrid and Barcelona are so familiar with each other and will face off in El Clásico later this month.
But if Bayern expose a glaring weakness in Madrid's game, Pep will notice and will make note of it.
Hey, Bayern will do the same thing when they see the Barça/Chelsea games, so it's all fair game.
Bayern Munich vs. Real Madrid is clearly the better of the two semifinals and will be great to see these giants battle it out. It will be a dogfight, especially when the semis go to the Santiago Bernabeu on April 25th.
Pep = Real's Daddy!
If Real Madrid gets past Bayern Munich, we will see El Clásico in the UEFA Champions League Final.
But for Real Madrid, they will have to see a man that they don't want to see (other than Leo Messi)…Pep Guardiola.
As manager of FC Barcelona, Pep Guardiola is unbeaten in 13 of 14 matches all-time versus Real Madrid. Pep knows how to strategize against Real's tactics.
Need I say more? OK, I guess I will.
As well as Real has played all year, history tells us Barcelona are still dominating Cláscios.
"But things change! Look how good Real played against Barça in the 2nd leg of the Copa Del Rey."
I know things change. But Barcelona is still dominates ball possession from Real in all matches since Pep's arrival and has dictated every game. Yes, Real played excellent in the January 25 match at the Camp Nou, but Madrid also did not capitalize on the plenty of opportunities they had and ball possession still belonged to Barcelona. El blaugrana are playing better than they were in January as well.
Pep will tactically be better prepared to face Jose Mourinho after being clearly outcoached by Mou in January's Copa Del Rey 2-2 game.
Let's not forget, as I mentioned before, this Barça team is heating up.
The upcoming Cláscio on April 21 at the Camp Nou will tell us more about this issue. The Clásico will be a few days before both teams' CL second leg games, so Real and Barça will not know if they will face each other in Munich by then—unless they blow out Chelsea and Bayern Munich in the first legs.
Yes, things change but I'll play the odds, go with history, and say Pep will have the strategy to defeat Real Madrid if they face off in the final.