FC Barcelona: Why Sergio Busquets Is Barca's Most Underrated Player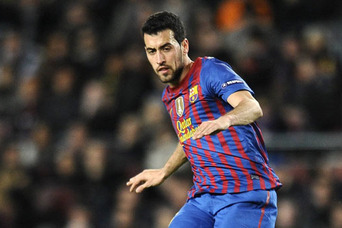 Busey
FC Barcelona has always had major stars on their team. From Diego Maradona to Ronaldo. From Romario to Xavi. From Ronaldinho to Lionel Messi.
But for all the big stars, there are always unsung heroes that help put all the pieces of the puzzle together.
The biggest unsung hero of Pep Guardiola's Barcelona team is Sergio Busquets. Busey (pronounced boo-see) was born in Barcelona but was not a part of Barcelona's famous La Masia until 2005 – spending most of his youth career with Catalan club UE Lledia. Sergio was called up to Barça's B squad in 2007-08. He was coached in 07-08 by the then new Barcelona B manager Josep "Pep" Guardiola. One year later, Pep brought Busey with him to the first team.
So far with the first team, Sergio has won three Liga titles, a Copa Del Rey, three Spanish Super Cups, two FIFA Club World Cups, two UEFA Super Cups, and two UEFA Champions Leagues titles. Busquets was a starter for Spain as the Spanish won the 2010 FIFA World Cup. Busey also won the 2009 La Liga Breakthrough Player of the Year.
Not a bad resume for someone who is just 23 years old.
While Busey may not be considered a star by many, all Culés know how valuable he is. Busquets has been tremendously valuable and a major reason for the titles the club has won recently.
To be fair, Busey has been controversial as well.
But why is Sergio Busquets underrated by so many people? In this article, I will name the top three reasons why he is underrated. I'll also name Sergio's two best attributes which for some reason he does not get as much credit as he should.
Busquets is one of the best one-touch midfielders in the world. Xavi may be FC Barcelona's midfielding heartbeat, but the backbone of the midfield is Sergio Busquets.
Here are three reasons why Busquets is underrated and the top two attributes which Busey needs to be given more credit for.
Begin Slideshow

»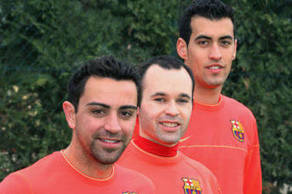 The best midfield in the world
Sergio Busquets is lucky enough to play with arguably the two best midfielders in all of football in Xavi and Andres Iniesta. Both of them have had amazing careers for club and country, are very popular with fans and the media, and both Xavi and Iniesta deserve all the headlines they get.
This is not a bad thing obviously, but it does affect how some people see Busey on the Barcelona totem pole.
Many will say Busquets is not even the third best midfielder on the team because that title belongs to Cesc Fàbregas.
This is not fair to say.
Sergio is a defensive midfielder and the others are not. Busquets' first job is to handle the ball defensively and not necessarily set up goals.
But many of his plays do end up creating scores.
Iniesta and Xavi will always take the headlines over Busquets because of the goals they make and goals they help create for Lionel Messi, Alexis Sanchez and the rest of the forwards. But people need to remember that many of those goals started with Sergio Busquets bringing it up to midfield and setting up the offense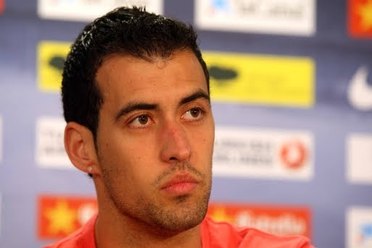 Not a media darling
Let's face it; Sergio is not a media darling.
Does it really matter that Busey is not very vocal in the media? No.
Does it affect Busey's image and rating as player to many? Yes.
I'm not saying it's correct, but image is important in many aspects of how a player is rated by some. Perhaps if Sergio was more vocal or had a bit more swagger and got more airtime with the press and in the media, some would rate him higher as a player.
But to real football fans, they know that he doesn't need hype or the media to remind us that he is an excellent footballer and arguably the best defensive mid in the world.
Busquets is vocal and has swagger on the pitch and that's the most important thing.
As much as I love Sergio Busquets and his game, let's be fair, his on-the-field overdramatic actions take away from his excellent play.
Busquets was part of a controversy when he allegedly taunted Real Madrid's Marcelo and allegedly called him a monkey during the first leg of the 2011 UEFA Champions League semifinals. UEFA later dismissed the charges.
Being a defensive midfielder, you're in the middle of the action and most likely to get run into by opposing defenders and mids.
But Busquets takes it too far too many times and his over-the-top flops are terrible.
Perhaps Busquets' biggest Oscar-winning performance came in the second leg of the 2010 UEFA Champions League semifinals against Inter Milan where his dramatic, over-the-top drop and roll against Thiago Motta lead to the referee handing out an unmerited red card to Motta.
The most ridiculous moment in the video above is when the camera gets a shot of Busquets poking his eye out towards the direction of the camera (almost like a "peek-a-boo").
On too many occasions his acting is over the top and downright ridiculous. There have been many times that I have said "Just get up, please?!" when he has fallen down and held his ankle like he has just been shot or when he has rolled around the ground holding his face like he just got pepper sprayed.
Sergio's acting jobs and being considered one of the biggest actors in world football hurt Busquets' image, thus underrating his game to many.
BTW: Busquets is the second biggest actor in La Liga. The Oscar goes to Real Madrid's Angel Di Maria.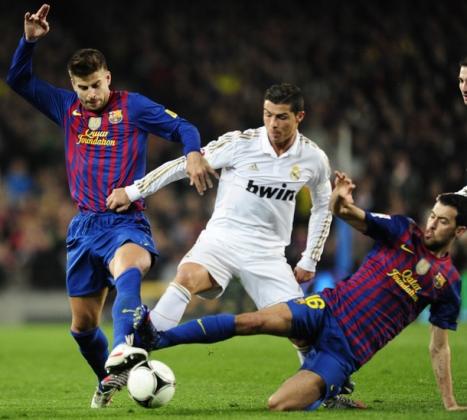 Busey and Piqué stopping CR7
Busey's height of 6'2" gives him the edge when he needs to defend the attack both when it comes to headers and stretching out to reach the ball. Of course other midfielders or any player in general have a tough time trying to get the ball from Busquets as well. Pep Guardiola uses him as a defender many times and always plays well when called upon for the back line.
If Busquets was just a good defensive midfielder and not an overall good defender, Pep probably would have bought another defender to help the back line by now. Busey is a bit of an insurance policy for the team.
Sergio may not be the typical defensive midfielder we are used to seeing; athletic, very strong, and an "enforcer" type of player. But that's what makes him so special; because he's not a typical defender.
Perhaps the greatest attribute about Sergio Busquets is his grace and elegance of his passes. His best plays are his skillful passes he delivers to his teammates.
Busey has an exceptional on-the-pitch awareness to play offense. Unlike other CDM who are quick to give the ball to an attacking mid, Sergio has no problems bringing the ball up and setting up the offense. Many times it is his passes that lead to goals.
When people think of Barcelona's ball possession, they usually think of Xavi, Iniesta, and Messi. But the player people need to think about is Busquets. He is in the middle of everything yet he is always calm and cool.
Busquets is the unsung hero of the Barcelona offense – yes, OFFENSE – of FC Barcelona.
Take a look at this great video to see Busey's elegance on the pitch.