FC Barcelona: Leo Messi: King of the Night. King of Football Kings
March 8, 2012

What a game!
Well, I got the starting lineup right in my previous article "Picking a Starting XI to Dispatch Bayer Leverkusen." I also got it right when I said Lionel Messi wants to make a statement to the other teams left in the UEFA Champions League.
But neither I nor anyone else expected una manito from Messi! Five goals for Messi!
Messi reminded all of the world why he will one day be the greatest player of all time—if he isn't already—with five goals in the 7-1 destruction of Bayer Leverkusen.
FYI: Messi is already the greatest in my opinion.
I was glad to see Pep Guardiola go with his best players available. With La Liga essentially done and La Copa Del Rey, it was absolutely important to send out your best players for the most important games left in your season. It was good to see young defender Marc Muniesa come in and get first-team action as well.
I though Pedro needed to score, and he almost did. He was hungry for the goal and came too close on several occasions. As much as I love Pedro, he is struggling, and he has had several occasions to prove his merit in the starting lineup and hasn't produced.
Cristian Tello got a brace in his Champions League debut as the kid shined again. He almost had a hat trick if not for a great save by Bayer keeper Bernd Leno late in the game.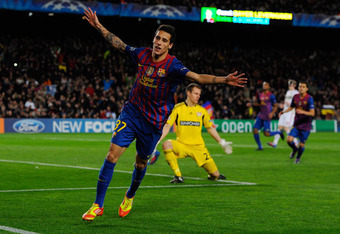 I think it's time for Pep to start Tello instead of Pedro or Isaac Cuenca while Alexis Sanchez is out with an injury. Pedro was supposed to fill in for Sanchez in the lineup until the Chilean came back, but Pedro is not cutting it this year.
It's nothing personal against him, and I'm sure he'll eventually bounce back, but putting Tello in the starting lineup is the best thing for the team and the best thing for Tello's growth as a player. When Alexis is healthy, Tello goes back to the bench.
Tello is the current favorite to win La Liga's Breakthrough Player of the Year award. Congrats to the kid on getting a brace. What a future he has at Barcelona!
Sorry Liverpool, you should send your scouts back to England because I wouldn't count on Tello going anywhere.
Let's talk about the best footballer of the night, the best footballer of the current time and perhaps the best footballer for all times, Lionel Andres Messi.
What else can we say about him? Are there any more words, adjectives and so on to describe Leo? I honestly don't think there are more left. We've used them all up. Maybe we should just create terms to describe him.
Let me try it: Messi's game is deliciously supernovatic!
Now I know some will say that Bayer was not putting in their best effort in this game or that Bayer were not really trying to stop Messi or anyone and so on. Please stop it. Last time I checked Bayer was still a professional football team that has pride, and I really doubt they will just roll over for any team, let alone want to allow seven goals. They basically had all of their team defending in the game.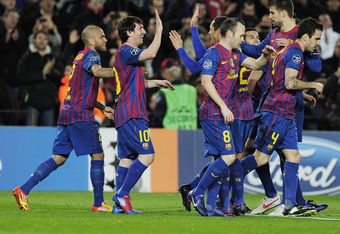 They obviously didn't do a good job of defending, but they still tried.
After the one-game Liga suspension for accumulation of yellow cards, we all knew Messi would be hungry to get back on the Camp Nou pitch and play. I felt he was going to make a statement in this game, but never did I think he would go out and get five goals in this game.
Not that he's not capable of doing this kind of thing, because he's always been.
The first goal was a beauty. A great pass by Xavi to find Messi onside and a light chip over the goalkeeper Leno. No. 2 was set up by a great Andres Iniesta run to Messi, who moved around the Bayer defense and put the ball low in the corner for his second.
Goal three was similar to goal No. 1, as a lovely pass from Cesc Fàbregas found Leo and again a chip got it past Leno for Messi's hat trick.
But he wasn't done yet.
The fourth came just three minutes after Tello got his first goal, as Leo and Pedro teamed up with nice back-and-forth passes to facilitate Leo, who put a little bit of English on the ball to hit the post and roll in.
La manito came at the 85th minute as Leo took the pass from Seydou Keita and put a bullet past Leno for his fifth and Barcelona's final goal of the night.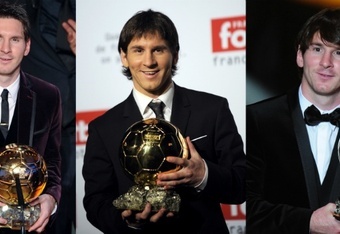 Lionel Messi is the first player in UEFA Champions League history with five goals in a game, and he is the first player to have five goals in European championship (prior to the UCL era) competition since Soren Lerby of Ajax hit five in the 1979-80 season.
Messi now has 48 goals for FC Barcelona this season, 12 of them in Champions League play. 
I would normally say this was an unbelievable performance, but this is Lionel Messi. He makes the unbelievable transpire for the world to see and believe.
With this performance, Leo reminded us why he has three-peated as Ballon d'Or winner. Just when it looked like Arsenal's Robin van Persie or Real Madrid's Cristiano Ronaldo might have the lead in the Ballon d'Or favorites, Messi reminds his doubters that he is the best by simply being himself.
No extra push or effort needed by him.
Both RVP and CR7 are great players, but Messi is on another level beyond everyone else's abilities and beyond our ability to describe.
Messi is Messi—like Jordan is Jordan—and that's it. No special acronyms or nicknames needed.
Messi will win another Ballon d'Or in his career, perhaps more than one, and it's possible that one day the FIFA Ballon d'Or will have to be renamed the FIFA Lionel Messi Ballon d'Or Award.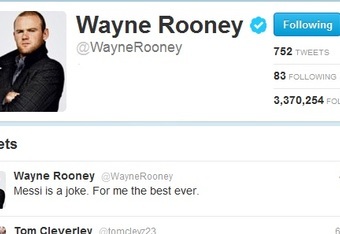 If you think Messi's hype after the Bayer game is just that—hype—consider what other footballers said after the game:
Wayne Rooney: "Messi is a joke. For me the best ever."
Radamel Falcao: "Was it a UCL game or was it Messi in a PlayStation game?"
Eden Hazard: "Messi is the best player of all time?"
Michael Owen: "Not old enough to see some of the greats but I can't believe anyone can have played the game of football as well as Messi."
Kevin-Prince Boateng: "Messi is the best."
I doubt these players would say this about Messi just to say it. Players like Rooney and Boateng are some of the best in the world as well as opponents of Leo's in European competition. They've seen Messi's greatness up close and personal, and they recognize what we are all witnessing.
In the end, all footballers are fans of the game as well, and Messi makes fans of his competitors.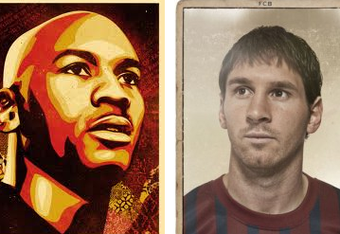 Michael Jordan has always been the athlete that has been used as a universal measuring device for appraising greatness. "He/she is the Michael Jordan of..." and so on. Nike even made t-shirts stating this.
One day, Lionel Messi will be the measuring device for greatness as well. Maybe not in the U.S. because many in the States lack football/"soccer" knowledge and awareness and the media in the country that I was born in tends to not celebrate athletes that are not American.
Remember when Time magazine put Messi on the cover of the world edition of its magazine but not on the U.S. edition of the magazine?
But for the rest of the world, Lionel will be alongside Michael's name when measuring greatness. Messi, like Jordan, has changed his sport forever, transcends sports and has made a global impact with his play.
For some, it may sound like blasphemy to say Messi and Jordan are close to being similar on global impact. I'm not saying Messi is bigger than Jordan right now or that Messi will be bigger than Jordan. What I'm saying is that Leo's name will be alongside (equal to) Michael's when we think about the greatest athlete who has impacted the world and its culture.
It's obvious that Jordan has a greater impact right now because his career is complete and his marketing was and still is greater than Messi's. But just wait and see Messi's impact among the global media and youth around the world once his career is over. I'm sure it will equal Jordan's with all due respect to Michael.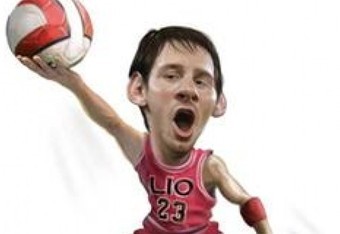 I could go on and make a case for Messi, but I'll just let Messi's past and future play, records and titles make the case for this.
Remember that football is a more popular sport around the world than basketball as well.
Did I also mention that Leo is only 24?!
When comparing Michael Jordan to the rest of the great players in basketball history, fellow Hall of Famer Magic Johnson once said, "There's Michael Jordan and then there is the rest of us."
The same kind of comparison goes in football and footballers; there's Lionel Messi and then there is the rest of them.
Some will say until Messi wins a FIFA World Cup, he will never be the greatest footballer of all time. I understand this argument and I respect the opinion.
Diego Maradona, Messi's boyhood hero and considered by many the greatest of all time, had not won a WC at 24, which is Messi's current age. Pelé did have a World Cup at 24, but to be fair to Messi, it was with a much more talented team—including the likes of Garrincha—than Messi has ever had with Argentina.
Messi's one flaw for many is his need to lead Argentina to a title. If Messi stays healthy, Leo will have at minimum two more chances (2014 and 2018) to win a World Cup.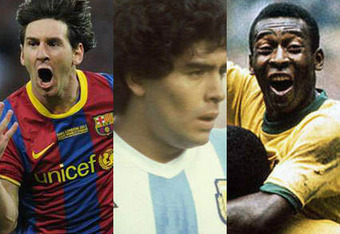 To say, "Messi needs to win three World Cups to be considered the best," like Pelé has mentioned, is an idiotic comment. If we use this kind of logic, then Bill Russell is the greatest basketball player of all time because he won 11 titles to Jordan's six. This is obviously not the case.
Titles are important, but the number of titles is not the sole determinant of what makes a player the greatest.
Some may say that we are making a big deal out of just one game. I don't see it like this at all.
It's not like we see a player score five goals in a game every week.
Most importantly, I see it as celebrating and reminding fans of what we are witnessing. We will never see a player like Lionel Messi again, and it is our responsibility not only as fans of the game or as fans of sports, but as people who appreciate beauty and greatness, to cherish every moment Messi gives us because like all good things, it will come to an end.
We are all blessed to live in the Messi era to be able to witness this artist at work.
Perhaps Almeria player Henok Goitom said it best when he tweeted this:
"Messi – Més Que Un Jugador"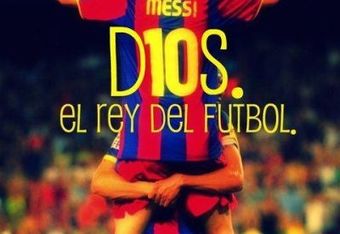 FC Barcelona is more than a club, and Lionel Messi is without a doubt more than a player.
Visca el Barça!
Thanks for reading! Look out for my next article later this week.
Follow me on Twitter: @XoelCardenas
Don't forget to check out my other columns:
Picking a Starting XI to Dispatch Bayer Leverkusen

FC Barcelona: 5 Big Transfer Rumors Fans Would Love To See Come True This Summer

FC Barcelona: 5 Former Barça Players Who Could Succeed Pep Guardiola

Barcelona, Arsenal FC, and Man Utd: New Nike Kits for 2012-13