FC Barcelona, Arsenal, and Manchester United: New Nike Kits for 2012-13
February 15, 2012

A few weeks ago, I wrote an article showing the new designs for the new FC Barcelona 2012-13 kit. The kits got mixed reviews and there was much speculation if the designs originally released by SPORT.es were legitimate.
Now there is more proof that those designs were the real thing. SPORT.es published a new photo today of the FC Barcelona kit for 2012-13. The images are spreading across the Internet and confirms the Barça kit having a blurred blaugrana design. The kit will have grana in the middle with the red fading to the blau.
The new image also displays the new Manchester United and Arsenal home kits as well.
Some of the new features of the Man U kit include an all-black collar and a small, black, red devil on the back of the kit. But the biggest change is the Scottish tartan design. Personally, I think it's very stylish. Perhaps one of the reasons Nike and Manchester United decided to do a Scottish tartan design was to honor Sir Alex Ferguson and his 25 years of managing United.
United's away kit is all blue with Scottish tartan design and an all-blue collar.
Arsenal's new kit is very similar to the 2010-11 kit and a deeper red than this season's kit. The exception is the grayish-black collar. The biggest change is the sleeves, where we see a three-striped look of red, white and black. Nike has been going with a striped-sleeve look for most of their 2012-13 kits, including the new Brazil national team kit.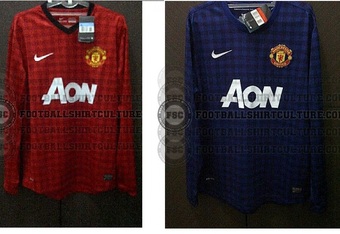 The new kits will be available for purchase around July.
Xoel's Commentary:
I still think the home Barcelona kit is not as bad as people are making it out to be. Yes, it kind of looks like Paris Saint-Germain's traditional home kit, but I like the dominant blue look. I still prefer the orange road kits to the home kits the team will be bringing out next year.
Lionel Messi will be dominating opponents with any colored kit he wears, so it's all good.
Arsenal's kit is OK, but I'm not too excited about it. I'm not a big fan of the stripes on the sleeves. Regardless, Robin Van Persie will score plenty of goals at the Emirates wearing this kit—that is of course if he decides to come back to the Gunners.
Manchester United's kits are the best of the three. The Scottish tartan look is an excellent choice. I think it's stylish, but I'm sure all Man U haters will say it looks like a tablecloth. If it is in fact an honor of Sir Alex, they've done well. Regardless, I'll have to get a Wayne Rooney kit just for collection purposes.
Visca el Barça!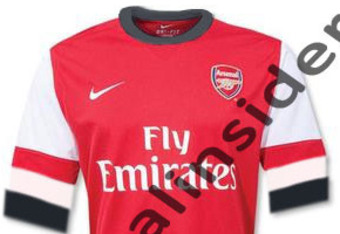 Thanks for reading. Follow me on Twitter: @XoelCardenas
Don't forget to check out my other columns:
FC Barcelona: Cold Offense, Worse Defense, Inconsistent Team

Commentary: Barcelona Is Not Obsessed With Jose Mourinho; We Have Pep Guardiola
FC Barcelona: Barça Fans' Top 10 Chants at the Camp Nou
Liga Lost? 10 Questions Fans Need to Ask About Barcelona the Rest of the Season