Commentary: Leo Messi Is Not Big Enough for America?
January 30, 2012

Time magazine has put FC Barcelona's Lionel Messi on the front cover of their February 6th issue.Time will have Messi on the cover of the Europe, Asia, and South Pacific editions.
But if you live in the U.S., you will not see this cover.
Why? Because Time has decided to change the cover of the U.S. edition of the issue because it seems Time does not feel that having Messi on the cover is less marketable in this country.  
Instead, Time has put a story about "The Power of (shyness)" on the cover.
Ok, I understand money makes the world go round and Time is all about selling as many copies of their magazine as they can, but come on.
Shyness?!
As an American–born in New Jersey (Ecuadorian & Spanish descent)–I am embarrassed. 
With Time not putting Messi on the US version of their magazine is just one of the many things the American media needs to get past: accepting world football as being relevant and to not just throw it off as non-important in this country.
Last year, Newsweek – the second largest weekly news magazine in the US – put Barcelona's Pep Guardiola on the cover after he led his team to a second UEFA Champions League title in three years. This is a step in the right direction.
I will give Time credit; they have put soccer stars on their cover before. But it seems like they only do this when it's an "American story" like when Beckham came to MLS or the 1999 Women's World Cup.  
Is that what it takes to make headlines in football in America?
It's only news when it's on American soil and that's it?
I thought Time – the number one selling weekly news magazine in the United States with 20 million subscribers in the country –  was supposed to be the news magazine of record and cover world stories, not just U.S. stories.
Shouldn't the media – both sports and news media – have a responsibility to cover all stories and not just write about what we feel people will buy?
"Soccer" in the U.S. has always been seen as a lesser sport than the big three of American football (NFL), basketball and baseball (this includes college sports as well). Hockey has had more press than soccer given that it is from our neighboring country of Canada.
Soccer is one of, if not the, most-played sports among American children. Yet this country does not promote continuation of youth soccer in junior high and high school ranks as much as they do for the three big sports of the U.S.
Is it about money?
Of course.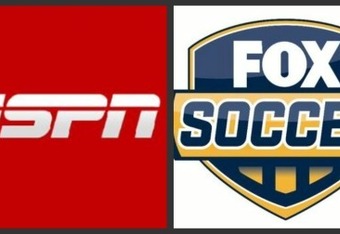 It's always about money. There's more money in the big three than in any other sports.
Even through this, soccer's popularity has risen sharply in the U.S. ever since the 1994 World Cup. The creation of Major League Soccer (MLS) finally gave the country a new league to follow. A major turning point came when the US Women's National Team won the 1999 FIFA Womens World Cup against China. David Beckham's arrival to MLS helped boost interest in America soccer.
Let's not forget Landon Donovan's last-minute goal against Algeria. And who can forget Abby Wambach's incredible equalizer against Brazil in the 2011 Women's FIFA World Cup? These great moments have helped soccer in the US grow in cultural relevance. 
The American media has been steadily growing in world football coverage. ESPN currently carries some EPL games while Fox Soccer and GolTV do the heavy lifting of showing world football games. Fox has begun airing EPL games on free television. Fox also paid over $300 million for the broadcast rights to the 2018 and 2022 FIFA World Cups.
Soccer has made many strides in America. But there's more that needs to be done in American sports culture. World football has a long way to go in this country.
What disturbs me about American culture is how mainstream American media does not want to embrace world football. People are watching, but the media doesn't care about giving it the coverage it deserves.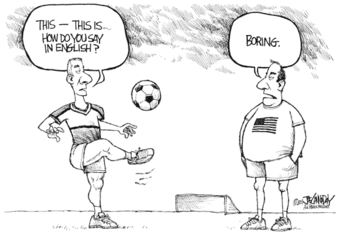 It's natural for pro and college American sports to get headlines but what is disappointing is how anything soccer is thought of as lesser than the other major sports.
Yes, I understand that American football, basketball and baseball (at both the pro and college level) will always make headlines before any soccer story. Not one soccer story is able to make headlines unless there it involves an amazing goal, a funny mistake, a freak injury, or fans rioting during the game.
The ignorance of "it's not one of our sports" and the idea of soccer being a "boring" game is hurting the growth of world football the American media and culture. While American ignorance and terrible attention spans are the main reasons, the media plays a big part of this as well because it confirms this American mindset.
When are we going to get rid of this problem?
Probably never because of the money and we in America typically won't embrace anything that is not American.
It's idiotic, I know.
Most will say this is the main reason why American media doesn't embrace football because the teams and players don't compete in this country. I understand this argument and there is much truth in this. But how do you explain the EPL's popularity around the world? Manchester United is relevant and embraced by the media in various countries. Liga games aren't played in China yet the people over there love FC Barcelona and are relevant over there as well.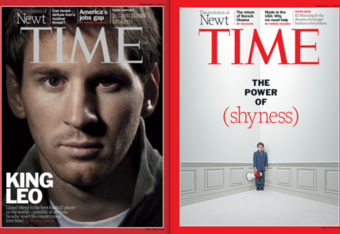 Why can't the U.S. be like that?
Is it because we have too many sports – both pro and college – to choose from?
Of course.
Oh yeah, let's remember the money factor as well.
I'm disappointed in Time for not going with the Leo Messi cover for their U.S. edition, not just because I'm an FC Barcelona fan, but because I am a football fan. I'm not expecting that leagues like the EPL or La Liga will become as popular as the NFL because that will never happen. The bottom line is that I want football to thrive and I want to see its relevance increase in this country.
I'm saddened that Time decided that Messi is not relevant enough to for an American audience. Time doesn't see that they are stopping the American population that has never heard of Lionel Messi to be aware that one of the greatest athletes of all time is in our presence and it is vital to watch greatness because we may never see a player as complete as Messi ever again. Exposure into the mainstream American culture would have the sport grow and help grow world football's relevancy in the U.S.
Messi's global impact transcends sports, and that is newsworthy.
In my opinion, football/"soccer" is the most relevant and beautiful game in the world and the NFL or any other sport will ever match it.  
Congratulations, Lionel Messi, for making the cover of Time. It's a major achievement for an athlete to make the cover of the prestigious magazine. You're greatness is recognized internationally.
But according to Time, you're not good enough for America.
Visca el Barça!
Thanks for reading!
Don't forget to check out my other columns:
Commentary: Barça Shouldn't Celebrate Too Much After Eliminating Madrid
FC Barcelona's 10 Best Wins Against Real Madrid
View the New FC Barcelona Kit for 2012-13
10 Best Lionel Messi Tributes on YouTube
Follow me now on twitter: @XoelCardenas