FC Barcelona's 10 Best Wins Against Real Madrid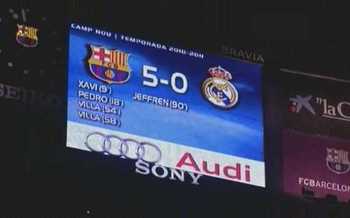 Greatest Barça wins vs. Madrid!
There's nothing like winning! It's even better when you win while defeating your biggest rival at the same time.
FC Barcelona and Real Madrid have been fighting it out for over a century now—and it's even.
How even is it? In 217 official matches, both teams are tied at 86 wins apiece!
A win in the second leg of the Copa Del Rey quarterfinal will give the edge to either team and it's fitting that it happens in a Copa Del Rey match. Why? Because it was a Copa Del Rey match where these two giants of football first faced off.
Barcelona has had all sorts of victories against Real—some by the narrowest of margins and some by blowout proportions.
I decided to look at Barcelona's best wins versus Real Madrid. These wins are based on several criteria including margin of victory, individual performances in the game, importance of the game for Liga title, UEFA Champions League, Copa Del Rey, etc., and importance of the game in FC Barcelona's history.
Many of the players who played in these games you'll be familiar with like Xavi, Lionel Messi, and Andres Iniesta. Some of the names are legends of the club and legends from a distant past.
El Clásico is the biggest league game in the world. And Barcelona has had great victories in it!
With that being said, here are the 10 best wins against Real Madrid ever.
May 9, 1929, Barcelona 1–0 Real Madrid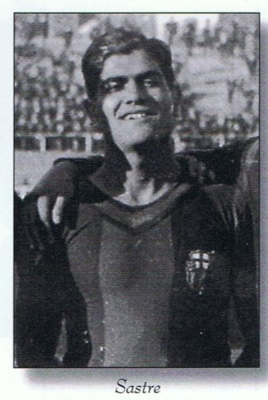 Josep Sastre: Barcelona Legend
May 9, 1929, Barcelona 1–0 Real Madrid
FCB: Josep Sastre i Perciba (89)
FC Barcelona's first win versus Real Madrid in La Liga
We can't talk about the best win versus Real Madrid without talking about the first win against Real Madrid in La Liga.
On May 9, 1929, FC Barcelona played Real Madrid for the second time ever. The two sides played their inaugural game just a few months prior, with Real winning it 2–1.
Josep Sastre, who played 167 total games and scored 116 goals for Barcelona, scored the late winner and only goal in the game as Barcelona won the game played at the Estadio Chamartin. Barcelona would go on to win the inaugural Liga title that year.
Did you know: This was the first game Barca played Real in La Liga history, but it was not the first time the clubs faced off. The first game FC Barcelona played Real Madrid CF was in the 1902 Copa Del Rey semifinals.
Barcelona won the game 3–1!
Over the next years, they would face off two more times in Copa Del Rey competition (1916 and 1926) before La Liga began in 1929.
April 21, 1935, Barcelona 5–0 Real Madrid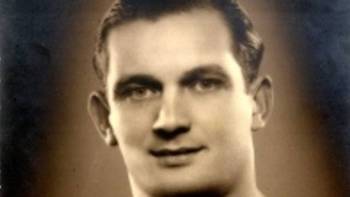 Marti Ventolra: Movie star looks and magical on the ptich
April 21, 1935, Barcelona 5–0 Real Madrid
Ventolra (43, 62, 68, 82), Escola (48)
First win since 1931.
Snapping a losing streak is always a good thing, especially when it's against your hated rival. After four years of not being able to beat Real, Barcelona finally ended the drought with a commanding 5–0 victory.
One of the best wingers in club history, Martin Ventolrà, scored four goals while Josep Escolà, who spent 11 season with the club, scored one as the blaugrana dismantled Madrid.
It was Barça's largest margin of victory ever against Real Madrid up to that point in time (1935).
Barcelona would have four more games in their history where they'd beat Real Madrid by a score of 5–0.
2011 Spanish Super Cup, 2nd Leg. Barcelona 3–2 Real Madrid
2011 Spanish Super Cup, 2nd Leg. Barcelona 3–2 Real Madrid
RMCF: C. Ronaldo (20), Benzema (82)
FCB: Iniesta (15), Messi (45, 88)
In an instant classic, Messi hits a dramatic goal to beat Real
After four Clásicos earlier in the year, we were given two more Clásicos to begin the 2011-12 campaign. The Spanish Super Cup was at stake as Real Madrid and Barcelona clashed for the title. After a 1-1 tie in the first leg at the Bernabéu, it was on the Camp Nou to decide it all.
It was a tense game, as both teams were looking to get their seasons off with a title. Iniesta put the home team up 1-0. Cristiano Ronaldo tied the game in the 20th minute. Messi put Barcelona up just before halftime. Karim Benzema tied the game in the 83rd minute, and it seemed the game would head to extra time.
But Barcelona responded only five minutes later, as Cesc Fàbregas passed it to Messi, who gave it to Adriano inside the box. Adriano, who made a bad corner kick clearance which led to Benzema's goal, redeemed himself as he sent in a short cross which met the foot of a flying Messi, putting the ball past Iker Casillas and giving Barcelona the Supercopa.
It was Barcelona's first title of the 2011-12 season. It was one of the best wins because the win sent a message to Madrid to remind Los Blancos who is still the king of Spanish football.
January 8, 1994. Barcelona 5–0 Real Madrid

Romário's World!

January 8, 1994. Barcelona 5–0 Real Madrid
FCB: Romário (24, 56, 81), Koeman (47), Iglesias (86)
Romário destroys Madrid
The era of Johan Cruyff's Dream Team was coming to an end in 1994. One of the last great memories of that team was their emphatic 5–0 destruction of Real Madrid. The night belonged to Romário. His first goal was a classic, as he took the ball—with his back towards the net—and swept it swiftly towards the net with his right foot and slapped it into the back of the net.
1992 European Cup hero Ronald Koeman added the second goal. Just like he did in the '92 final against Sampdoria, it was a free kick. Romário added the third goal in the 56th minute after a long pass from Pep Guardiola was handled by Miguel Angel Nadal and then passed to Romário for the easy score.
In the 81st minute, Michael Laudrup stole the ball from a Madrid defender to set up Romário for the Brazilian's third goal and make it 4-0. Finally, Ivan Iglesias added the fifth after a great through ball from Romário.
Barcelona would go on to win La Liga and Romário would win the Pichichi Trophy with 30 goals in the season.
This was easily one of Barcelona's best wins versus Real Madrid in large part due to Romário. Albeit he only played at the Camp Nou for two seasons, it was this performance that put Romário's name in Clásico and FC Barcelona history.
1983 Copa Del Rey Final. Barcelona 2–1 Real Madrid

A flying Marcos wins it for the blaugrana.

1983 Copa Del Rey Final. Barcelona 2–1 Real Madrid
RMCF: Santillana (50)
FCB: Victor (32), Marcos (90)
Flying header wins La Copa!
The 1983 Copa Del Rey final was an intense match. Two great players highlighted the matchup as Diego Maradona battled against Juanito and his Madrid.
Victor Muñoz got the game's first goal in the 32nd minute as Maradona found a wide-open Victor inside the box. Madrid responded back 18 minutes later as a Barcelona defender made a huge mistake and had the ball stolen a foot outside the box and Santillana chipped it in for the equalizer.
The game was tied at one in stoppage time and seemed to be heading to extra time when an excellent cross headed by Barcelona's Marcos Alonso Peña passed the outstretched arms of Real goalkeeper Miguel Ángel, giving Barça the Copa in a thriller.
Check out the highlights of the game. At 6:48, look at the stretch by Peña to head it in!
1960 European Cup First Round, 2nd Leg. Barcelona 2–1 Real Madrid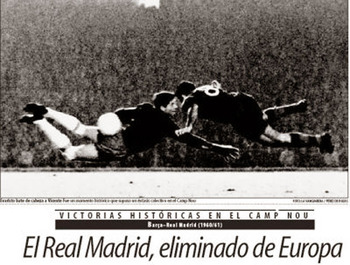 Diving header by Evaristo seals Madrid's fate.
1960 European Cup First Round, 2nd Leg. Barcelona 2–1 Real Madrid
RMCF: Canario (87)
FCB: Verges (33), Evaristo de Macedo (81)
Sweet revenge as Barça eliminate defending champs Real
The Real Madrid team of the mid-1950s to 1960s was one of the greatest teams of all time. Alfredo Di Stefano led the squad along with other greats like Ferenc Puskás and Jose Vicente Train. Los Blancos had won five straight European Cups in a row (the first five years of the competition's existence). In the European Cup semifinals of 1959-60, Real Madrid eliminated FC Barcelona 6-2 on aggregate. It seemed no team could stop Madrid.
Fin de ciclo ya! The blaugranas put an end to Real's reign.
The two squads faced off in the 1960-61 European Cup, first round. After a 2-2 score in the first leg at the Bernabéu, it would come down to the return leg at the Camp Nou.
Most were expecting Di Stefano and Puskás to bring their team back, but Madridistas were left waiting as Barcelona got on top in the 33rd minute, as Mari Vergés put the home team up 1-0. Brazilian forward Evaristo made the goal of the game, as his diving header (picture above) in the 81st minute sealed Madrid's fate. A Darcy Canário late goal was all the visitors managed to get, as Barcelona got their revenge after the previous year's defeat. Real Madrid would have to wait five years until they reached the top of the European mountain.
The game was not without controversy, as referee Reg Leafe disallowed four goals in the game, three of them Real's. After the game, then Real Madrid president Santiago Bernabéu said "Leafe was Barcelona's best player."
I guess complaining, whining, and making excuses are long-standing traditions at Real Madrid. Maybe Bernabéu and Jose Mourinho are long lost relatives.
2010-11 UEFA Champions League Semifinals, 1st Leg. Barcelona 2–0 Real Madrid

Messi's wonderful run and goal!

One of the best wins in Clásico history for Barcelona was given to us a little less than a year ago. It was a heated battle that saw Pepe sent off after a hard challenge on Dani Alves in the 60th minute.
In the 86th minute and with a 1-0 lead in the first leg of the UCL semifinal (the third of four Clásicos), Sergio Busquets put the ball at the feet of Leo Messi. Messi took the ball and gave us a symphony on the pitch as he ran past what seemed like all of Madrid and gave the ball a golden touch past Iker Casillas.
Although there was still a second leg to be played, everyone, including a whiny Mourinho, knew this goal ended the semifinals.
It is one of the best wins in Clascio history because Barcelona quickly erased the memory of the Copa Del Rey loss and—after a 1-1 tie in the return leg—eliminated Madrid on their way to their second UCL title in three years.
Check out the multicamera view of Messi's golazo. The view on the right is the broadcast feed, and the views on the left are the cameras following Leo Messi and Cristiano Ronaldo. CR7 can only put his head down in disappointment as Messi ends Madrid's Champions League run.
¿Por qué? ¿Por qué?!
Porque Messi is the best player—perhaps of all time—and this FC Barcelona team is the best team in the world—perhaps of all time—that's why!
November 25, 2005, Barcelona 3–0 Real Madrid

Ronaldinho at his finest!

November 25, 2005. Barcelona 3–0 Real Madrid
FCB: Eto'o (14), Ronaldinho (59, 77)
Madridistas clap for Ronaldinho
In a game that had arguably the greatest number of great players on one pitch at the same time—Ronaldinho, Ronaldo, Robinho, Roberto Carlos, David Beckham, Zidane, Casillas, Raul, Samuel Eto'o, Victor Valdés, Gio van Bronckhorst, Lionel Messi, Xavi and Andres Iniesta—it was Ronaldinho who stole the show and scored two goals in the game. The most iconic moment of this game was when the Madridistas stood up and applauded Ronaldinho.
Eto'o would strike first in the 14th minute. Los Galacticos of Real Madrid just couldn't get things going all night, as Barcelona kept playing them strong. But the second half belonged to Ronaldinho and his two amazing goals.
Everything about the goals were great—style, grace, speed, skill, talent, and most of all the goals had the touch of the artistic beauty by one of the greatest players of this generation.
On the first goal, Ronaldinho took the ball and proceeded to make Sergio Ramos look a fool as Ramos did the splits and failed miserably to stop Dinho. The Brazilian turned on the afterburners, left one defender frozen, and scored a goal past a sliding Roberto Carlos and a helpless Iker Casillas.
The second goal was very similar to Dinho's first goal, as Ronaldinho got the ball and beat Sergio Ramos again and slapped the ball past a stretched Casillas.
The most iconic moment of this game was when the Madridistas stood up and applauded Ronaldinho after his second goal.
A performance worthy of a curtain call!
The 2005-06 Barcelona team was one of the best in club history, as they would go on to win La Liga and the UEFA Champions League. The 3-0 victory was significant as well because it would be four years until FCB would win at the Santiago Bernabéu.
And that 2009 victory would be one of the best wins in Clásico history as well.
May 2, 2009, FC Barcelona 6–2 Real Madrid

A 6-2 beating of Madrid at the Bernabéu.

May 2, 2009. FC Barcelona 6–2 Real Madrid
RMCF: Higuaín (14), Ramos (56),
FCB: Henry (17, 58), Puyol (19), Messi (35, 75), Piqué (83)
6 goals help FCB get their first win at the Santiago Bernabéu since 2005.
The 2008-09 season was arguably the greatest season in FC Barcelona history. That same season saw one of the best wins versus Real Madrid ever. Barcelona came into the Bernabéu looking to essentially win La Liga and gain momentum before their Champions League return leg match with Chelsea a few days away.
The game started out with Gonzalo Higuain giving the home team the lead in the 14th minute. But Thierry Henry evened it up just four minutes later. Carles Puyol got Barca the lead in the 20th minute. Messi made it 3-1 after Xavi stole the ball from Lass.
The second half saw Sergio Ramos head in an Arjen Robben free kick to make it 2-3. But in the 58th minute, Henry responded and got his second goal in the game, as Barça extended the lead to 4-2. Messi got his brace with a great pass from Xavi to make it 5-2. Lastly, Gerard Piqué put the cherry on top and added a sixth goal.
The Madridistas left in humiliation, as Real Madrid was humiliated 6-2 and La Liga was essentially lost that day.
The game provided huge momentum for Barcelona. Just four days later, Andres Iniesta's dramatic goal in the 93rd minute sent Barcelona to the UEFA Champions League final, where they would defeat Manchester United 2-0.
The 6-2 win at the Bernabéu was the crowning achievement of Barcelona's '08-'09 La Liga season and one of the greatest games in club history.
November 29, 2010, Barcelona 5–0 Real Madrid

UNA MANITO: 5–0!

November 29, 2010. Barcelona 5–0 Real Madrid
FCB: Xavi (10), Pedro (18), Villa (55, 58), Jeffren (90)
Una manito at the Camp Nou; Mourinho suffers in his first Clásico
One of the most anticipated Clásicos in history came to us in 2010. Real Madrid came into the match with a few new stars but their biggest acquisition was manager Jose Mourinho. Mou came to Madrid after leading Inter Milan to the UEFA Champions League crown, knocking off Barcelona in the semifinals.
But once the game got started, it was a one-sided show, as Barça showed why they were the defending Liga champions. The first goal came in the 10th minute, as Andres Iniesta connected with Xavi. Pedro added in the second in the 18th minute, as a David Villa cross deflected and landed at the feet of the No. 17.
The third goal came from Villa in the 55th minute. But the gem of the night came just three minutes later as Lionel Messi made one of the best passes you will ever see to David Villa, who put it passed Iker Casillas for the fourth. The fifth came in from Jeffern in the last seconds of the game.
The most memorable images of the game include Mourinho sitting on the bench and being chastised by the Camp Nou crowd, Sergio Ramos being sent off after his hit on Messi, and Gerard Piqué and Carles Puyol putting their hands up and showing "five" to the fans.
Check out this dramatic video documenting the game. If you want to see the beautiful game at an almost divine manner, watch 6:20 and tell me that that is not brilliant!
No one, not even the biggest Barcelona fan, would have imagined a 5–0 beating of Real Madrid that night!
In my opinion, this was FC Barcelona's best win against Real Madrid ever.
Thanks for Reading!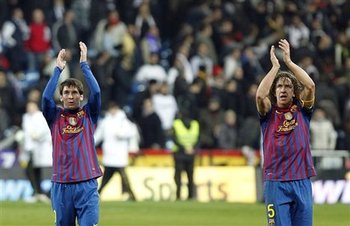 Thanks!
Thanks for reading and for watching. Feel free to drop me a line as well. I love hearing from my readers.
Please feel free to comment on your favorite Barcelona win versus Real Madrid. Let us know what is your favorite memory of either one of these games. If there is a game that you feel should be on the list, tell us about it. As always, please be respectful to others when commenting.
Look out for my next article later this week.
Visca el Barça! - Xoel
Keep Reading

FC Barcelona: Like this team?