Commentary: Barça Shouldn't Celebrate Too Much After Eliminating Madrid
January 26, 2012

FC Barcelona have eliminated Real Madrid, 4-3, on aggregate and have moved on to the Copa Del Rey semifinals.
But don't celebrate Culés. There's nothing to be celebrating too much about. Last night's Clásico showed us that this FC Barcelona team is the weakest team of the Guardiola era and this team is consistently inconsistent.
Real Madrid was the better team last night; that was obvious.  
I give credit to Real Madrid for an excellent game last night, and they deserve much credit and respect for that. Not to take away from Real's performance (honestly), but it seems like we are forgetting that Barcelona had a terrible game as well, and I feel that we shouldn't oversee that. Barcelona needs to be criticized as much as Real Madrid is being praised for their great play—praise Real deserve.
Barcelona was terrible. They had no rhythm, they goalkeeping was horrendous and the defense was an absolute embarrassment at times. 
Real Madrid could have won the game, not should have won the game. Real Madrid could have won this game because they had clear chances regardless of referee Fernando Teixeira. I refuse to say "should have won" because I don't believe in "should have won" when it comes to wins and losses in sports. You've either won, lost or—in football—tied; that's it. There's no "should have won" category.
Now, I know I will be criticized by Culés, saying I'm being over-dramatic and that I shouldn't make a big deal out of one game. But I honestly don't care about that; I'm calling it as I see it.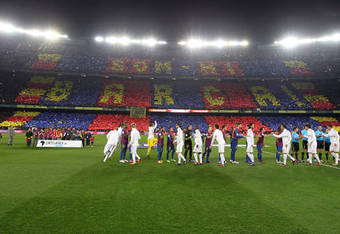 I love Barcelona. They are more than a club to me. My people in Badalona, a suburb of Barcelona, know how much this team means to me as well as my other loved ones living in the US. It's about tradition and it's part of us.
That being said, I feel I have the right to criticize my team when they play bad. I refuse to act like those bandwagon Barca fans—who don't know anything about Spanish football (not to mention Catalonia or Spain), who don't know anything about the club before the Ronaldinho era or who don't even know what "Visca el Barça" means—that never criticize Barcelona, praise them regardless of win or loss and think the team can't do wrong.
Sorry, that's not me.
The game started with a terrible pass from Gerard Piqué to Jose Manuel Pinto. Gonzalo Higuain had an easy goal, but missed. If Pipita or any Madrid player scored on any one of the opportunities they had in the first half, we're not talking about the controversy of the ref as much. Barcelona had some good runs at times, but Real kept putting the heat on in the first half.
Pinto made great saves because he had to make great saves. The Barcelona defense was terrible. Carles Puyol looked old minus the one run he made towards the goal. Eric Abidal allowed various Madrid players to get by him including Cristiano Ronaldo for the first goal, and he—like Puyol—looked old as well. Piqué had the bad pass in the first minute as well as the terrible clearance that lead to Karim Benzema's goal.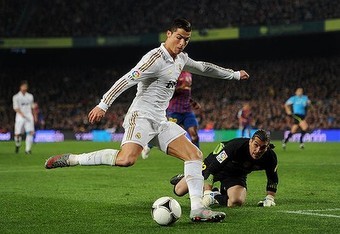 Someone get Borussia Dortmund on the phone and ask how much Mats Hummels will cost. Inconsistent defense again by Barcelona.
Pinto was no shining light, either. I can see Pep Guardiola wanting to give Pinto a chance to play, but quite frankly, he doesn't deserve to play. Yes, he played well at Celta de Vigo, but that was a long time ago. He almost allowed a goal after trying to take the ball out himself. I give Jose Mourinho credit by putting Iker Casillas in all competitions. You might as well go with your best at all times.
Did you know that three of Cristiano Ronaldo's four goals versus Barcelona all-time with Real Madrid were against Jose Manuel Pinto? Every time the ball came to Pinto in last night's game, Culés held their breath.
And he's coming back next year?
I was glad to see Lionel Messi get a small payback at Pepe by fouling him. Pepe is always out of control on the pitch, his "apology" was garbage, and you're a fool if you believed it. He doesn't deserve to wear the historic kit of Real Madrid.
If it wasn't for the last 10 minutes of the first half, Barcelona would be out. Messi and his brilliance found Pedro and made it 1-0. Give credit to Pedro too, as that shot is not easy. It's very easy to swing and either miss or overpower the shot.
Dani Alves' goalzo was a thing of beauty. Enough said.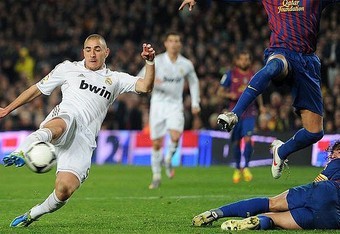 At halftime, I expected Barcelona to play like Barcelona in the second half. I was wrong.
Real Madrid stayed strong. Mesut Ozil outshined Xavi as the best midfielder on the pitch. Ozil had some great passes, including the pass to Cristiano Ronaldo for the first goal. Not to mention his almost golazo in the first half. People said I was crazy to add Karim Benzema on the list of players who could be Ballon d'Or finalists. He had a great game, and his okie-doke on Carles Puyol was excellent.
As far as the Barcelona offense, there were some close moments. Alexis Sánchez was giving good effort, and so was Leo Messi along with Pedro. Sergio Busquets was not a part of offense because he had to help the back four, and it was unfortunate that Andres Iniesta, along with Sánchez, went out with an injury.
But where were Xavi and Cesc Fábregas? They were non-factors in the game.
Some are saying that Real Madrid got robbed last night. I don't think saying the term "robbed" is correct in this case.
Did referee Fernando Teixeira make questionable calls against Real? Absolutely. Did Teixeira help Barcelona advance? No way! His non-calls did go against Real Madrid's benefit, but his non-calls did not help Barça advance. Why? Because the game and the quarterfinal was there for the taking, and Real Madrid didn't take it. Pinto and the defense were practically gift-wrapping a goal in the first 40 minutes. Yes, Madrid played wonderfully, but they also missed wonderful chances.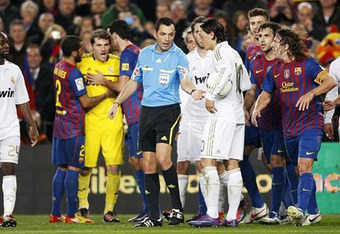 Teixeira had a bad game, but even with his bad calls, Real could've won, so fans need to stop saying he cost them the game. Plus, Teixeira had bad calls in favor of Real as well. Lass Diara could have been sent off when he fouled Messi. Teixeira's calls were more against Real than Barça, but he was just bad overall.    
I can't believe I have to say this, but for the record, I doubt Teixeira was paid by Barcelona or by anyone else to make calls against Madrid. Don't believe all these ridiculous conspiracy theories. I doubt that all the referees in La Liga and in the UEFA Champions League got together in a room one night or even had a conference call and said, "Let's help Barcelona win every time, especially at the Camp Nou!"
Regardless of what some anti-Barça fans may think, don't bet your life that this happened. This is about as ridiculous as doubting whether President Obama was born in this country or not.
Then again, some people will believe anything as long as it either goes in their favor or makes them feel justified.
Tomás Roncero, a Real Madrid extremist and columnist at the Spanish newspaper AS, went on Spanish television last night and said that Barcelona advanced to the semifinals, but Real Madrid won the quarterfinals. He also said Barcelona lost winning.
Roncero was right when he said later on that Barcelona was weak and were not the better team in last night's game. But Roncero is out if his mind to say Real Madrid won this quarterfinal because A.) obviously, they did not (look at the aggregate) and B.) Real Madrid missed their chances as well. Let me remind Roncero and everyone else that if Real Madrid converts just one of those chances they had, especially in the first half, we see a Madrid win regardless of the ref.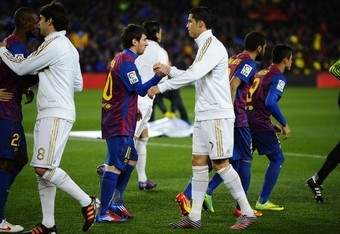 Pep Guardiola, as manager of FC Barcelona, is now unbeaten in 13 of 14 matches all-time versus Real Madrid. So Madridistas, your team played tremendously, but there is no "Fin de Ciclo." Barcelona are still dominating Cláscios overall.
Let's not forget that Real Madrid lost the first leg, 2-1, a week ago because it seems like everyone else has. The first leg is the real reason Madrid are out of the Copa Del Rey.
Am I happy that Barcelona is moving on in the Copa Del Rey? Yes. Am I happy the way they moved on? No. They played a terrible game, along with Real stepping up. Can't control the Madrid aspect, but Barça needed a better showing overall. The defense looked confused, and the offense was not typical Barcelona.Ten minutes of overall good play and a few Pinto saves don't make up for many minutes of confusion and bad play on the pitch. Teixeira's bad calls tarnish this Clásico for many.
So for all of you Barcelona fans who are celebrating and mocking Real Madrid and their fans after last night's game, please stop it. There's nothing to be overly thrilled about. Just be satisfied that Barcelona is moving on. Madrid was close and they deserve credit. Eliminating your hated rival is a sweet taste, but this triumph should be swallowed quickly.
"So what? Who cares? It's just one game. We've moved on and that's all that matters!"
You should care because inconsistent and general bad play like last night's game is why Barcelona have struggled this season and are on pace to lose La Liga. This was not a one-game thing; this is a recurring theme going back to the beginning of the season. If this is how they are going to continue to play, how is Barcelona going to get back into La Liga race?
Let's hope they don't play this same slow-to-get-started offensive, inconsistent defensive football in Champions League or the rest of the Copa like they did against Real or else they have no chance. Real Madrid isn't the only strong team out there.
As much as I love FC Barcelona and as much as I dislike Real Madrid, I'm not going crazy with celebration. I'm happy that Barça survived and moved on; that's it.
Good game, Jose Mourinho and Real Madrid.
Pep, there's work that needs to be done. I'm sure you know that, and I'm hopeful you're working on it.
Visca el Barça!