FC Barcelona: La Liga Race Back On! Real Slipping and Barça Rising
March 22, 2012

How five days can change the way we look at La Liga!
Barcelona has closed in on Real Madrid's lead in the chase for the Spanish title. Real's lead of 10 points has now been trimmed to six following a 1-1 draw with Villarreal. Barcelona defeated Granada 5-3 on Tuesday with three goals from Lionel Messi.
Congratulations on Messi becoming FC Barcelona's all-time leading goal scorer!
Pep Guardiola stated that Lionel Messi is comparable to Michael Jordan. Maybe Pep read my article "Leo Messi: King of Football Kings" where I made the Messi/Jordan comparison?
I appreciate you reading my articles, Pep. ;)
But before all Culés start going out and celebrating thinking La Liga will be won, let's not get too carried away. It's still a six-point lead and Barça is still at the mercy of Real.
I know most will say "But Barcelona plays Real in April and if they win that game, they'll only be down three points!"
I obviously understand this but let me remind you that it is not guaranteed that Barcelona will win that game. Yes, it is at the Camp Nou, but remember how poorly el blaugrana played in the second leg of the Copa Del Rey quarterfinal? They barely survived with a 2-2 tie.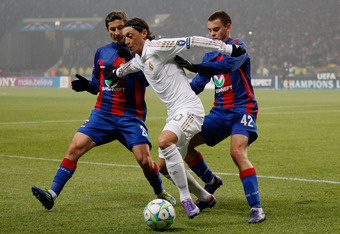 Harry Engels/Getty Images
It's not that I don't believe they can't win the game. I'm just saying that the April game is not a lock.
Real Madrid is strong and will have extreme confidence from the way they dictated the Copa game coming into the April showdown.
So what's wrong with Real Madrid?
I think they are doing what Barcelona was doing in January and February: getting sloppy and not finishing opponents off.
The issues started in the first leg against CSKA Moscow in the UEFA Champions League round of 16.
Up 1-0 in the 28th minute with a Cristiano Ronaldo goal, Madrid got a little too comfortable and was unable to finish off CSKA by adding in a second goal. In stoppage time, a Pontus Wernbloom goal made it 1-1 going back to Madrid. It was clear Jose Mourinho's team was a bit off. Real took care of CSKA in the return leg.
Real had a tough time putting away Rayo Vallecano if it wasn't for a Ronaldo Taconazo as well.
Another game with complicated Real was the Real Betis game of a few weeks ago.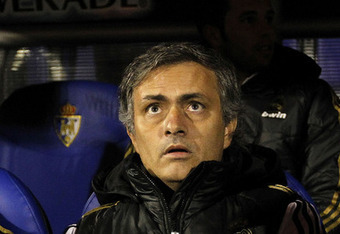 It was clear that Betis—and especially Jefferson Montero—were outhustling and outplaying Madrid. Ronaldo made it 3-2 in the 73rd minute which turned out to be the game winner. But a controversial non-call in the last minutes of game tarnished the win in the eyes of many. A hand ball on Sergio Ramos inside the penalty box was not called by referee Gorka Sagués Oscoz.
If the penalty had been given and Betis would have scored, we would be currently looking at a four-point Real Madrid lead.
But it is what it is.
These last two games for Real have been frustrating for Madridistas. They have been two games that Real should have won. But like Barcelona in January and February, inconsistency has plagued Real Madrid. Yes, they have controlled ball possession and shots on goal, but they—like Barça before them—have been unable to capitalize on opportunities created and it's cost them Liga points.
Some will say the last two games were a fluke because the games involved two questionable referee calls against Real Madrid and two great free kicks from Malaga's Santi Carzorla and Villarreal's Marcos Senna respectively.
David Ramos/Getty Images
That's no fluke—it's two great kicks along with not putting away the opponent earlier.
Just like Barcelona was losing on counterattacks, sloppy defensive play and not scoring the amount of goals they are used to, getting tied by one or two shots on goal is no fluke.
As Barcelona has learned this season, most stats don't matter. The only stat that matters is the scoreboard and if you have a higher number than the other team's number.
It also wasn't a robbery like Ronaldo said it was after the Villarreal game. In typical Mourinho fashion, he did not talk to the media after the game. According to Spanish channel Cuatro, Mourinho is seen on video calling referee Paradas Romero "son of a b****!" The squad also took their manager's lead and did not talk to the media as well.
Mou being Mou as usual.
Barcelona has improved significantly on offense thanks to the brilliance of Lionel Messi. He now has eight hat tricks this season. If there was doubt Messi might not win a fourth straight FIFA Ballon d'Or, Messi has reminded all of us that he is still the King of Football Kings.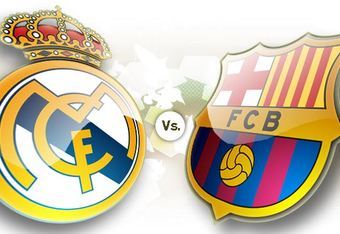 Cristian Tello is a star in the making too.
In order for Barça to catch up to Real, Alexis Sanchez and Pedro Rodriguez need to step up their goal-scoring. It can't always be Messi who scores. Sure, Messi is going crazy on goals but that doesn't mean the team or fans can just relax a bit because "We have Leo Messi on our team."
Sanchez needs to be quicker at taking the shot, and Pedro has to finally break out of the funk that he has been in all year and hit the back of the net—hopefully with the ball going between the posts.
The Barcelona defense is still sloppy and gave up three goals against Granada. No offense to Granada, but FC Barcelona should not be giving up three goals to Ganada! I don't care about the Dani Alves handballs; they are still penalties and Avles was playing catch-up on defense on both occasions.
Now with Eric Abidal out indefinitely and Adriano potentially out for the Champions League match against AC Milan with a muscle strain, the defense is thinner than ever.
Jordi Alba can't come soon enough! Although reports from SPORT.es suggest the deal is imminent.
It is time for Carles Puyol and Gerard Pique—two players that have struggled terribly this season—to play solid or else the Champions League will be lost. It's more than likely Javier Mascherano or Puyol will replace Adriano if the Brazilian cannot play against Milan.
If you are looking for games that Real Madrid can let some points go, look for March 31st against Osasuna in Pamplona, April 8th against Valencia at the Santiago Bernabéu, April 11th in the Madrid Derby when they visit Atletico Madrid, of course the Clásico against FC Barcelona at the Camp Nou and the May 2nd clash against Athletic Bilbao in Bilbao.
FC Barcelona's schedule is a bit easier than Real Mardid's, but that doesn't mean it's a lock that Barcelona will catch up. This is still an excellent Madrid squad. Also, true Liga fans know anything is possible and both Real Madrid and Barcelona can slip up.
Can FC Barcelona catch up to Real Madrid? Of course!
Will they catch up? Who knows.
Am I happy Real are slipping?
Yes, I'm a Culé but I'm also not going to overreact and say that this means Barcelona will definitely come back and win La Liga. I'm still taking a "we'll see what happens" attitude.
But I am thrilled FC Barcelona now has a realistic shot at winning La Liga.
Visca el Barça!  
Often imitated by other writers but never duplicated, Xoel!
Thanks for reading. Look out for my next article later this week.
Follow me on Twitter: @XoelCardenas
Don't forget to check out my other columns:
Ànims Abidal! Éric Abidal and the Future of FC Barcelona's Back Line
FC Barcelona: Why Sergio Busquets is Barça's Most Underrated Player
FC Barcelona: Leo Messi: King of the Night. King of Football Kings
FC Barcelona: 5 Big Transfer Rumors Fans Would Love To See Come True This Summer
FC Barcelona: 5 Former Barça Players Who Could Succeed Pep Guardiola