WrestleMania 28 Review: Top 15 Moments from Last Night's Show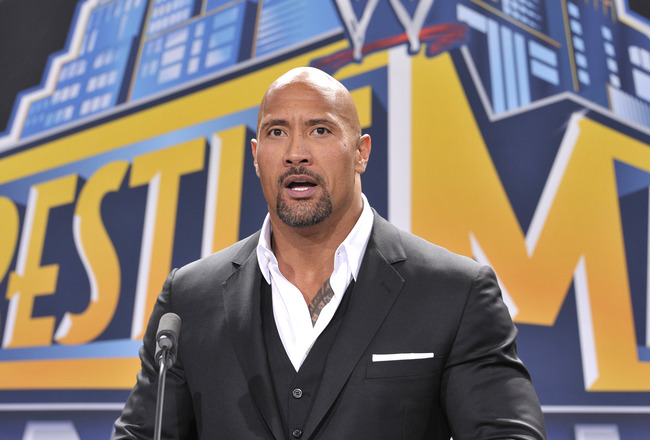 Michael N. Todaro/Getty Images
WWE delivered in a big, big way last night. The company held their annual WrestleMania event in front of more than 78,000 fans, and it was one excellent show.

I give this year's show a huge thumbs up. It was slightly better than last year, and I graded that show a B+.
In my mind, WrestleMania XXVIII is definitely in the discussion for one of the best WWE show of all-time.

With that being said, let's get to the top 15 moments!
15. Tag Titles
Primo and Epico retained their tag titles during the pre-show.

They defeated the Usos as well as Justin Gabriel and Tyson Kidd. I guess they are a pairing now.

The match was fine, and all six men worked very hard for the live audience.
It was a very clever move by WWE to put this on their website.

Obviously, my "it" girl was the spotlight here. She made it onto Mania, and she more than deserves it.

It was perfectly legal and hopefully convinced a few extra people to buy the event.
14. Backstage Segments
It was nice to see Mick Foley backstage.
His segment with Santino Marella was very funny.
Of course, Ron Simmons was the icing on the cake.

The same goes for Team Johnny! It was simply a good backstage segment.
It didn't waste too much time and was entertaining.

I could have done without the segment backstage with CM Punk and Mr. Excitement, but it did play a role during the WWE Championship match. Acceptable but not needed.

Do not even ask me why Heath Slater, Curt and Reks were on television. This was a low point of the show. Not even Flo Rida could save this...
13. Opening Video
Honestly, I expected a little bit more from the opening video package.
WWE does a top-notch job with these, but there was only focus on the top two matches.

I understand the logic, but it just wasn't some "super, amazing" opening.

As for Lilian Garcia, she was great.
The dress was perfect, and her voice was a nice way to start the show. It is certainly good to have her back with the company.
12. Divas
How can you not respect Maria Menounos?

She put on a great performance.
Injured or not, I give her major props for not canceling. Maria didn't even play it safe.
Everything from her was, once again, just fine.

Kelly Kelly and Menounos defeated Beth Phoenix and Eve Torres. Before the bell rang, we were treated to a very well-done promo hyping up the divas in WWE.

The match delivered, and so did the celebrity. Once again, the backlash over a "non-wrestler" coming in was all for nothing.

Nice job!
11. WWE Hall of Fame
I have yet to see any portions of the ceremony.
That will be on tonight before Raw.
I am looking forward to an enjoyable hour-long presentation.

The inductees were introduced to Miami, and the segment was great. Howard Finkel appeared once again, and his streak continues.

Short, yet very effective.
10. Brodus Clay Segment
I loved this.

It was probably a few minutes too long, but who cares?

Brodus Clay was introduced to a lot of new viewers last night.
Some people watching only tune in for Mania each and every year.

Maybe they saw Brodus dancing and loved it? Maybe not?

I enjoyed it for what it was. Add in Naomi and Cameron, and I will enjoy anything from them...
9. Announcements
WWE announced a huge crowd of more than 78,000 fans.
That is excellent for the company, but the real story will be on PPV buys.

WrestleMania will have a ton of people each and every year.
People buy tickets months before any of the matches are even announced. The name alone sells for the city.

Again, the numbers from cable providers is the real story.

At this time, Shawn Michaels was interviewed. It was not needed, but he did great Sunday night.
If only it was somebody other than Matt Striker asking him a question backstage...
8. Team Johnny Wins
Team Johnny vs. Team Teddy was a good match.
The crowd was just about dead during this, but that was to be expected.

Everybody worked hard, and the winner really doesn't matter.
Both Long and Ace will stick around, so this didn't solve much. My "it" girl Aksana did do a wonderful job, too!

The ending was a whole different issue.
Can we finally end this comedy role for Ryder? I have been driving this bus for far too long. He is not a serious threat and hasn't been for a long time.

The man is made out to be a total goofball week in and week out. He had one great month (December 2011), and the rest has been embarrassing.

He is just another "Santino" right now, and either he needs to change or just go away. We already have the funny segments with the United States Champion (Marella). There is no need for both of them.

Eve "turned" on Zack once again, and guess who took the pin fall and lost?

Woo, woo, woo. You know it!
7. Kane vs. Orton
I actually enjoyed this.

Kane and Randy Orton were not out there to steal the show.
They were not out there to prove themselves.

The two were out there to put on an entertaining 10-minute match.

Both came through just fine. The ending was a surprise, but WWE had to give a few heels a win. In the end, it won't matter much.

It was just a heel winning, so the face winning later on means much more. Before it is all said and done, I expect an RKO victory over Kane.
6. New Intercontinental Champion
Well, Big Show finally got his moment.

He is the new Intercontinental Champion, and I am okay with that.
Cody has a bright future, so this loss does not mean much.

I am sure many will still be yelling "buried" for the next few days, but that term means nothing.
Mr. Rhodes will be very successful this year, so giving Show the title was not a big deal.

Rematch or not, I don't expect much of a feud moving forward between these two.
5. Rumors?
Did everybody see The Miz interfere during the main event? I sure didn't.

How about that great Brodus Clay match? Never happened!

Chris Jericho vs. CM Punk was a great opener, huh? I would have liked that, but again, it didn't take place last night.

I sure loved Brock Lesnar returning last night, did you? Oh yeah...

The list goes on and on. I have said it once and will continue to.

Do not believe everything you read online!

Some of it may come true, while most of it will not. You have to pick and choose wrestling news.
If you actually hold every report to 100 percent, you are going to drive yourself crazy.

Again, some are truthful. Most of the them are not!
4. Punk vs. Jericho
This was a well-done WWE Championship match.

I never gave Chris Jericho much of a chance, but it was still very good.
Both men gave it their all, and I feel that my expectations were met.

With each man proclaiming to be the "best," you had to think the match would be exceptional.

Well, it was certainly not a classic. However, I was entertained and loved the ending.

Jericho doesn't care about "wins" and "losses" in this business. He has lost to many talents clean in the middle of the ring, and that won't change now.

Heath Slater beat him in two minutes once. Clean!

Evan Bourne also has a PPV victory over him. Yes, he does!

Again, Punk was always going to win in the end. Jericho does not need the title, and many think he just doesn't want the title. Shawn Michaels never did during his final run.

I respect that.

It will be interesting to see where this feud goes moving forward. Extreme Rules is in Chicago, so you have to expect a lot of attention on Punk this month.
3. End of an Era
Anybody want to tell me how much these two "old guys" are going to stink up the joint?

Anybody want to tell me they can't top their previous matches?

Yeah, just as I suspected...

As for the entire hour-long segment, it was perfect!
Having Jim Ross out there to fully put a ribbon on this present was well done. It truly felt like the "end" for many reasons.

Shawn Michaels played a part but stayed out of the way toward the best parts. We saw some blood, and fans were even hyped to see Undertaker with his new hair! I love the mohawk. It is very daring.

As expected, Undertaker won after a classic battle inside the cell. Other quick thoughts:

1. As I wrote about a few days ago, the "End of an Era" hype all along was signaling the final match for Taker. Just like Stone Cold, I am not sure he wants a big story surrounding his farewell. If you saw his appearance last night, he looked like a man ready to retire.

2. All three men walking away only confirmed my previous thoughts. Shawn Michaels is done, despite one laughable report out there. Triple H may do a few more matches. Taker, on the other hand, looked finished to me. He went out 20-0 at Mania with the match of the night.

Don't worry though! I am sure many fans are just lining up to "fantasy book" Taker losing next year at Mania to end the streak.
It happens every single year, and it just never amazes me.


2. Rock vs. Cena
Wow, what a John Cena heel turn!
It was so shocking, and I loved seeing it!
My dream has come true, and he is now a heel...which means I can now cheer him. Right?

No. Once again, none of that happened, and it won't.
Don't worry, I am sure many fans are lining up to predict it for the 67,985th time very shortly.

As for the main event, the musical introductions were fine. If anybody doesn't like them, I suggest never watching another WrestleMania in the future. They aren't going away.

The year-long build for The Rock vs. John Cena has its ups and downs. However, the match came through when it mattered most.
Next to Triple H vs. Taker, this was the highlight of the night.

Miami was a great crowd during the main event, and I loved every second of this match.

The ending will be debated over and over for the next few hours. In my mind, I need to see Raw tonight to make a full judgment.

If Rocky leaves and never faces Cena again, this was the wrong move.

If they have a rematch (or best of three), it makes sense to have Rocky win here. That way, Cena can win the next match, as well the third and final match.
We will have to see where WWE goes with it tonight...


1. Yes! Yes! Yes!
Well...

Well...

Well...

Last week, I wrote that Sheamus should defeat Daniel Bryan in less than a minute.
Most laughed. Now, they are silent.
While his eventual World Title was a foregone conclusion, it had to be short and decisive.

Feel free to read the comments from that very article. It is quite entertaining to see the posts before and after the show ended. Apologies and kudos are more than welcome from WWE (and myself).

The signs with "Yes!" just made me smile. They had no idea what was about to happen...

Again, did fans really expect some sort of long 30-minute match here? You can't tell me with a straight face that this was going to get more than a minute inside the ring. Really?

This is yet another example as to why I try to avoid "fantasy booking." Using logic and sense pays off, as this was built as a quick win for Sheamus from the beginning.

As I wrote about in January, Sheamus shouldn't lose until April. Outside of last week's Raw, he completed the mission. He won the Rumble and is now the World Champion. Congrats!

Follow Justin Watry on Twitter

Keep Reading