Peyton Manning Rumors: 49ers Combine Strengths of Both the Broncos and Titans
March 17, 2012

Jonathan Daniel/Getty Images
The San Francisco 49ers have emerged as a contender for Peyton Manning's signature at the 11th hour of his free agency frenzy.
Despite being one of the teams touted prior to his release from the Indianapolis Colts, the 49ers hadn't been linked to Manning since the sweepstakes begun. Instead, they were expected to re-sign Alex Smith and move forward with the quarterback who led them to an NFC Championship last year.
As Smith's negotiations appear to be going nowhere, Jim Harbaugh has turned his attention elsewhere. ESPN's Chris Mortensen and Adam Schefter reported that the 49ers head coach and former Indianapolis Colts quarterback worked out Manning this past week.
The Denver Broncos and Tennessee Titans had emerged as the favorites for Manning's signature, but with the Arizona Cardinals falling out of contention yesterday, the 49ers appear to be the best fit for Manning of the remaining teams.
In fact, the 49ers combine the best aspects of the Titans and Broncos. That should appeal to the future Hall of Fame quarterback.
49ers Quarterback Guru A Match for Elway 
The Denver Broncos are still the favorites to land Manning because of a sturdy defense and John Elway's salesmanship. With a Hall of Fame quarterback who understands the game from Manning's point of view on their side, Denver were supposed to hold the edge amongst the teams who were making pitches to Manning.
Elway may have found his match in 49ers coach Jim Harbaugh, however.
Harbaugh is a former Colts quarterback—he went 1-0 on the field against Elway—who has proven himself a quarterback guru at both the college and professional level. While Elway can talk to Manning like a fellow quarterback, Harbaugh can break down the game with Manning as a fellow offensive genius.
During his time at Stanford, Harbaugh showed off his abilities as a coach with Andrew Luck, a friend of Manning's and his expected replacement in Indianapolis. Harbaugh contributed to Luck's development as potentially the best professional prospect of all time.
He then got the best out of Alex Smith when he arrived in the NFL. Prior to last year, Smith had been a much maligned figure in the NFL who had shown little to no confidence.
Last year, Smith breathed confidence into his teammates and his performances on the field were outstanding. Harbaugh changed the attitude of the whole franchise.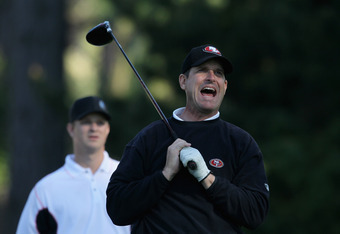 Jeff Gross/Getty Images
Harbaugh also showed off his understanding of football though by implementing an offense that perfectly suited Smith and got the best out of him on the way to an NFC Championship appearance.
That was something nobody expected the team to do prior to the season.
Elway is boisterous in his optimism and encouragement of Manning—and has offered him a huge contract—but Harbaugh is able to talk to Manning on the level that he loves. Harbaugh breaks down the technicalities of an offense into the most minor of details.
The Broncos are heavily relying on a pitch from Elway to convince Manning to play in Denver. Still, the quarterback is not stupid enough to fall for bells and whistles with no substance on the field.
The Broncos have a very talented defense and have enough veterans on the field to win. With John Fox, a head coach who has already gone to a Super Bowl, Manning would essentially be allowed to build his own offense in Denver. With Mike McCoy, he could also add to it through the huge amount of salary cap space that is available.
A Better Offensive Line and Cap Space
If the Broncos are relying on a sales pitch to bring Manning in, the Titans are relying on their talented roster to bring him back to his college state.
Offensively, the Titans have a much better line than the Broncos. Their star running back and elite receiver will return from last season's torn ACL injury. With a young, talented receiving tight end in Jared Cook, the team also has the type of player that Manning could improve upon.
There's cap space available to bring in some of Manning's guys, so the Titans definitely have a chance to sign Manning, but at this point, they have to be considered the third most likely of the final three.
The Best Defense in the NFL
The 49ers blow both teams out of the water as far as talent on the field goes, however.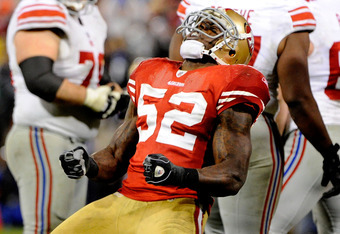 Thearon W. Henderson/Getty Images
San Francisco side had one of the best, if not the best, defense in the NFL last year. There is a very talented defense in Denver, but the 49ers all-around ability gives them the edge.
Players like Patrick Willis, Navorro Bowman and Justin Smith are likely more determined than ever to go one better than last season.
A Strong Running Game and Spectacular Tight End
On the offensive side is where things really get interesting.
Jim Harbaugh obviously likes a certain level of control over his offense. I'm sure both he and Manning have discussed the control each would have if the 35-year-old signs in San Francisco. There would be some compromise from both sides in all likelihood.
As far as weapons go, the 49ers have a very strong running game to complement Manning's passing attack. That could even carry him early in the season as he adjusts during his return from injury.
The 49ers biggest weapon on the field last season was someone who Manning should absolutely love. In Indianapolis, one of his favorite targets was tight end Dallas Clark. Working with Vernon Davis should have Manning shaking with excitement.
Davis is the kind of tight end who can take a two-yard curl route 85 yards for a touchdown. His upper body allows him to act as a possession receiver. He is a spectacular, highlight reel type of player. It would be hard to believe that Davis wouldn't have a career year playing with Peyton Manning.
The wide receiving corp is somewhat questionable, but the possibility of improving it remains. The team's best receiver last year was Michael Crabtree, but he is an underwhelming talent who is yet to show his full potential as a professional receiver.
In the offseason, the team brought Randy Moss back to the NFL. Moss had impressed during a workout catching passes from the team's head coach. Moss, for various reasons, should be an excellent addition to the 49ers—so long as Manning is under center.
The team's offensive line has had its struggles recently, but is a capable group from a talent perspective. One of Manning's strongest traits is the ability to hide any limitations of his pass protection. 
He may be physically injured, but his study habits and understanding of NFL defenses shouldn't be affected next season.
If Peyton Manning wants to be paid heftily, the 49ers have the cap space to do so. If Manning wants to be surrounded by offensive minds who can understand his thinking on his level, the 49ers can offer him that support. If Manning wants to give himself the best opportunity at winning another Super Bowl ring, the 49ers are that team.
If Peyton Manning chooses a different NFL team to be his new home, he will be making a mistake.
Tweeting @Cianaf