Minnesota Vikings: Ranking Free-Agent Targets
March 9, 2012

Jamie Squire/Getty Images
Searching for optimism on the heels of a 3-13 season isn't easy, but I come bearing good news. 
It can't get any worse. 
I'm of the belief that the team has finally bottomed out. In fact, I'm sure of it. The day was December 24, 2011. The team lost Adrian Peterson and the invaluable draft rights to Robert Griffin III in one afternoon, and I subsequently drank a gallon of spiked eggnog in under an hour. 
While my downward spiral continues, the Vikings appear poised to begin the long journey back to playoff relevance, armed with the No. 3 pick in April's draft and a middle class budget.
Free-agency signings don't happen in a vacuum. There are three rules to the following breakdown: 
1. The Vikings are currently pushing $11M in cap space, and after cuts and contract restructures are likely to crack the $20M mark. While that's a comfortable number that can go a long ways towards filling holes, there will be over a dozen teams coming to the table with more chips. 
2. Even in their very best case scenario, the Vikings are still at least two years away from division contention. The ship has sailed on stopgaps and quick fixes—the team should be putting a premium on youth with an eye on 2013. For this reason (and many others), you won't find Peyton Manning on this list. 
3. I will be operating under the crystallizing belief that the Vikings will be selecting USC left tackle Matt Kalil with the third pick, and will focus on defensive backs and wide receivers beginning immediately at pick No. 35.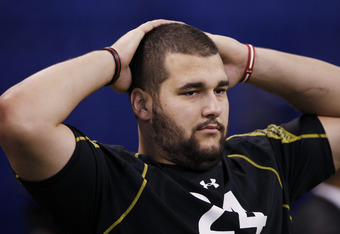 Joe Robbins/Getty Images
With that, let the bidding commence!
1. Brandon Carr (25), CB, Kansas City: The Vikings can afford one big swing in free agency, and they should make it count at the cornerback position. Antoine Winfield (34), whether he likes it or not, is destined to finish his career at safety. Cedric Griffin is damaged goods, Chris Cook is a clown and Asher Allen is a nickelback on a good day.  Cortland Finnegan is getting more press, and rightfully so, but Carr is a better fit for the Vikings. At 6'0", 207 lbs., he boasts the right combination of size, strength and speed to give the Purple a prayer against Calvin Johnson for the next five years. Carr has been a consistent performer who can play both man or zone, and his best football is still ahead of him. 
2. Vincent Jackson (29), WR, San Diego: Jackson has good speed, great size (6'5", 230 lbs.) and proven game-breaking ability. In short, he's tailor made for the Vikings' current roster. Or any roster, for that matter. The bidding war has already begun, and Jackson is probably a better fit for a team ready to win now. 
3. Cortland Finnegan (28), CB, Tennessee: Like Jackson, Finnegan would be a great fit for Minnesota's current roster, but will be past his prime before the team is ready to contend. He's undersized at 5'10", 188 lbs., but is a proven commodity who plays with a massive chip on his shoulder. He'd instantly provide an aggressive presence to a secondary whose biggest 2011 hit was recanted yesterday.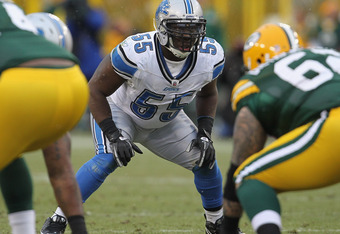 Jonathan Daniel/Getty Images
4. Stephen Tulloch (27), MLB, Detroit: Ineptitude at receiver, secondary and offensive line has blinded many to the fact that the Vikings will enter 2012 with a gaping hole in the middle of their defense. E.J. Henderson is fading fast and likely on his way out, and while Jasper Brinkley has proven himself a solid run thumper in relief, he's best suited for backup duties. Although Tulloch is short (5'11", 240 lbs.), he's young, plays hard and hits harder. The Vikings would be wise to pursue Tulloch's services aggressively. 
5. Erin Henderson (25), OLB, Minnesota: Baby brother flashed some very nice promise last season, and is expected to re-sign and continue to bookend Chad Greenway at an affordable figure. 
6. Laurent Robinson (25), WR, Dallas: He lacks sex appeal, but Laurent Robinson is a young, talented up-and-comer who represents the prototypical Vikings free-agent target. Coming off a breakout season (54/858/11), the 2007 third rounder will still come at a reasonable price due to a deep class and an enigmatic past (his next team will be his fifth). Robinson can stretch the field with his speed, and has good enough size (6'2", 194 lbs.) to play significant snaps on the outside for the Purple both now and in the future. 
7. Tracy Porter (25), CB, New Orleans: Yes, that Tracy Porter. The smallish (5'11", 186 lbs.) cornerback is an established playmaker and a solid overall corner who could provide plenty of bang for the buck, as his value has been depressed by an injury-riddled career. 
8. Evan Mathis (30), LG, Philadelphia: If the Vikings can't cut Steve Hutchinson's (34) $7M number in half, at least, he's likely to be released. Right guard Anthony Herrera is on the chopping block as well, so the Vikings could suddenly be very thin inside. According to Pro Football Focus, Mathis presents outstanding value as a consistent, max-effort technician who will come at a greatly reduced rate from fellow free agents Carl Nicks and Ben Grubbs.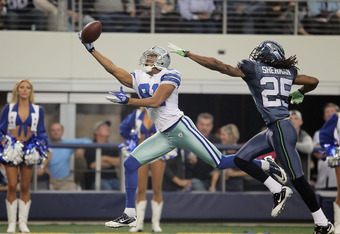 Jeff Gross/Getty Images
9. Robert Meachem (27), WR, New Orleans: Meachem is a nice fit for the Vikings, in that he can stretch the field for Percy Harvin and Kyle Rudolph to work the intermediate routes. He's a flighty late bloomer who's very one-dimensional on paper, so the Vikings need to be careful not to overspend (see: Bernard Berrian). 
10. Pierre Garcon (25), WR, Indianapolis: Garcon boasts very nice outside speed and athleticism, but his hands and route running are spotty. The fact that he turned down a five-year, $35M offer from the Colts should be a red flag for Rick Spielman. 
11. Mario Manningham (25), WR, New York Giants: At 5'11", 183 lbs. with a questionable knee and a history of inconsistency, Mario Manningham's ceiling is that of a solid No. 2 wideout. The fact that he views himself as a No. 1 will (hopefully) price the Vikings out of the running. 
12. Ben Grubbs (27), LG, Baltimore: Grubbs has already blossomed, and he's set for a big payday. Assuming Kalil is the guy at No. 3, the Vikings will kick Charlie Johnson inside to one of the guard spots, essentially improving two positions at once without having to shell out big dollars to the guard position. 
13. Marques Colston (28), WR, New Orleans: Despite the need, breaking the bank on a 28 year old with chronically bad knees wouldn't be wise. Especially considering that Colston's success has largely been a by-product of the Saints' system and Drew Brees' excellence.  
14. LaRon Landry (27), S, Washington: By now, we're all privy to LaRon Landry's lower body troubles and upper body accomplishments. He struggles in coverage, but strikes the fear of God into any ball carrier. Depending on the price tag, he could be worth the risk at a position of desperation for the Vikings despite the injury red flags. 
15. Carl Nicks (26), LG, New Orleans: Like anyone else, the Vikings could obviously use an All-World guard, but they simply can't afford the luxury. 
Ryan Boser is a member of the FSWA, and a staff writer for Bruno Boys Fantasy Football and Fantasy Victory. He can be followed on Facebook and on Twitter at @Ryan_Boser.