NCAA Tournament Bubble Breakdown: Miami vs. South Florida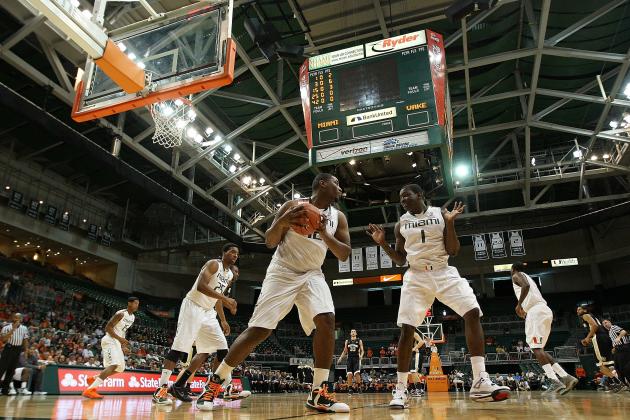 Mike Ehrmann/Getty Images

The Sunshine State was the focus of the NCAA Tournament-bubble world on Sunday.
Early in the day, South Florida finally picked up a win against a quality Big East team, with a 46-45 victory over Cincinnati. Later on, Miami went out and made an even bigger statement with an impressive 78-62 win over Florida State, the ACC's third-place team.
With each getting crucial wins to enhance their respective cases for the NCAA Tournament, how do USF and Miami stand relative to each other? Which would make the Field of 68 as of right now?
Here's a look at the case for each, with records and rankings shown below.
Miami: 17-10, 8-6 ACC; RPI: 48, SOS: 33
South Florida: 17-11, 11-5 Big East; RPI: 46, SOS: 25
Notable Common Opponents: Rutgers (both beat)
RPI/SOS information from realtimerpi.com, updated Feb. 27
Other NCAA Tournament Bubble Breakdowns
Begin Slideshow

»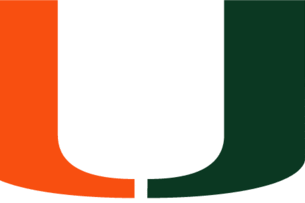 Duke and Florida State
After Sunday's win over FSU, Miami has now defeated two of the ACC's top three teams. Their win at Duke back on Feb. 5 put Miami on the at-large radar, and beating FSU helped dispel the notion that this team is a one-trick pony.
With Duke still in the hunt for a No. 1 seed, and FSU a tourney lock with a chance at a top-four seed, Miami has a combination of two wins better than most other bubble teams.
No Bad Losses
Bubble teams often tend to have bad losses that take away from the good wins they do possess. With just one loss to teams outside the RPI to 100 (Maryland at No. 102), Miami doesn't have any really bad losses that might offset the excellent wins over Duke and FSU.
In non-conference play, Miami's worst loss was to Ole Miss, with an RPI of 69. That's pretty good for a bubble team.
Solid SOS
Miami's strength of schedule currently ranks No. 33 overall—the fifth highest among ACC teams. Duke, North Carolina, FSU and NC State have higher SOS ratings, and three of those teams are NCAA locks.
Miami played West Virginia, Purdue and Memphis in the non-conference schedule, helping to boost its schedule strength. Within the league, Miami has seen a lift in their SOS as a result of playing UNC and FSU twice. That fact will certainly be factored into the selection committee's assessment of Miami.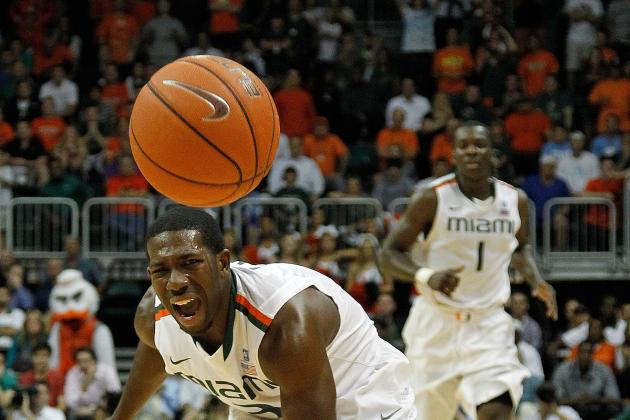 Mike Ehrmann/Getty Images

No Notable Wins Out of ACC
Miami's noted games against West Virginia, Purdue and Memphis would have been more of a boost to its profile had they won any of them. However, Miami came up 0-for-3 on their best chances to make a statement outside the ACC.
As a result, Miami has no quality non-conference wins to back up its two within the league. With the Canes best win coming over a fringe-bubble team in UMass (RPI 82), they are going to have to rely very heavily on the strength of the Duke and FSU wins.
Five Sub-100 RPI ACC Teams
A league as traditionally strong as the ACC rarely has more than a couple teams outside the Top 100. This year, however, there are currently five. That includes Clemson, which is currently just a game back of Miami at 7-7 in conference play.
Six of Miami's eight wins in the ACC are against those five teams with RPI's below 100. With just one win against a Top-100 team outside the ACC, that means the Canes have just three total wins against Top-100 teams. Not particularly good for an ACC team.
Loss(es) to NC State
Miami lost to NC State at home back on Jan. 22, and has a rematch with the Wolfpack this week in Raleigh. With NC State in desperate need of a quality win to boost their own at-large chances, the game will be very tough for Miami. If the Wolfpack takes care of business at home and completes the sweep of Miami, the Canes could fall below NC State within the group of bubble teams.
In other words, if NC State doesn't get in, Miami probably shouldn't either.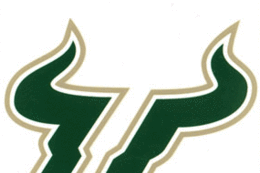 11 Big East Wins
When you look at the Big East standings and see South Florida up there with the likes of Louisville and Cincinnati, it's tough to ignore. At 11-5 in conference play, USF has handled its schedule very well, beating all the teams they should.
In a league that saw a 9-9 team win the national title last year, it can be tough to discredit a team who will win 11 or more games in a league with the depth of quality teams that the Big East has.
11-1 vs. Big East Teams 6-16
USF's Big East play has been rather straightforward—beat who they should and lose to the best teams in the league. With their win on Sunday, USF is now 11-1 against teams beneath it in the Big East standings. That includes two victories over teams in the top half of the Big East in Cincinnati and Seton Hall.
Meanwhile, four of USF's five league losses are to the top four teams—Syracuse, Marquette, Georgetown and Notre Dame.
Top 25 SOS
With the No. 25 ranked strength of schedule, it means USF has also played quality teams outside the Big East. In addition to the four teams mentioned above, the Bulls took on Kansas, Southern Miss and VCU, among others, in the non-conference schedule.
USF's SOS should only go higher this week, with games against Louisville and West Virginia left on its regular-season schedule, and the Big East Tournament to follow.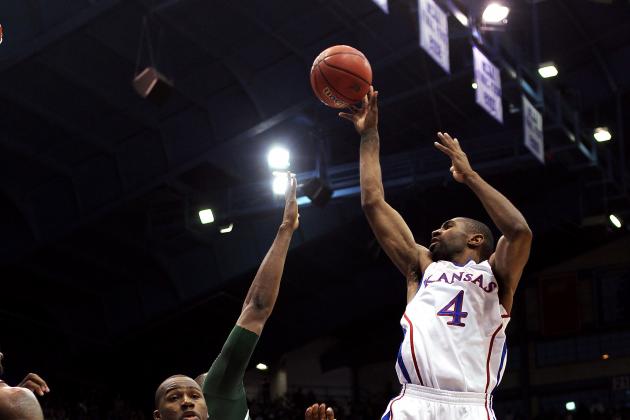 Jamie Squire/Getty Images

Cincinnati
While the win over Cincinnati on Sunday greatly helped USF's chances at an at-large bid, the fact that it is also USF's best win this season is not a particularly good thing to boast.
Prior to beating Cincy, the Bulls' best win had been over Seton Hall, also at home. For any Big East team expecting to make the NCAA Tournament, those aren't an overwhelming pair of wins to base a legitimate case on.
4.6 Wins
USF has 11 wins in the Big East. The average number of conference wins of the teams it has beaten: 4.6.
Of the 11 wins, six of them are against Providence, Villanova and Pittsburgh. Those three teams have a combined league record of 11-37. Three of the Bulls' other wins are against DePaul, St. John's and Rutgers—each among the bottom six of the conference standings as well.
Questionable OOC Losses
USF would be in much better shape if they had a couple more quality wins outside the conference. However, not only do the Bulls not have any real quality wins outside the Big East, they also have a few suspect losses.
USF lost six games outside the Big East, with three of those coming to Auburn, Penn State and Old Dominion. All three teams are sub-100 RPI teams. With some doubt about just where USF stands relative to other at-large-worthy Big East teams, losses to those kinds of teams could really cause some doubt with the committee.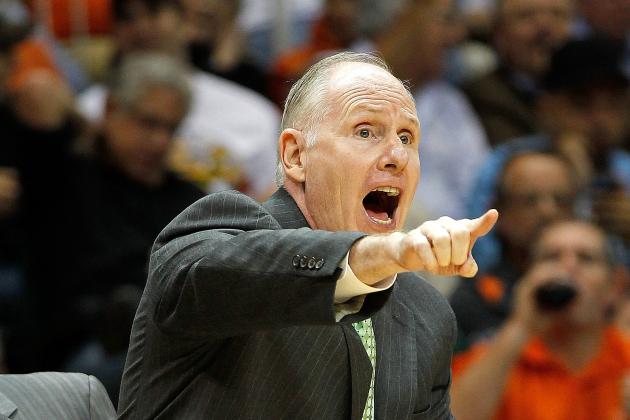 Mike Ehrmann/Getty Images

Both teams are closer to sneaking into the NCAA Tournament after significant profile-building wins this weekend. Miami is in slightly better position than USF after the win over FSU, but would not be in the Field of 68 at this point. Both still have work to do to give their profiles a bit more depth.
Miami has two really good ACC wins, but very little else. A win at NC State this week would likely put the Canes over the hump, barring a loss at home to last-place Boston College to close out the regular season.
South Florida, meanwhile, also has two more great opportunities to strengthen its case. The Bulls have a game at Louisville followed by a home finale with West Virginia—which may very well end up being a play-in game for the two teams.
Both: OUT
Other NCAA Tournament Bubble Breakdowns