NCAA Tournament Bubble Breakdown: Arizona vs. BYU
Patrick McDermott/Getty Images

Derrick Williams and Jimmer Fredette were two of the biggest individual stars of last year's NCAA Tournament. Each carried their respective Arizona and BYU teams to the second weekend of the tourney, with Williams' leading the Wildcats to within a couple minutes of the Final Four.
This year, Williams and Fredette are trying to carve out their roles in the NBA. While both players are averaging around eight points a game for Sacramento and Minnesota, respectively, their former college teams are trying to carve out a spot of their own in the upcoming NCAA Tournament.
Going into the month of February, it seemed like Arizona was all but eliminated from tourney consideration. The Wildcats were just 14-8 overall and 5-4 in the Pac-12—a league significantly depleted by early player departures from a year ago, like Williams.
However, Arizona has since won six of seven, and has climbed up to third place in the conference standings and into the NCAA bubble debate.
In its first season in the West Coast Conference, BYU has lingered right behind perennial league front-runners Gonzaga and Saint Mary's. The Cougars lost at Gonzaga on Thursday night but still sit solidly in third place at 11-4 in WCC-play.
So which third-place team will eventually have the chance to dance? Here's a look.
Arizona: 21-9, 12-5 Pac-12; RPI: 68, SOS: 98
BYU: 21-7*, 11-4 WCC; RPI: 48, SOS: 104
Notable common opponents: Oregon (BYU beat, Arizona lost to)
*Record listed is in Division I games only; RPI information from realtimerpi.com, updated Feb. 28
Begin Slideshow

»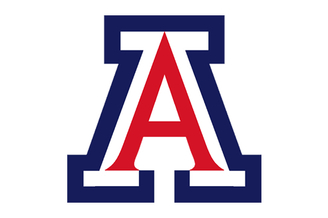 Bay Area Sweep
In a span of 48 hours, Arizona picked up two of their best wins of the year over California and Stanford back-to-back.
Cal is currently on top of the Pac-12 and has solidified itself as the league's best team overall. With an RPI of 32, Cal appears to be the one team from this league that is a fairly safe bet to reach the NCAA Tournament. Stanford, despite a 9-7 record in league play, is never an easy team to beat in their own building.
No Bad Losses
Arizona has yet to reach double digits in losses thanks in large part to winning the games they should.
Its "worst" loss is probably at UCLA, which is a much better team than they were at the beginning of the year. Outside the league, Arizona's four losses came to Florida, Mississippi State, San Diego State and Gonzaga. Those are all quality teams that are very likely to be tournament teams next month.
Playing Its Best Ball Now
Arizona struggled a bit in the first two months of the season, adjusting to life without Derrick Williams and "Momo" Jones, who transferred back home to Iona. However, Sean Miller's team appears to have put things together just in time to make a possible run in March.
Beginning with the aforementioned trip to the Bay Area, Arizona has won six of their past seven games to improve to 11-5 in conference play. Its only loss in that span came last weekend at Washington—the league's second-place team.
With games against UCLA and Arizona State remaining, Arizona has a great chance to build even more momentum heading into the Pac-12 and possibly the NCAA Tournament.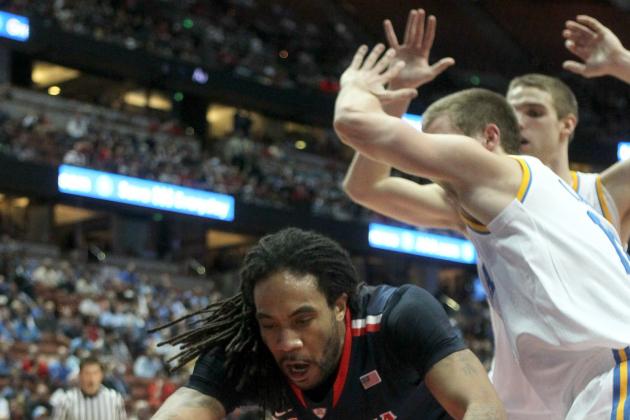 Stephen Dunn/Getty Images

Weaker Pac-12
It's been hammered over and over, but the reality is the Pac-12 is simply not as strong a league this year.
Most of the Pac-12's lower power rating—it is the 10th ranked conference currently—is due to its collective failure to beat quality teams in non-conference play. When perhaps the best non-league win of any team is Oregon State's neutral court win over Texas, the league as a whole is in for a rough year.
The only way for Pac-12 teams to make up for their non-conference struggles is to dominate in league play. Despite a strong 11-5 record, Arizona may not be dominant enough to warrant an at-large bid.
No Quality Non-League Wins
This is obviously piggybacking off the prior point, but Arizona hasn't done much to help itself or the Pac-12 as a whole with their inability to beat the better teams on its early-season schedule.
Arizona could not capitalize on opportunities to beat Florida (an overtime loss) and San Diego State (a four-point loss), which would have provided a nice boost to its profile and RPI. With its best wins over Clemson, Saint John's and New Mexico State—all NIT teams at very best—Arizona has little to back up its better Pac-12 play.
Swept by Washington
Cal might be on top of the Pac-12 at the moment, but many feel Washington is actually the league's strongest—and most talented—team with the most upside in March. Arizona lost to the Huskies in Seattle last week but also missed a good opportunity to beat them at home last month.
A split with Washington would have been a solid boost to Arizona's profile and would have given it a claim to victories over the top two teams in the Pac-12. Instead, it has to hope the win over Cal can carry it to a bid: not a great position to be in.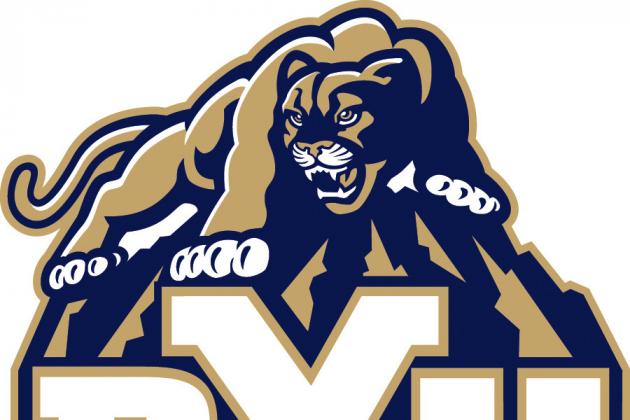 Good Road Play
Despite a loss at Gonzaga this week, BYU has done very well away from the home-friendly Marriott Center.
It has gone 8-3 in true road games, including a 6-2 record in WCC contests away from Provo. Wins against some pretty good teams, like Virginia Tech, Loyola Marymount and San Francisco, have helped keep the Cougars near the top of the WCC throughout the year.
Went Out and Played People
BYU challenged itself a bit prior to their debut-WCC season.
It played two top-20 teams, Wisconsin and Baylor. Though, they lost both of those, the Cougars scheduled some other quality teams and won them. Nevada (RPI 56), Oregon (RPI 51) and a trip east to play Virginia Tech provided BYU with some quality wins to help support its quality play in the WCC.
Gonzaga and Saint Mary's
BYU's move to the WCC may have seemed like a bit of a drop-off from the Mountain West Conference. However, with both Gonzaga and Saint Mary's being Top-25 caliber teams once again, BYU has had four games against NCAA Tournament-level competition within its new league.
BYU's win at home over Gonzaga a few weeks back provided it with its biggest win of the season, coming against a Top-25-RPI team.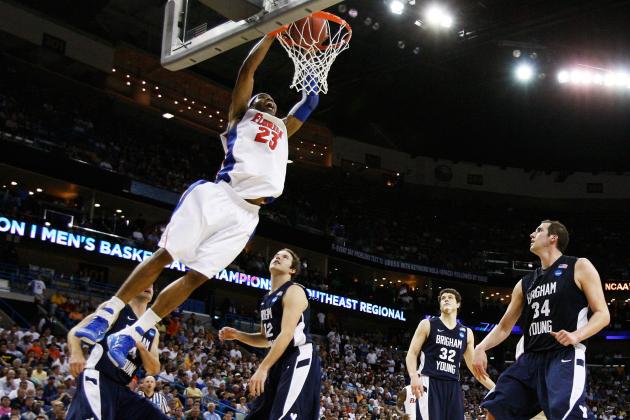 Kevin C. Cox/Getty Images

One Top-50 Win
BYU's aforementioned win over Gonzaga is its only one over a Top-50 RPI team this season. Its 1-5 record against the Top 50 does not exactly scream out "at-large worthy."
100-plus SOS
BYU's current strength of schedule ranks at just 113, which is not particularly good even for a WCC team. While a lot of that isn't really the fault of BYU (i.e. Santa Clara and Utah have been particularly disappointing this year), it does help bring into question the quality of some of its wins.
Eleven of BYU's 21 D-I wins are against teams with a sub-200 RPI, with a 12th such win potentially looming in Portland. With over half their wins against weak competition, the good wins BYU does have may be offset somewhat in the eyes of the selection committee.
Swept by Saint Mary's
BYU played their very first WCC league game at Saint Mary's and lost 98-82. That in itself wasn't a huge deal, since few teams win in Moraga.
However, BYU was also dominated by the Gaels in their rematch in Provo, losing by 14. The fact that the Cougars not only lost, but also weren't any more competitive than they were in their first matchup raised some doubts about whether BYU should be considered on the same level as Gonzaga and SMC.
The loss also kept BYU from earning another key win which could have made them a near-lock for the NCAAs.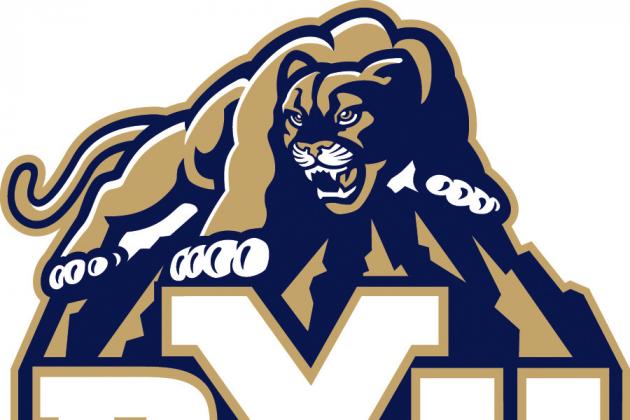 Both teams have at least 20 wins. Both are in third place in their respective leagues. Both have few damaging blemishes but also few head-turning victories.
With the Pac-12 and WCC on virtually even levels this year (ranked No. 10 and 11, respectively) the edge has to go to the team with the stronger non-conference profile. With a couple borderline-Top-50 RPI wins, that team is BYU.
As long as it can avoid a bad loss in their regular-season finale at Portland, or a loss in the quarterfinals of the WCC Tournament, BYU should be in pretty good shape for a tourney bid.
Arizona, meanwhile, needs to win the last two Pac-12 games on their schedule to stay in the hunt for a bid. It also may need to beat someone in the upper portion of the league (i.e. Oregon or Washington) to feel good about earning a spot in the Field of 68.
BYU: IN
Other NCAA Tournament Bubble Breakdowns