UFC 144: Info and Predictions for Every Fight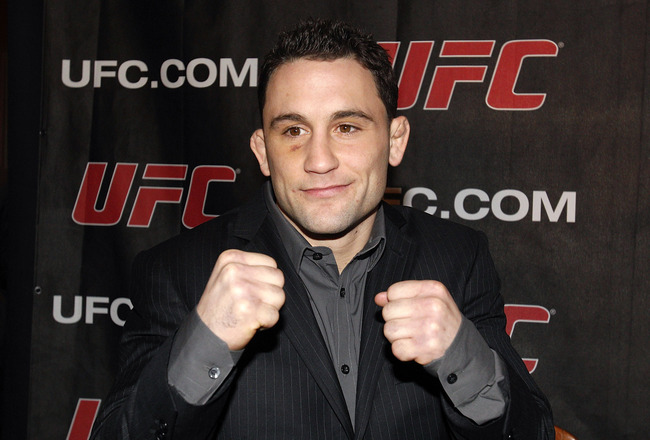 Frankie Edgar
Michael Cohen/Getty Images
UFC 144 marks the first event in the Zuffa era to take place live from the Saitama Super Arena in Saitama, Japan, and comes to the world live this Saturday night on PPV with prelims on FX and a Facebook-only bout between "The Mongolian Wolf" Tiequan Zhang and Issei Tamura.
The card features Japanese talent such as Yoshihiro Akiyama, Yushin Okami, Norifumi "KID" Yamamoto, and Hatsu Hioki, among others, and also features a headliner of Benson Henderson vs. UFC Lightweight Champion Frankie Edgar with a co-headliner of Quinton "Rampage" Jackson and Ryan Bader.
As we begin the most anticipated fight week of 2012 so far, there are a few things you need to know about the card...
(All predictions are final except wherever otherwise noted)
Tiequan Zhang vs. Issei Tamura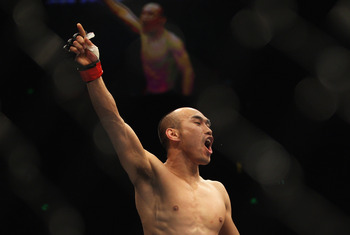 Mark Kolbe/Getty Images
"Submissions vs. Wrestling" might be the best way to describe this bout.
Tamura is a student of Norifumi Yamamoto and he's a powerful wrestler with an even more powerful right hand, while Zhang is a submission specialist with a striking regiment of his own.
Zhang is 15-2 as a professional, while Tamura is 6-2, but some might argue that Tamura has not been tested yet.
However, his wrestling is the type of wrestling one needs to neutralize the submission mastery of Zhang, and while Zhang may not be easy to finish, Tamura definitely could show all the makings of a real threat to some of the existing crop at 145 pounds.
Winner: Tamura by unanimous decision (De Souza scorecard: 29-28 Tamura; a 30-27 sweep on the judges' cards should not be surprising if Tamura wins)
Takeya Mizugaki vs. Chris Cariaso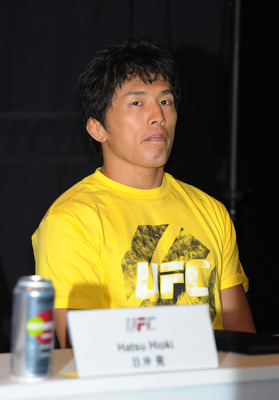 Takeya Mizugaki
Koki Nagahama/Getty Images
Some wouldn't call Mizugaki a class-A striker by any stretch of the imagination, what with nine decision wins, but he does carry the distinction of five (count 'em, FIVE) wins by some form of knockout.
Chris Cariaso also has most of his wins by decision (eight, in fact), but Cariaso's strengh is his Muay Thai, and he definitely knows how to use it effectively for MMA regardless of who he is facing.
Cariaso has been seen as a compact bantamweight, but I cannot help but wonder if "compact bantamweight" is jargon for "bantamweight who should be at flyweight", and while Mizugaki probably looks light for the division himself, he certainly didn't look light for 135 when he earned the distinction of being the only challenger to Miguel Angel Torres' WEC Bantamweight title to have pushed Torres all five rounds.
Cariaso has shown a grittiness about himself, but ever since Renan Barao submitted him in the WEC, he's been inconsistent in achieving wins and losses, going 3-2 in his last five.
Nothing to be ashamed about, but on Mizugaki's home turf, consistency is key, and unless he establishes himself as the aggressor in this fight, Cariaso will likely find himself on the wrong end of a surely difficult fight.
Rest assured, though, that Cariaso will be more than up to the task that Mizugaki will present.
Winner: Mizugaki via 3rd round TKO (De Souza prediction: Mizugaki via head kick and punches in Round 3, with Mizugaki winning Round 1 and Cariaso winning Round 2)
Riki Fukuda vs. Steve Cantwell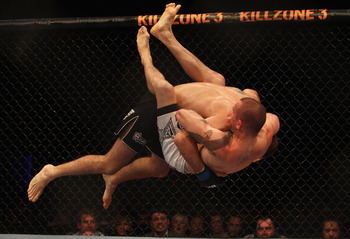 Riki Fukuda
Mark Kolbe/Getty Images
The past four fights of Steve Cantwell's career have not been "his night" in any respect, and now he draws RIki Fukuda, who himself is coming off of a loss in a clear victory over Nick Ring.
Wait a sec, "a loss in a clear victory over Nick Ring"?
How does that happen?
Simple: Many, myself included, had Fukuda winning against Ring (30-27 on my card, though I battled over whether or not to give Ring that first round), and yet the judges had it 29-28 on all three cards for Ring.
Not faulting Ring at all, but to me, he did not win that fight.
Cantwell didn't win his fight with Mike Massenzio either, but the difference is that the judges got that call right.
Fact is, Cantwell hasn't been able to put it all together against anyone since the technical submission win over Razak Al-Hassan, and not even Massenzio or Cyrille Diabate can deliver pain and punishment the way Fukuda can.
If it wasn't for bad luck, Cantwell might not have any luck at all, and while he might enjoy the sights in Japan this week, Fukuda will be too much for the 25 year old to handle.
Winner: Fukuda via 2nd Round KO (De Souza prediction: Fukuda via right uppercut against the cage in the second round with Fukuda earning a close first round on the judges' scorecards)
Norifumi "Kid" Yamamoto vs. Vaughan Lee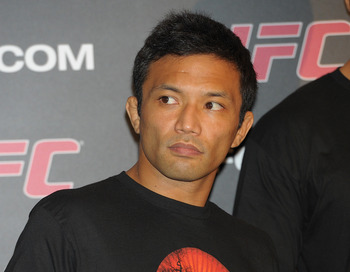 KID Yamamoto
Koki Nagahama/Getty Images
Vaughan Lee's UFC debut was a pretty fun affair to watch for some, but all in all,Chris Cariaso proved a bit too much for Lee to handle, even if it was a split decision.
Now, Lee gets Norifumi "Kid" Yamamoto, and all signs should point to a quick win for Lee, right?
Wrong.
I'll admit, Lee has a reputation for earning submission wins, and despite still having his patented striking, Yamamoto has just been a bit susceptible to takedowns lately, but what if Lee can't get Yamamoto down at all?
Truth is, Yamamoto is still every bit as deadly on the feet as he ever was in the Japanese MMA scene, and the signature glide in his flying knee attempt at the end of his bout with Darren Uyenoyama is proof that the "Kid" still has something left.
Kid needs the win to preserve his place in the UFC Bantamweight Division, and those expecting Lee to break out on this night might be a bit disappointed in how this night ends for the Birmingham native.
Winner: Yamamoto by late second-round KO (De Souza prediction: Yamamoto will stun Lee with a big overhand right and end the night with his patented flying knee with a minute and a half to go in Round 2.)
Takanori Gomi vs. Eiji Mitsuoka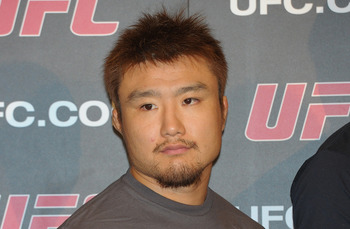 Koki Nagahama/Getty Images
Takanori Gomi may have gotten a tougher challenge out of George Sotiropoulos to some people, but he's not the only PRIDE veteran in this fight Saturday night.
Eiji Mitsuoka is a PRIDE veteran himself, going 2-2-1 in the promotion, and in addition to that, he's also fought for the likes of DREAM, Sengoku, DEEP, Shooto, and King of The Cage, with all but three of his career fights coming on Japanese soil.
Mitsuoka is on a two fight win streak, but he has not fought since July of last year, and with Gomi having lost to Nate Diaz and Clay Guida in 2011, Gomi would rather start the year off with a return to form.
A pink slip just will not do, because Gomi knows that somewhere down the line, you have to win a few fights, and "win" he shall do in a bout that should be a great showing for the Japanese crowd.
Winner Takanori Gomi by unanimous decision (De Souza scorecard: 30-27 Gomi)
Hatsu Hioki vs. Bart Palaszewski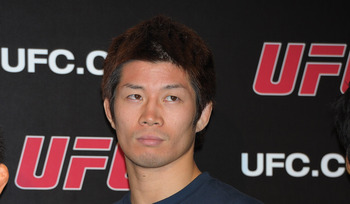 Hatsu Hioki
Koki Nagahama/Getty Images
Hatsu Hioki is as much being tested against Bart Palaszewski as much as he is a test for "Bartimus".
On one hand, he's in the UFC facing one of the featherweight divisions' most relentless strikers and a man with 17 wins by a form of KO as well as 11 wins by submission.
On the other hand, Palaszewski has not faced a submission specialist that could chain together many attempts the way Hioki can if he gets the fight to the ground.
The only question really surrounding Hioki is whether or not he's truly the best choice for the next challenge for Jose Aldo if he should struggle to win on his own home turf.
You'll recall the backlash received by Hioki after a UFC 137 bout with George Roop ended in a split decision, when many thought Hioki would run through Roop, and if Palaszewski either beats Hioki or creates a struggle for Hioki, that'll leave few challenges outside of the potential winner of the Dustin Poirier-Chan Sung Jung bout slated for the UFC on FUEL TV card this summer.
Will it be a struggle for Palaszewski?
Maybe.
Will it be a struggle for Hioki?
Who knows, but win or lose, it's believed that a win gets him Aldo anyway, and while it might be close, Hioki will leave very little doubt that an argument at least exists to say he won the fight.
Winner: Hatsu Hioki by split decision (De Souza scorecard: 29-28 Palaszewski, with Hioki definitively winning the second and losing the third. The first round will be the difference.)
Anthony Pettis vs, Joe Lauzon
Talk about a Fight of The Night contender.
Anthony Pettis and Joe Lauzon sure know how to put on a show.
Both guys have great submissions, Pettis is the better striker, and Lauzon might be the man more likely to hunt for the submission, but he did defeat Melvin Guillard in under a minute.
Pettis' wrestling game is coming along well, and heaven only knows who he's brought in to emulate Lauzon.
The difficult part about this is that Pettis is difficult to emulate, unless one tries to emulate the strategic Pettis that showed up to UFC 136.
Any form of Pettis is dangerous for Lauzon, and if Lauzon gets it to the ground, that could go both ways for Lauzon.
Ultimately, though, this one will have to reach its end, and that may not be good news for Lauzon.
Winner: Anthony Pettis by second or third round submission (De Souza prediction: If Pettis submits Lauzon, a triangle choke will do in Lauzon)
Yushin Okami vs. Tim Boetsch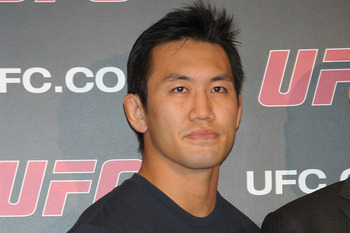 Yushin Okami
Koki Nagahama/Getty Images
Yushin Okami vs. Tim Boetsch intrigues me because Okami is coming off of the UFC 134 loss to Anderson Silva, while Boetsch won against Nick Ring in his UFC 135 bout with the TUF 11 standout.
Both are good with controlling their opponents, but that's where it gets tricky because despite Boetsch's size, Okami's edge is in the clinch with Boetsch against the cage, whereas Boetsch's edge is with a takedown and Okami on his back.
Okami might be the more well-rounded striker, but Boetsch appears the more likely to end the fight if he lands first.
If there was one fight for sure that might be slow-paced and definitely one to end in the home crowd favorite NOT winning, this one might be it, but then again, a hometown decision is what many might be expecting.
It might shock and amaze you, but Okami could pick Saturday night to halt Boetsch's momentum easily before any of us see it coming, and the way he does it might be most surprising of all.
Winner: Yushin Okami by first round TKO (strikes)
Yoshihiro Akiyama vs. Jake Shields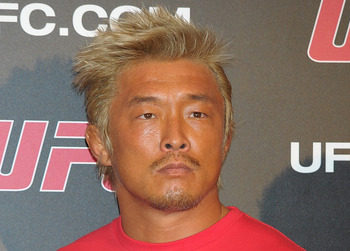 Yoshihiro Akiyama
Koki Nagahama/Getty Images
Jake Shields vs. Yoshihiro Akiyama sounds like a Middleweight dream match, yet the bout is taking place under intriguing circumstances at Welterweight.
Firstly, it's Akiyama's Welterweight debut, and if he cannot beat Jake Shields, it's probably his last Octagon performance.
Shields might get cut a break since Jake Ellenberger was a tough loss after losing in the title shot against Georges St-Pierre, but Shields still has to answer some questions in Japan.
Can he keep Akiyama down if he gets him down?
Will Akiyama prove to be better suited at 170, or will the weight cut be too much for him?
Most importantly of all, if Akiyama keeps it standing, can Shields put something together in order to finish Akiyama?
If he can't, he won't get axed, but he will see the chopping block.
Winner: Yoshihiro Akiyama by 1st Round Submission (De Souza prediciton: Akiyama gets a trip takedowns, loses an arm triangle, scrambles to get Shields mounted, and losese a chance to get a TKO by ground-and-pound before he locks in a Rear Naked Choke)
Cheick Kongo vs. Mark Hunt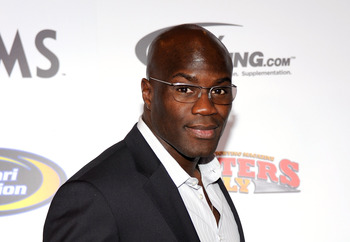 Cheick Kongo
Ethan Miller/Getty Images
I've said it before and I'll say it again: I like this fight, but I like Mark Hunt's head just a little bit more.
For a guy that got destroyed by Melvin Manhoef and submitted by the likes of Alistair Overeem and Fedor Emelianenko, Hunt can take a punch.
Can Hunt bring the Ben Rothwell fight to Kongo, though?
Arguably, Hunt's best performances came in 2011 in wins over Chris Tuchscherer and Rothwell, and needless to say, Kongo showed some heart in 2011 with wins over Pat Barry and Matt Mitrione.
Would I like to believe Kongo and Hunt go to decision?
Yes.
Will the actually?
No.
Hunt may be more dedicated than he's ever looked in his career, but any man can still get taken down, and if Kongo takes you down and your name is not Frank Mir, you're not catching Kongo.
If anything, Kongo is catching you, and he's laying you out, no matter how he has to get it done.
Winner: Kongo by second round TKO (De Souza prediction: Kongo wins the first round, but Hunt survives, only to get taken down and pounded out from side control, against the cage, in the second round)
Quinton "Rampage" Jackson vs. Ryan Bader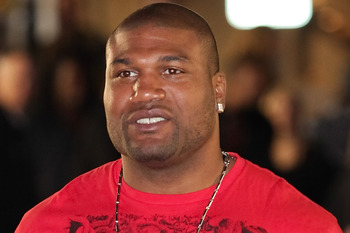 Quinton "Rampage" Jackson
Noel Vasquez/Getty Images
Quinton "Rampage" Jackson is home.
Sure, Quinton was born in Memphis, raised in Irvine, and he fights out of Wolfslair, but "Rampage" was born in PRIDE with a chain and a history of tearing through some of the best from The Land of The Rising Sun.
Ryan Bader will be getting his first taste of Japan at UFC 144 when he faces Rampage, but the bout is pretty even, right?
Both guys are wrestlers with knockout power and they both aren't guys that are exactly synonymous with Brazilian Jiu-Jitsu, so this one is actually a stalemate, yes?
Well, no, it's not exactly that.
Sure, both are wrestlers with respective histories of earning knockouts, but they're both different in terms of what they both can do.
Rampage keeps fighters on their toes in a different manner than Bader does, and while Bader is aggressive in the cage, he's never finished guys in the same way Rampage has finished opponents.
Simply put, Rampage may be older, but he's also more experienced in the cage, which could mean that Bader might be running into a brick wall.
Bader will be game, but Rampage is still on another level, and if he's going to call it a career, he's not going to want to do it on a loss to Bader in Saitama.
Winner: Rampage by 1st Round TKO (De Souza prediction: Slam and Punches)
UFC Lightweight Championship: Frankie Edgar vs. Benson Henderson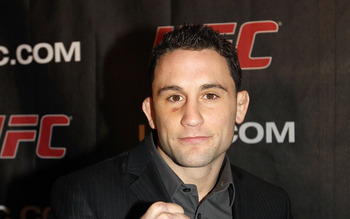 Frankie Edgar
Michael Cohen/Getty Images
Benson Henderson wants to pack on some extra muscle for his title match on Saturday, but he said he wanted to do it the right way.
Adding mass before a title fight is not a bad idea if you know how to do it without shortening the cardio, but with Henderson, cardio never seems to be an issue.
Against Edgar, that's a good thing, especially in Henderson's first five round fight since WEC 53, but not even Anthony Pettis could set the pace Edgar sets, and not even Jamie Varner had the boxing or the Renzo Gracie training behind him like Edgar does.
Edgar didn't have a successful 2011 thanks to gift decisions; he had a successful 2011 because he was able to show his competence in just about every aspect of the fight game, and the big questions still lurks:
1. How will Edgar respond if he gets hit by a big shot from Henderson?
2. Will Edgar be the forst man under the Zuffa banner to submit Henderson, who has left his neck open in two of his past fights?
Even if Bendo leaves his neck out, Edgar's going to need to load his gloves to beat Henderson, or he's going to need to show us some shades of Rousimar Palhares, because with all due respect to the current champ, any failure to break Henderson's composure in a submission attempt or a big knockout shot will result in us getting a new UFC Lightweight Champion.
Winner: Benson Henderson by fifth round submission (De Souza prediction: A guillotine choke wins Bendo the belt after both men split the first four, with Edgar losing the 1st and the 3rd rounds)
Fight Bonuses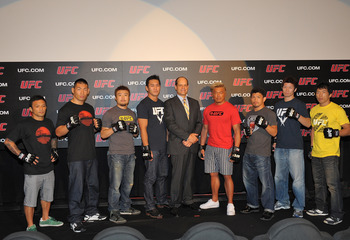 Koki Nagahama/Getty Images
Fights of The Night: Frankie Edgar vs. Benson Henderson and Anthony Pettis vs. Joe Lauzon.
Submission of The Night: Anthony Pettis-Joe Lauzon winner
Knockout of The Night: Kid Yamamoto
Keep Reading