Arsenal FC: Arsene Wenger's Hilarious Meltdown Moments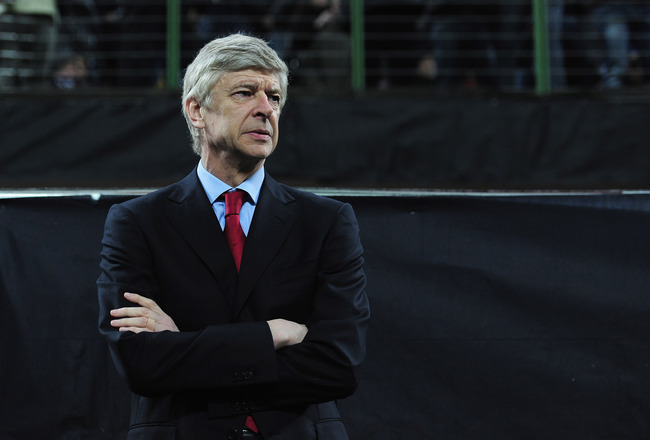 Shaun Botterill/Getty Images
Arsenal are treading a tricky path in the Premier League.
Their victory over Sunderland and Chelsea's defeat to Everton ensured the Gunners reached the fourth spot for the first time since the start of this season.
Yeah, quite the sweet cherries! Sadly though, AC Milan had other plans.
The Rossoneri beat the Gunners 4-0 at the San Siro in the first leg of their Champions League knock-out fixture.
To top that, Arsenal legend Thierry Henry returned to his MLS club following the completion of his loan term.
Gervinho is due to return following Ivory Coast's loss to Zambia in the finals of the African Nations Cup. But will he possess the same confidence levels…? We don't know that for sure!
It can't get any worse for Arsene Wenger. Already under pressure to deliver trophies after a barren run that is in danger of entering its seventh year, this is not the situation that Arsene Wenger would have visualised himself to be in.
All these are perfect ingredients for an emotional meltdown. Sadly though, Arsene has kept his temper under control so far this season.
No meltdown moments on or off the pitch. Perhaps, he'd have forgotten that we actually expect him to give us one.
Therefore, let's do our little bit and remind him of his good old ways by reliving those OMG! It's hilarious moments…
Arsene Wenger vs. Martin Jol
I don't know what Wenger was thinking when he squared up against the burly Dutchman.
In a tense North London derby—the last one at Highbury—Spurs took the lead in the 67th minute under controversial circumstances.
Arsenal had players on the ground injured while the ball was in play.
Wenger expected the opponents to knock the ball out of bounds for the players to receive treatment. It just turned out that he miscalculated the sportsman spirit levels of the bitter rivals.
Then Spurs boss Martin Jol gestured to his players to carry on and Robbie Keane ended up slotting the ball home.
Needless to say, an infuriated Arsene Wenger stepped up to the task. Though the fourth official pulled them apart, it wouldn't take a genius to predict who would have won it had it escalated into a fist fight!
Arsene Wenger vs. Kenny Dalglish
It was a war of words this time around.
And Wenger still ended up on the receiving end of the abuse from the Liverpool manager.
It was the height of the revival of Liverpool FC in the second half of 2011 following the return of club legend Kenny Dalglish to the Anfield hot seat.
There was an eight-minute stoppage time awarded after Jamie Carragher lost his bearings when he collided with the 19-year-old Jon Flanagan.
Liverpool, who hadn't won at Arsenal for nearly a decade, were staring at defeat after a late Robin van Persie penalty in the 97th minute put the Gunners ahead.
But just when Wenger thought that they had wrapped up the game, Liverpool were awarded a penalty at the 100-minute mark when Lucas got tripped over in the box.
Dirk Kuyt shot past Szczesny to draw Liverpool level, ensuring Arsenal lost two points in the process.
Arsene Wenger lost his cool.
Not only was he annoyed at the way Kenny Dalglish celebrated the goal, but also he was furious at the referee for not ending the game even when it was well over the stipulated stoppage-time period.
He went over to Dalglish to share his frustrations and Dalglish duly obliged with some *#%! words!
Arsene Wenger vs. Alan Pardew
Alan Pardew wasn't always the suit-wearing, corporate honcho-type manager that he is at Newcastle.
As a matter of fact, he has always carried that little bit of a devil within him. And it's certainly surprising that he hasn't messed it up with Newcastle!
Anyway, back in 2006, there was some drama at the touch line when West Ham's Marlon Harewood stuck in the 89th minute to give the Hammers a 1-0 victory at Upton Park over their London rivals.
Alan Pardew went a little overboard with his fist pumping celebration but just enough to tick Arsene Wenger off.
Some push and shove later, Arsene left for the dressing room following the final whistle without shaking hands with Pardew.
Building on from this past week's handshake drama between Luis Suarez and Patrice Evra, I'm thinking Wenger's act too should count as a disgrace, right, Fergie..?
Arsene Wenger vs. Water Bottle
Well, let's just say that Arsene Wenger ran out of people to share his emotions.
Le Professeur was apparently angered over the linesman's decision to flag William Gallas offside after Robin Van Persie had converted the layoff ball.
Old Trafford was the venue and Wenger probably didn't want to mess with Sir Alex Ferguson.
As a result, a poor and harmless water bottle had to bear the wrath of Wenger's fury as he unleashed a kick to its gut!
The result..? The referee sent him to the stands!
I should say it was funny watching him stand amongst the cheering Man United supporters striking a pose. It really was a hilarious moment.
Arsene Wenger vs. Water Bottle—II
And the water bottle was at the receiving end yet again!
This time the situation was far more intense, as Arsenal were losing their Premier League match against bitter rivals Tottenham.
Tottenham's Younes Kaboul netted the winner for them five minutes from time as they came back from two goals down to win the game.
Poor Arsene Wenger couldn't do much from the side line apart from showing the world exactly how much he hated the sight of a water bottle in such a situation.
Hmm… since we've said that, don't you think Wenger should have done something crazy about the Milan fiasco like cutting Zlatan's pony tail off...?
Unfortunately, Wenger was more than composed on the outside throughout the phase of the demolition.
So do you think that Wenger will finally lose his cool or will it be the supporters who would lose their cool, especially if there's another 6 percent issue?
Do let me know about your thoughts via the comments section. And if you have the extra minute, please read—
Kevin de Bruyne and the Top 21 midfielders Under 21
10 reasons we hate Manchester United
Keep Reading

Arsenal: Like this team?