Liverpool FC: Steven Gerrard's Top 20 Liverpool Moments
Clive Brunskill/Getty Images
Liverpool endured a tough week with the entire fracas over Luis Suarez taking a toll on the club's reputation.
Their league form is suffering too as they now sit at seventh position in the leader board with a faint hope of making it to the fourth place before the season ends.
Once again it has come to a point where Liverpool are in need of someone to provide inspiration.
And once again the responsibility falls on the broad shoulders of skipper Steven Gerrard.
Steven Gerrard hasn't had much of an impact this season because of his injury that forced him out of game time.
But one fact that people—Liverpool supporters or not—agree upon is that Steven Gerrard is one of the best footballers that this world has ever seen.
Defending, tackling, passing, dribbling, sprinting, shooting and you name it—Steven Gerrard can do it all with ease.
This article takes a look at some of the best moments of Stevie G's Liverpool career…
Steven Gerrard Liverpool Debut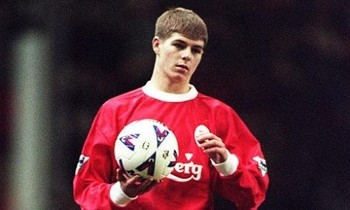 No player will forget the moment when he or she made the big move to the senior squad.
All the emotions rush up to the brain when it is time for the debut. That moment indicates maturity, success and progress.
Steven Gerrard's moment of maturity was as a last minute substitute in a Premiership match against Blackburn Rovers on November 29, 1998.
That was when the world got to see Steven Gerrard for the first time. Now, if only we knew what was in store for the future…
First Liverpool Goal (1999)
What is a list about Steven Gerrard's top moments without a few goals that flew off his boot?
Just as how the debut remains close to the heart, the first ever goal will forever remain in the memories.
Steven Gerrard's first goal for Liverpool was against Sheffield Wednesday in a Barclays Premiership match during his first full season as a Liverpool player.
It was scored in some fashion—Gerrard dribbling past three opposition players before scoring on a frustrated goalie—as Liverpool went on to win the match 4-1.
Liverpool vs. Southampton (January 2001)
One of the trademarks of Steven Gerrard is his long-range shooting ability.
Even as a youngster, Gerrard had a sharp eye for the goal justified by the many times he drilled the ball past opposition goal keepers.
This one was special in that it was scored on New Year's Day. Indeed it marked the beginning of a new era for Liverpool Football Club.
It really is a stupendous goal!
Liverpool vs. Manchester United (March 2001)
A goal against the bitter rivals will always be a part of the folklore.
Steven Gerrard as an up-and-coming youngster made a statement on that day when he scored this bullet from range.
Martin Tyler described it as "sensational," and Fabien Barthez was left dumbfounded.
Then the awards followed suit…
PFA Young Player of the Year (2000-01)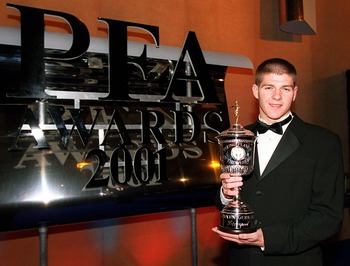 Stephen Munday/Getty Images
Steven Gerrard continued his development process at Liverpool, building upon a solid first two seasons with the club.
Steven Gerrard won the award as a 20-year-old.
The award was just a mere recognition of the talent that would go on to entertain people for the next decade.
PFA Fans' Player of the Year (2000-01, 2008-09)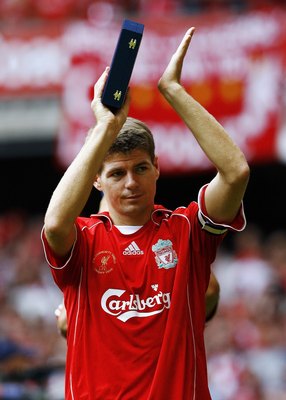 Shaun Botterill/Getty Images
It is a highly regarded award in English Football for the simple reason that the fans determine the winner.
Steven Gerrard picked up the award twice during his career.
Liverpool vs. Manchester United (2003 League Cup Final)
Always known for his long-range shooting efforts, Gerrard scored this one in the 2003 League Cup Final against old rivals Manchester United.
Steven Gerrard, playing in the central midfield, attempted a shot from outside the box which took an evil deflection off former Red Devil David Beckham but was high enough to escape the hands of Manchester United goalie Barthez.
Michael Owen scored another to win it 2-0 for Liverpool, and Gerrard added another league cup medal to his collection.
Liverpool vs. Olympiacos FC (UEFA Champions League)
Once again it was a long-range effort, but this goal from Steven Gerrard proved to be more than decisive.
In fact, it was this goal that put Liverpool through to the knockout round of the Champions League competition 2004-05.
What makes it more interesting? He was returning from a foot injury that had kept him out for a good couple of months.
Liverpool needed a two goal margin of victory to proceed in the competition. And Gerrard did just that with this strike.
Andy Gray sums it up in the video…
Liverpool vs. Chelsea (2005 League Cup Final)
Well, I think it's unfair if I'm to include only the positive moments of his career in this list.
Life isn't full of positives. Sometimes we have got to remind ourselves of the low points in our careers.
Stevie G had an oops moment in the 2005 League Cup Final against Chelsea.
Although it was an unintended mistake, Steven Gerrard's own goal equalised the scores for Chelsea in the 80th minute.
Ultimately that proved to be the difference as Chelsea held on for a 3-2 win at the end of extra time.
Let's just hope there are no slip-ups in the upcoming Cup Final against Cardiff City.
Liverpool vs. AC Milan (2005 Champions League, Istanbul)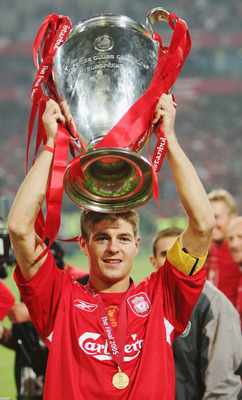 Mike Hewitt/Getty Images
In Istanbul, we won it five times!
That should say it. Indeed, it was Liverpool's fifth European trophy and Old Big Ears came home in some style.
Liverpool, trailing a strong AC Milan side 3-0 at halftime put together six minutes of second-half magic that brought them right back into the game.
Jerzy Dudek was undoubtedly one of the star performers on the night, but it was Steven Gerrard who inspired a comeback scoring one and winning a penalty for Xabi Alonso to stab home.
And then the rest is history!
UEFA Club Footballer of the Year (2005)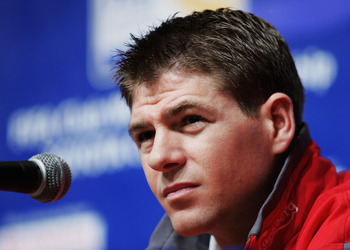 Shaun Botterill/Getty Images
This was the best recognition for an outstanding player plying his trade in the European leagues.
Steven Gerrard won the UEFA Club Footballer of the Year award—the second Englishman to win it—following his exploits for Liverpool in that season which also included the Champions League crown.
PFA Player of the Year (2005-06)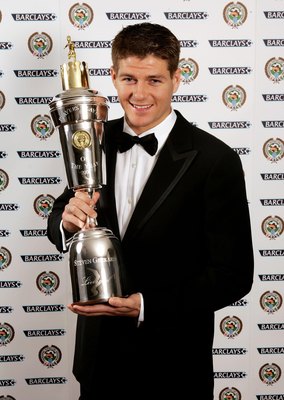 Pool/Getty Images
Steven Gerrard won the Players' Player of the Year Award for another excellent season with Liverpool.
The cherry on the cake was of course the FA Cup victory in which Gerrard scored a wonder strike.
Liverpool vs. West Ham United (2006 FA Cup Final)
This was one of the greatest Cup Finals of all time.
Liverpool came back from two goals down to win the game on penalties following a Steven Gerrard wonder strike that took the game into extra time.
Steven Gerrard's two goals shifted the fortunes for Liverpool who, till that point, were heading towards a certain defeat.
If 2001 FA Cup Final was a "Michael Owen Final," then this surely was a "Steven Gerrard Final."
Liverpool vs. Arsenal (Highbury—March 2006)
The infamous back-pass!
In a Barclays Premiership match against Arsenal at their old ground Highbury, Steven Gerrard did the unthinkable when he provided an assist to Arsenal's Thierry Henry.
It was a brilliant assist—typical Gerrard assist—just that it happened at the wrong end!
Henry intercepted a horrendous back-pass and coolly slotted it home to win it for Arsenal.
Liverpool vs. Aston Villa (Villa Park—Aug 2007)
Once again Stevie G comes to Liverpool's rescue—this time with a brilliant free kick against the Villains.
This 87th minute free kick gave Liverpool a narrow 1-2 victory after minutes of high intensity action.
And what a goal it was!
Incidentally, Aston Villa was also the same club against whom Steven Gerrard scored his first Barclays Premier League hat trick.
FWA Footballer of the Year (2008-09)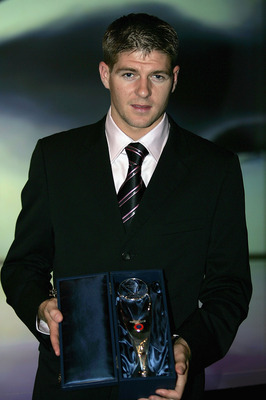 Shaun Botterill/Getty Images
It was the season that gave hope to every Liverpool supporter.
Liverpool were all set to end the dominant reign of Manchester United in the Barclays Premier League. However, the Red Devils managed to retain their crown.
Nonetheless, Steven Gerrard earned the Football Writers' Association Footballer of the Year Award for the first time in his career.
Liverpool vs. Middlesbrough (Anfield—Apr 2005)
What a Goal!
In retrospect, it really could be the goal of the millennium.
Brad Jones had no chance to stop that.
The Kop erupted in joy as that strike levelled the score at 1-1 for an eventual draw.
100th Liverpool Goal
It really is something special when a player scores 100 goals for a club.
And if the 100th goal was a stunning free kick like this, then I'd celebrate even crazier.
Steven Gerrard scored his 100th career goal for Liverpool against PSV Eindhoven in a Champions League fixture with yet another accurate long-range effort.
Liverpool vs. Real Madrid (March 2009)
What a night it was!
The elite of world football came crashing to the ground at Anfield.
Fernando Torres delivered a virtuoso performance on that night, but Steven Gerrard scored two crucial goals to stamp their superiority on the nine-time European victors.
Speaking of Fernando Torres…
Steven Gerrard—Fernando Torres
Clive Brunskill/Getty Images
Some of the best moments of Steven Gerrard came when he paired up with the Chelsea striker.
Fernando Torres galloped his way to become the fan favorite at Anfield until that one misguided moment when he chose to leave the Mersey side.
Now, a shadow of his former self, Torres knows in his heart that if he had the opportunity to rewind back to the way things were, he'd take it.
Anyways, it was one of the deadliest combinations that Liverpool Football Club ever had in their ranks, apparently even greater than Dalglish—Rush, if the club website poll results are to be believed.
Honourable Mention—Liverpool vs. Marseille (Stade Velodrome—Sep 2008)
This was a group stage fixture against French club Marseille, and Liverpool were struggling.
Once again, Stevie G steps up to the occasion, scoring both the goals in the process—including this majestic strike.
Stevie G scored the first goal without even looking at the goal and that prompted Marseille coach Erik Gerets into saying this:
Gerrard is a world-class player and he proved that. Only players of that quality can score goals like that. We had just scored and we should have been focused on protecting that advantage. But players of Gerrard's quality are capable of scoring goals like that and he changed the course of the match.
Conclusion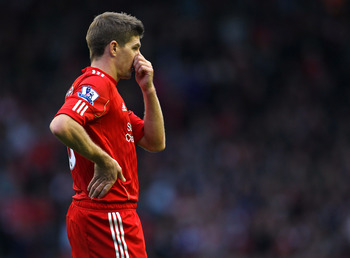 Alex Livesey/Getty Images
Liverpool have often looked up to Steven Gerrard when they needed him and he has—for the most part—never ignored their SOS calls.
But it can't continue forever. Liverpool splashed out their cash on new signings last summer but none have succeeded in carving out a niche for themselves.
Liverpool are still dependent on Steven Gerrard. Nothing to fault the club—a certain Paul Scholes had to come out of retirement to help out Manchester United.
Now, does it mean that Man United were incompetent? Absolutely not!
It's just that clubs find it hard to cope without players like Stevie G and Scholes. They are gems that only come up once in a while.
However, Liverpool got to build having one eye on the future. Only time will tell if that turns out to be successful.
But for the moment, it's this Kop song that comes to mind—
Steven Gerrard is our captain,
Steven Gerrard is a red,
Steven Gerrard plays for Liverpool,
A Scouser born and bred.
Keep Reading

Liverpool: Like this team?