Cleveland Indians: Projecting the Opening Day Roster, February Edition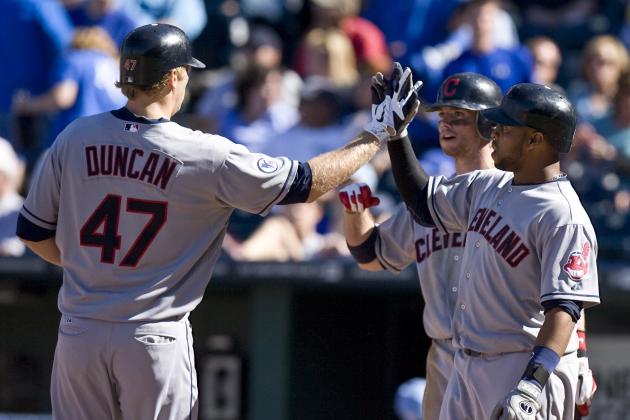 Ed Zurga/Getty Images
Who will be on the Tribe's Opening Day roster?
With the Cleveland Indians' pitchers and catchers reporting to Goodyear, Arizona in less than a week, it's once again time to take a look at what the Tribe's Opening Day roster will look like. Those of you regularly following this series will know I've done this in October, November, December and January, but things have still changed in the last month.
The Indians now have a new first baseman, new pitchers being signed and other developments with the spring training competitions that are still changing how the roster will be constructed. So, one more time before the starting of spring training, let's take a crack at what the Tribe's Opening Day roster will look like.
Begin Slideshow

»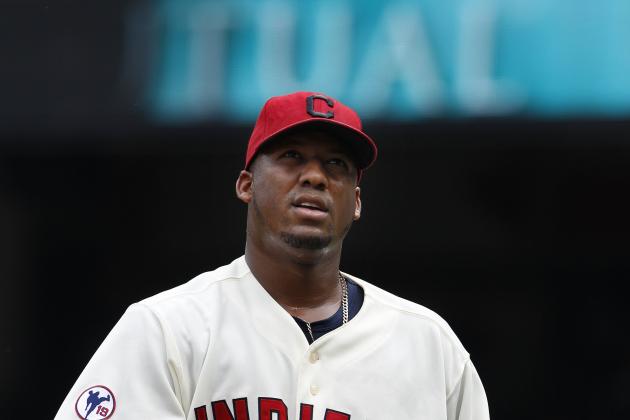 David Maxwell/Getty Images
Fausto Carmona's legal troubles have changed the Indians rotation's outlook.
1. Ubaldo Jimenez
2. Justin Masterson
3. Josh Tomlin
4. Derek Lowe
5. Kevin Slowey
What a difference a month can make. Last month, I wrote that the rotation seemed pretty set in stone. Then the pitcher formerly known as Fausto Carmona found himself embroiled in legal/visa trouble in the Domincan Republic and may not make it back to the United States to pitch this year.
While the competition for the fifth rotation spot will be fierce, as of right now, my money's on Kevin Slowey. I like Jeanmar Gomez, David Huff, Zach McAllister, Scott Barnes and new pickup Jon Garland, but Slowey seems to have the inside track.
The Tribe went to the trouble of trading for him, and while he does have a minor league option left, I'd bet that Gomez, Huff, McAllister and Barnes will have to wait their turn in AAA.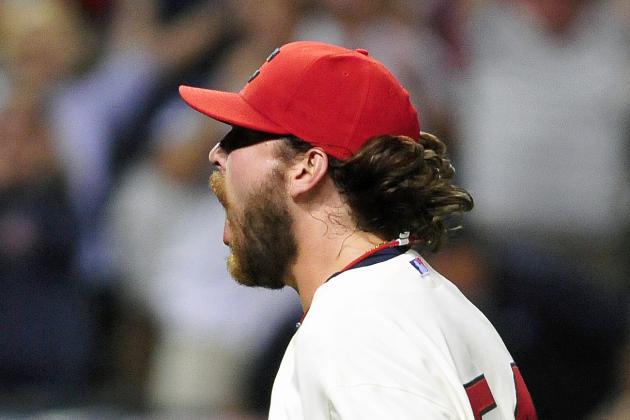 Jason Miller/Getty Images
Chris Perez will once again head the Bullpen Mafia.
Closer: Chris Perez
Set-Up Men: Vinnie Pestano, Tony Sipp
Middle-Relief: Rafael Perez, Joe Smith, Nick Hagadone, Chen Lee
You'll notice that I don't have a long-relief man on this list. This is because I think these seven pitchers would make the best bullpen.
If a starter gets knocked out early this could cause some problems, but hopefully Hagadone, who was a starter until mid-2010 and Lee, who has averaged just under two innings per appearance in his minor league career, could hold down the fort.
This version of the Bullpen Mafia would be a strong one, filled with seven pitchers capable of pitching at the highest level.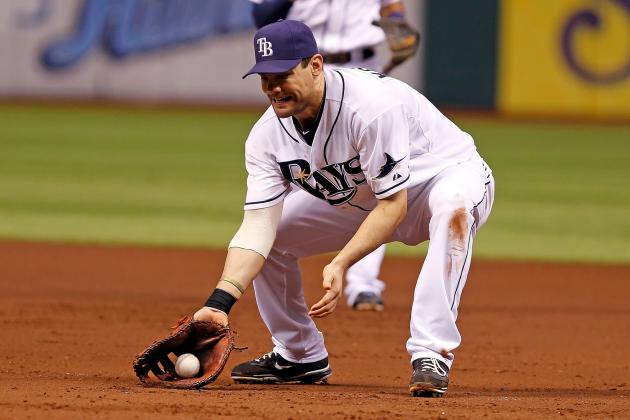 J. Meric/Getty Images
Casey Kotchman's defense will help the Indians in a big way.
1. Michael Brantley, LF
2. Asdrubal Cabrera, SS
3. Shin-Soo Choo, RF
4. Carlos Santana, C
5. Travis Hafner, DH
6. Grady Sizemore, CF
7. Jason Kipnis, 2B
8. Casey Kotchman, 1B
9. Jack Hannahan, 3B
The Indians finally signed a first baseman, inking Kotchman to a good one-year deal in the past month. He'll likely play the majority of the games at first base, adding good defense and (hopefully) hitting like he did in 2011.
I also moved Hannahan into the starting lineup, mostly influenced by arguments from IPI's Tony Lastoria and Indians.com's Jordan Bastian. Personally, I would like to see the Tribe let Chisenhall and his much better upside get the third base job, but I understand the rationale behind starting Hannahan. His defense and league-average bat should help the Indians win in 2012.
Denis Poroy/Getty Images
Aaron Cunningham will likely get a shot to prove himself out of the gate in 2012.
C Lou Marson
2B/SS/3B Jason Donald
1B/OF Shelley Duncan
OF Aaron Cunningham
These four bench spots are actually pretty important since these players will likely get plenty of playing time. You'll notice that all four of these players are right-handed, which complements the Tribe's heavy left-handed lineup. I think that Marson and Donald are fringe-starters and Duncan supplies exactly the kind of pop you want off of the bench. I actually like this bench.
In a way, I like Ezequiel Carrera for the final bench spot a little bit more than Cunningham, but since Cunningham is out of options (and cost the Tribe two decent relievers in Cory Burns and Josh Judy), I think he'll at least get a shot to prove himself.
Plus, Carrera can definitely use some more seasoning in AAA. He'll probably never be more than a fourth outfielder, but playing every day in Columbus can only help Carrera at this point in his development.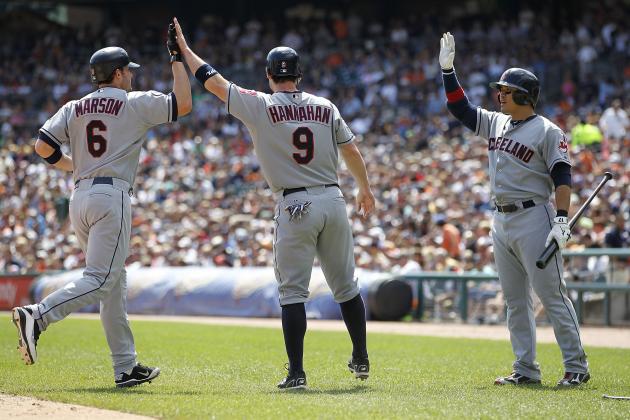 Leon Halip/Getty Images
Maybe 2012 will be the Indians' year.
I won't bore you with the same arguments I made here and here about why the Indians can still beat out the Tigers in the AL Central. Just know that this race should be more interesting than most people are thinking.
As David Schoenfield wrote a couple of weeks ago on ESPN, since 2006, two teams per year have made the playoffs after posting a losing record the year before. So if you had to pick two teams to do that in 2012, who would it be?
It could be the Nationals or Marlins. It could be the Reds or Rockies. 2012 may be the year that bucks this trend. But one thing's for sure; there is no reason to write off the Indians' chances here in mid-February.
So let's see a couple of games before we crown the Tigers and their new Prince. Let's see what this young, exciting Tribe squad has to offer. Baseball's almost here and the Indians should be a fun, competitive team throughout the 2012 season.