MLB Preview 2012: Comparing the Cleveland Indians to the New-Look Detroit Tigers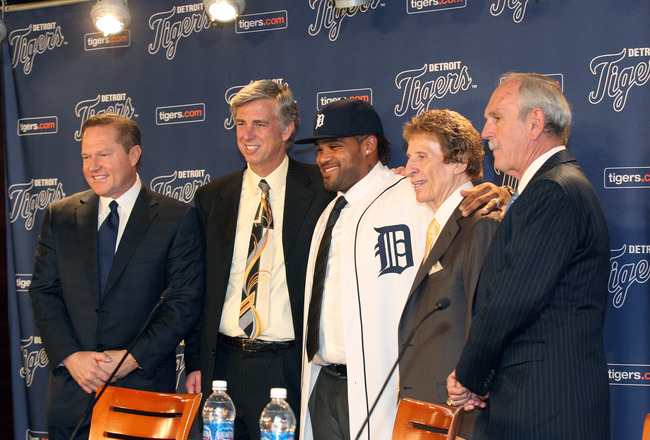 Despite signing Prince Fielder, the Tigers could still lose the division.
Jorge Lemus/Getty Images
While the Detroit Tigers' signing of Prince Fielder last week definitely struck a blow to the Cleveland Indians' chances of contending in 2012, all is not lost if you look at the tale of the tape.
Lost in all the Fielder-Detroit hype is how little of an effect one player has on a baseball team's whole season. The best players are only worth around six or seven wins more than your average Joe Nobody doing time at Triple-A. Plus, considering that Fielder is replacing Victor Martinez in the Tigers lineup—a very good hitter in his own right—the return is even less.
The signing was definitely a short-sighted move that will help now and hurt later, but right now, who cares about 2018? The Indians made their own splash last year trading for Ubaldo Jimenez, effectively putting them in win-now mode, same as the Tigers. So, let's look at how these two teams stack up going into 2012.
Note: I will be using the previous three year's worth of fWAR, averaged out to one season, to estimate how much each player will be worth this year. It's a bit crude, but a fairly good predictor of a player's upcoming season. Any player with less than three year's playing time is not estimated nearly as well and noted with an *, but for the most part, the predictions seem in line with what should be expected.
Rosters are from MLB Depth Charts.
Starting Rotation No. 1: Justin Verlander (7.0) over Ubaldo Jimenez (5.3)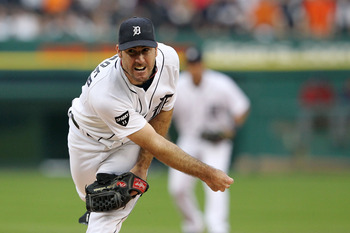 Leon Halip/Getty Images
It's not surprising that Justin Verlander is the better of these two pitchers, but it should be a closer race than people think. Ubaldo Jimenez has all of his peripherals in line and should rebound in a big way in 2012, cutting into some of the Tigers' perceived advantage here.
Starting Rotation No. 2: Justin Masterson (3.7) over Max Scherzer (3.3)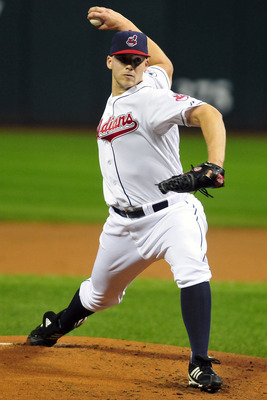 Jason Miller/Getty Images
I am a fan of Max Scherzer and am scared he'll figure it all out this year, but going up against Justin Masterson, he falls short. Masterson truly excelled last year (as Jordan Bastian noted on Twitter) and could get even better.
Starting Rotation No. 3: Doug Fister (4.1) over Derek Lowe (2.5)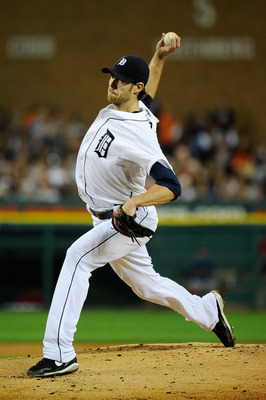 Kevork Djansezian/Getty Images
I appreciate what Doug Fister accomplished last year, but I definitely think he'll be regressing at least a bit this year. He doesn't strike out many batters and relies on his infield defense (46.5 GB%) to make outs. Considering the Tigers' infield, that doesn't bode well. Derek Lowe may not beat Fister in this measurement, but he should rebound and be a respectable innings-eater this year for the Tribe.
Starting Rotation No. 4: Rick Porcello (2.4) over Josh Tomlin* (2.0)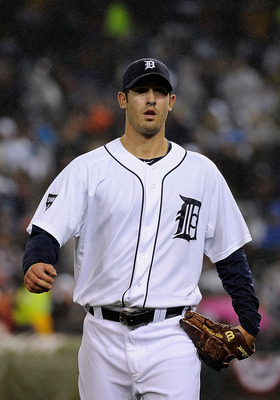 Kevork Djansezian/Getty Images
Rick Porcello gets a slight edge over Josh Tomlin, but these two are basically worth the same amount. They're both decent fourth starters that will quietly help their teams this year.
Starting Rotation No. 5: Kevin Slowey (2.6) over Jacob Turner** (2.1)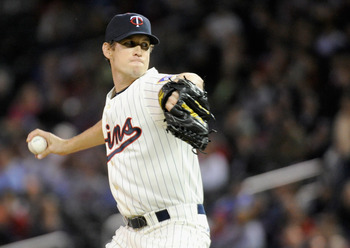 Hannah Foslien/Getty Images
Please note the ** next to Jacob Turner's name. This is there because I used the fans' projections for Turner's 2012 season since he didn't play nearly enough last year to use those numbers with any certainty.
I know most people will disagree here, but using the numbers, Kevin Slowey will be slightly better than Turner in 2012. This is mostly because Turner will be seeing his first real action in the big leagues. Every once and a while pitchers dominate in their rookie seasons, but for the most part, they struggle. The same is likely to happen with Turner, especially considering he isn't a big-time strikeout guy (7.7 SO/9 in the minors).
Closer: Jose Valverde (0.9) over Chris Perez (0.5)
Kevork Djansezian/Getty Images
Jose Valverde comes out slightly ahead of Chris Perez here, but the difference is minimal. Considering how little relievers are truly worth in the big picture (on account of how few innings they pitch), none of these differences will be that large.
Set-Up Man No. 1: Vinnie Pestano* (1.7) over Joaquin Benoit (1.1)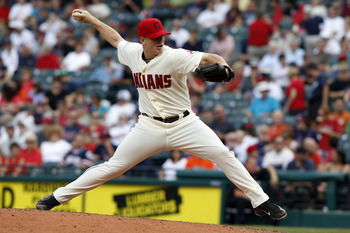 David Maxwell/Getty Images
Both of these pitchers have pitched very well, but Pestano has been slightly better. I doubt either of these pitchers will be worth quite this much, but it should be in the ballpark.
Set-Up Man No. 2: Octavio Dotel (0.7) over Tony Sipp (-0.3)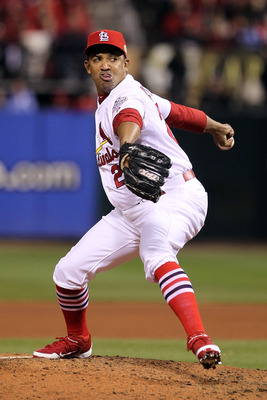 Ezra Shaw/Getty Images
Al Alburquerque's arm injury has sidelined him for at least the first half of the season, so it's a good thing for the Tigers that they picked up Octavio Dotel. He easily rates ahead of Tony Sipp, who needs to control giving up the long-ball to have any real value above replacement.
Middle Relief No. 1: Phil Coke (1.0) over Joe Smith (0.7)
Bob Levey/Getty Images
Phil Coke comes out slightly ahead of Joe Smith, but once again, the difference is far too small to matter significantly.
Middle Relief No. 2: Rafael Perez (0.5) over David Pauley (0.2)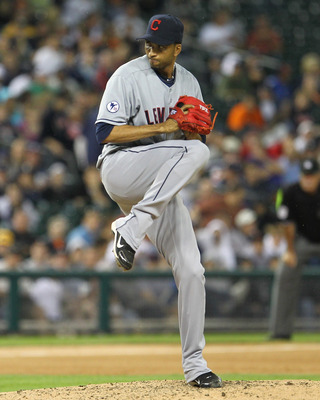 Dave Reginek/Getty Images
Same result as the last slide, this time slightly favoring the Indians. Wash, rinse, repeat.
Middle Relief No. 3: Dan Wheeler (0.3) over Daniel Schlereth* (-0.1)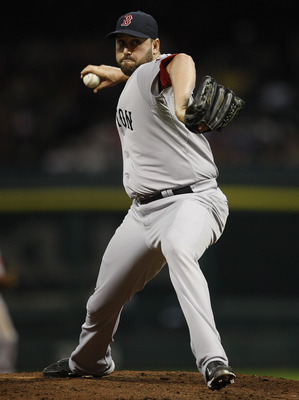 Bob Levey/Getty Images
Dan Wheeler comes out slightly ahead of Stink's son, but personally, I'd rather see Nick Hagadone make the Opening Day roster. Wheeler is a solid contributor, but Hagadone may eventually be good enough to be a top-flight closer.
Long-Relief: Frank Herrmann (0.0) over Collin Balester (-0.6)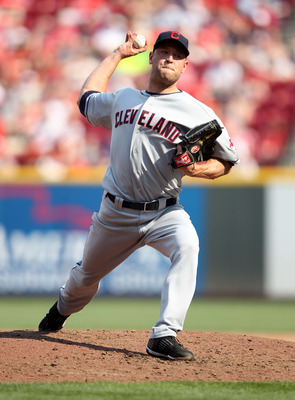 Andy Lyons/Getty Images
Neither of these players offer much upside, but for the Tribe's sake, at least Frank Herrmann hasn't been as bad as Collin Balester. Luckily, we're past the bullpen now and ready to get into the meat of these teams' rosters.
Catcher: Alex Avila (4.0) over Lou Marson (1.4)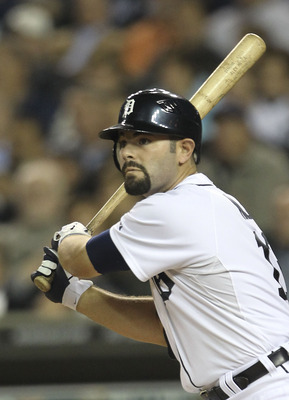 Leon Halip/Getty Images
Alex Avila had a great year last year and should continue helping the Tigers. Lou Marson is a great defensive catcher, but his lukewarm bat keeps him well away from Avila's level.
1st Base: Prince Fielder (4.9) over Carlos Santana* (4.4)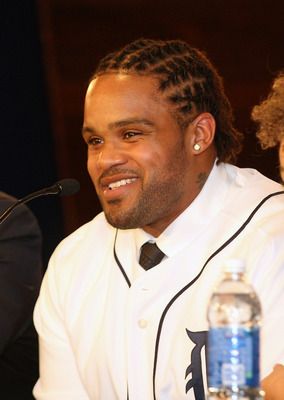 Jorge Lemus/Getty Images
Yes, Prince Fielder is a great player. But his bad defense keeps his WAR total around 5.0. This is a great level to be at, but it's not elite. Carlos Santana's WAR wouldn't be quite this high going from catcher to first base (because of the positional adjustments), but as we'll see in a couple slides, I'm leaving it at this number for a reason. All in all, this race is closer than people would think.
2nd Base: Jason Kipnis* (3.4) over Ryan Raburn (2.2)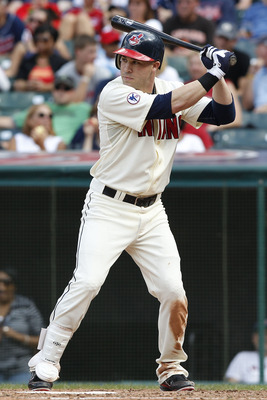 David Maxwell/Getty Images
There's nothing wrong with Ryan Raburn, who is a competent if average player. The Indians win here because of how Jason Kipnis has looked throughout the minors and in his major league stint last year. He'll have to work hard to maintain that level of production, but he should be better than Raburn in 2012.
Shortstop: Asdrubal Cabrera (3.1) over Jhonny Peralta (2.4)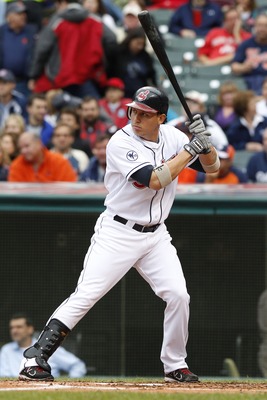 David Maxwell/Getty Images
Both of these shortstops had huge offensive seasons last year, but they had a huge difference in their fWAR (5.2 for Peralta, 3.6 for Cabrera). This was because Peralta rated above-average defensively in 2011 while Cabrera was well below-average. Considering they are both well below-average for their careers, it is likely Peralta will revert back to his former bad form and Cabrera will be slightly better than him in 2012.
3rd Base: Miguel Cabrera (6.2) over Lonnie Chisenhall* (1.6)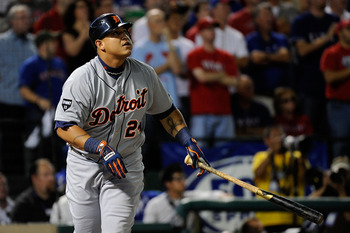 Kevork Djansezian/Getty Images
Before getting too excited about that 6.2 fWAR next to Miguel Cabrera's name, remember that it will be going way down because of his defense at third base.
In 2007, the last time he played third base regularly, he cost his team 16 runs with his glove, tying him for ninth worst fielder in all of baseball. He was moved to first base because the Tigers decided he couldn't play third anymore; now, after five years, he'll suddenly be better? I don't buy it.
For simplicity's sake, we'll call the fWAR difference between Cabrera's poor fielding at third base and Carlos Santana's moving from catcher to first base equal, but just know that it could be a cringe-worthy year of defense in Detroit this year.
Left Field: Andy Dirks* (0.8) over Michael Brantley (0.2)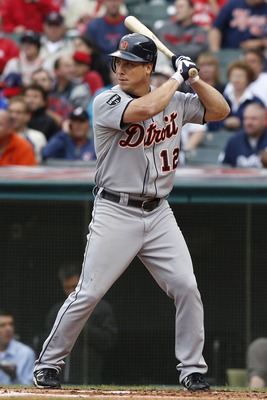 David Maxwell/Getty Images
This is the biggest flaw of projecting players' performance with past WAR: it doesn't allow for progression. By all accounts (including Keith Law's here), Michael Brantley should be much better in 2012. Here, however, he's basically replacement level. Andy Dirks beats him slightly, but don't be surprised if this comparison isn't even close at the end of the season.
Center Field: Austin Jackson* (3.5) over Grady Sizemore (1.4)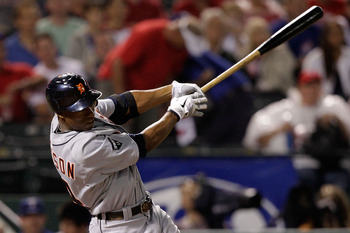 Bob Levey/Getty Images
Austin Jackson may be a hack-tastic hitter, but his defense and overall ability give him pretty good value. Grady Sizemore, on the other hand, has not been worth very much to the Indians recently. He should be decent this year now that he's almost two years removed from microfracture surgery, but this fairly low level of production is probably what he'll do in 2012.
Right Field: Shin-Soo Choo (5.0) over Brennan Boesch* (1.4)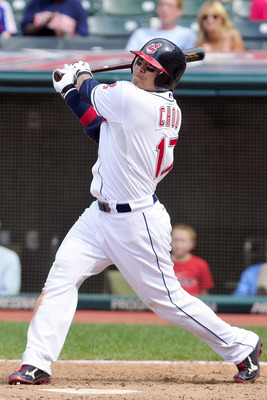 Jason Miller/Getty Images
Brennan Boesch is in a similar position as Michael Brantley, but even if he progresses this year, he shouldn't be better than Shin-Soo Choo. Choo had a perfect storm of things go wrong for him in 2011 and was still worth 1.4 fWAR. Expect him to come back at full strength in 2012 and be the Shin-Soo Choo that was voted most underrated player by his peers slightly into the 2011 season.
Designated Hitter: Travis Hafner (2.1) over Delmon Young (0.5)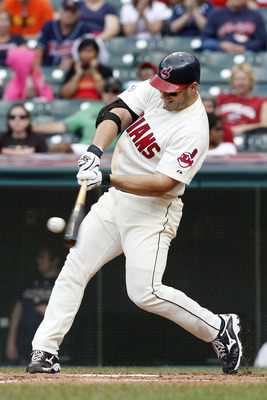 David Maxwell/Getty Images
If Delmon Young were to only DH in 2012—thus taking his atrocious fielding out of the equation—then his fWAR would be much higher. Since I'd bet he'll see plenty of time in the outfield spelling players, I'll leave his predicted WAR down where it is. He doesn't project quite as well as Travis Hafner, who, despite all the grumbling about him, is still a pretty good hitter. He may not be able to stay healthy, but when he is, Hafner is hitting.
The Final Tally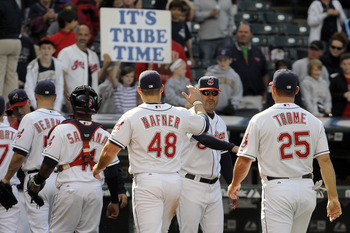 Jason Miller/Getty Images
I'm sorry to have thrown WAR around so much in this slideshow, but it's the quickest way to do this kind of comparison. We're almost done now, though, so let's get to the final tally.
WAR assumes that a team of all Triple-A replacement-level players would win 45.5 games, so each player's WAR is added on top of that number. If we do that with the numbers I've thrown out in this slideshow, we get the following (rounded to the nearest whole number):
Detroit Tigers: 94-68
Cleveland Indians: 88-74
That's not all that big of a difference. And the Indians kept it close with fairly minimal contributions from Travis Hafner and Grady Sizemore. Could you imagine if one (or dare I dream both) of them figure it all out again. What if Michael Brantley becomes a top-of-the-order threat? What if the Indians have a first baseman actually emerge and be successful?
The main point is, the race for the AL Central is going to be closer than people realize. The Indians are a young, up-and-coming team that will be a force to be reckoned with in 2012. The Tigers may have won the offseason, but they are a few bad breaks from losing the season.
Keep Reading

Cleveland Indians: Like this team?