Cleveland Indians: Projecting the Opening Day Roster, January Edition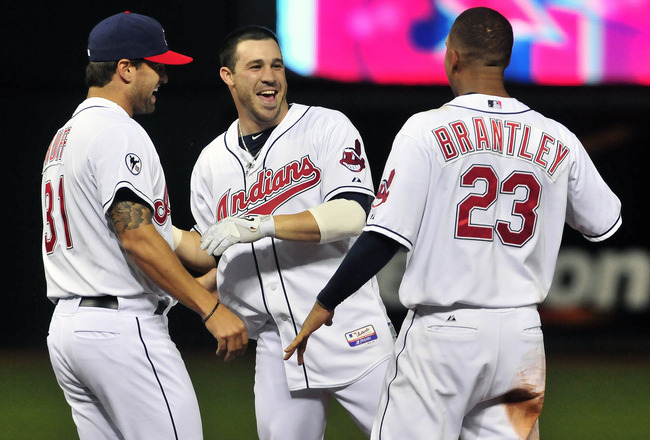 With a few moves, the Cleveland Indians should compete in the AL this year.
Jason Miller/Getty Images
With the beginning of Spring Training only 37 days away, it is becoming clearer and clearer who will be on the Cleveland Indians' Opening Day roster. I've predicted the roster in October, November and December and will be taking another crack here in January.
Since these predictions aren't much different than in previous months, I'll be predicting the roster on each slide then highlighting a player most likely to jump up and steal a spot. Just because a spot seems secured doesn't mean that it's guaranteed; you just never know in some cases.
So let's take a look at what the Tribe's Opening Day roster should look like and a few players trying to crash the party.
Starting Rotation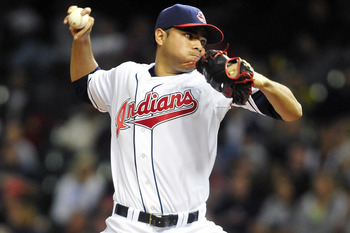 Jeanmar Gomez will do his best to force his way into the starting rotation.
Jason Miller/Getty Images
1. Ubaldo Jimenez
2. Justin Masterson
3. Josh Tomlin
4. Fausto Carmona
5. Derek Lowe
This rotation seems pretty set in stone, but if Jeanmar Gomez has anything to say about it, he'll force his way onto the 25-man roster.
Gomez may not have the most gaudy numbers (9-8 W-L, 5.04 SO/9, 2.87 BB/9, 4.58 ERA in 116 career IP), but there are good signs for the rest of his career. A career 4.30 xFIP and 4.03 xFIP in 2011 point toward a pitcher trending toward being at least serviceable. Add in his 49.9 GB% (fitting right in with fellow groundball pitchers Masterson, Carmona and Lowe) and he certainly fits the profile of a Cleveland Indians pitcher.
David Huff, Zach McAllister and Scott Barnes also will compete for a spot, but if someone were to take over a spot, I'd bet on Gomez.
Bullpen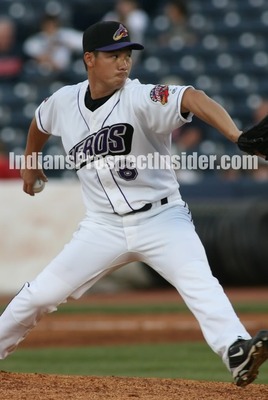 Chen Chang Lee could be ready to be 2012's Vinnie Pestano.
Closer: Chris Perez
Set-up Man: Vinnie Pestano, Tony Sipp
Middle-Relief: Rafael Perez, Joe Smith, Nick Hagadone
Long-Relief: Zach Putnam
Other than the seventh man in the bullpen, the Bullpen Mafia seems pretty well set. Putnam would seem to have an inside path to this job, but Chen Chang Lee could give him a run for his money.
In 71.1 IP between AA and AAA last year, Lee only posted a 2.40 ERA, 2.24 FIP, 12.5 SO/9 and 2.9 BB/9. Lee hasn't posted a SO/9 below 10 at any level of the minor leagues and is the sort of power bullpen arm that could be a valuable addition to the Bullpen Mafia.
Vinnie Pestano made the Tribe's bullpen in 2011 out of Spring Training after posting a 1.81 ERA, 1.91 FIP, 11.61 SO/9 and 2.41 BB/9 in 2010 between AA and AAA. It doesn't seem out of the realm of possibility that Lee could do in 2012 what Pestano did in 2011.
(Photo Credit: IndiansProspectInsider.com)
Starting Lineup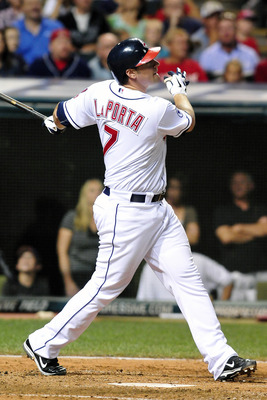 There's still a chance that Matt LaPorta will start for the Indians at 1B.
Jason Miller/Getty Images
C: Carlos Santana
1B: Carlos Pena
2B: Jason Kipnis
SS: Asdrubal Cabrera
3B: Lonnie Chisenhall
LF: Michael Brantley
CF: Grady Sizemore
RF: Shin-Soo Choo
DH: Travis Hafner
The Tribe's starting lineup also seems pretty set. The question of who plays first base is still up in the air, however. This past week, GM Chris Antonetti went to ownership to try to secure funds to sign Carlos Pena, but he is far from a sure thing. If the Indians are unable to find another first baseman, it seems possible that Matt LaPorta could retain the job.
No Cleveland fan wants to see LaPorta get the starting job again, but there still may be hope. His major league numbers haven't been great, but his minor league numbers were elite:
Majors: 269 G, .238/.304/.397 slash line, .701 OPS (93 OPS+), .308 wOBA (90 wRC+), 20.4 K%, 8.0 BB%, 18 HR, 69 RBI, -0.8 fWAR, 0.1 bWAR (per 162 G)
Minors: 244 G, .298/.390/.566 slash line, .956 OPS, .415 wOBA (155 wRC+), 16.4 K%, 10.6 BB%, 38 HR, 122 RBI (per 162 G)
Right now, LaPorta looks like he's headed for the dreaded 4A label. As Kevin Goldstein recently noted, one of the characteristics of a 4A player is an inability to make adjustments.
Word out of Florida (where LaPorta is working out) is that "[Hitting Coach] Bruce [Fields] came back really excited with what he saw. He feels that Matt has a much better feel for his swing. He's made some adjustments with his swing and is building upon a strong foundation coming into camp."
I don't have much faith, but prospects as highly regarded as LaPorta typically figure out how to be at least average players. He's apparently working hard and making adjustments. Maybe, just for once, things can work out against the odds for the Indians.
Bench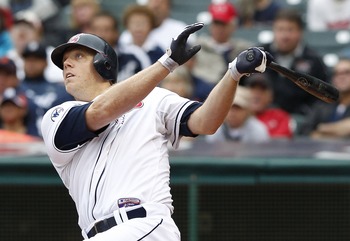 Shelley Duncan could find a way onto the 25-man roster because of his right-handed power.
David Maxwell/Getty Images
C: Lou Marson
1B/3B: Jack Hannahan
2B/SS: Jason Donald
OF: Aaron Cunningham
Considering that the Indians went out of their way to trade for Cunningham this offseason, I would bet he'll make the Opening Day roster. A player that could make some noise in the Spring Training competition and possibly take his spot is Shelley Duncan.
There is no doubt that Duncan would be a welcome right-handed power bat for the Tribe. According to Bill James' projections (averaged out to a full season), Duncan could obtain these stats:
.249/.335/.465 slash line, .800 OPS, .344 wOBA, 31 HR, 108 RBI.
Not too shabby. Considering that Duncan is out of options (as is Cunningham), he would have to be kept on the 25-man roster or the Indians would risk losing him. If Duncan shows that kind of pop in Spring Training, he might force the Indians to keep him around.
The Indians' roster is mostly set, but they could make a move before Spring Training starts. If not, improvements upon the current projected roster will have to come from one of these four players stepping up their game in Goodyear, Arizona.
Keep Reading

Cleveland Indians: Like this team?