Arsene Wenger Must Retool After Loss to United or Risk Wrecking Arsenal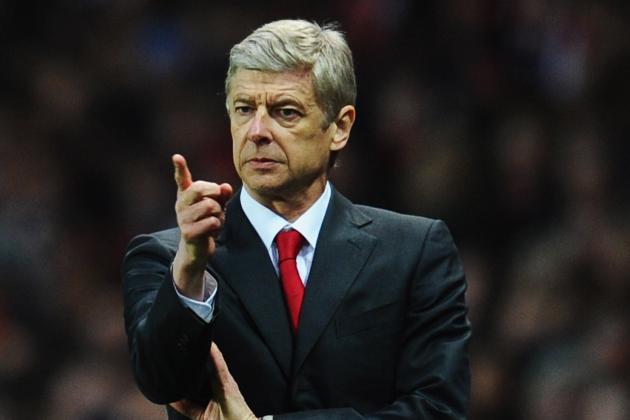 Mike Hewitt/Getty Images

Arsenal's 2-1 defeat against Manchester United did not result from the latter's superiority in the match. No. Arsenal could not have asked for an easier match, a match that cried to the Gunners, "win me." But instead of heeding the cry, players and manager stopped their ears.
They will prefer to play Europa League football next season like their illustrious rivals—United and City—are poised to do this season. The allure must be too difficult to resist.
Make no mistake, this was always going to be a difficult match for the Gunners, or so I thought when I gave my thoughts in this article ahead of the match.
"The likely scenario I can predict is a loss," I said in that article, and then continued:
This is not being defeatist, it's only that Arsenal will be unable to field their strongest side, and although United fans can say the same about their team, I think man for man they still seem the stronger side.

While Gooners should not dispense with hope and faith, they should keep the possibility of a defeat in sight. It's a realistic expectation, and facing it beforehand should prove a wise psychological strategy.
I based my projection on the fact that at the time, Thomas Vermaelen seemed poised to miss the match, a fact that appeared to point to Ignasi Miquel being played at the left-back position.
I thought Antonio Valencia would have a field day against him, especially since I anticipated that Andrei Arshavin would be played on the left winger position, a player who is hugely challenged defensively.
Furthermore, I anticipated difficulty in the midfield, owing to Mikel Arteta's unavailability for the match. The importance of Mikel Arteta to the Arsenal midfield, and to the team's defensive structure as a whole, was underscored in the Swansea City match.
Also, at the time I wrote, Thierry Henry was only a tentative possibility for the match. As it turned out, Arsenal didn't really need him to win this match.
One other factor that led to my predicting a loss was the Djourou factor.
I have spoken about my lack of faith in Johan Djourou in a past article. Before the Fulham game, I had said he would be targeted, and it happened. I thought Nani would give him a difficult time in this match. As it turned out, he was one of three factors that led to Arsenal's defeat.
The other two factors have to do with Wenger and the team's structure in the match. I expand on these in the following slides.
Begin Slideshow

»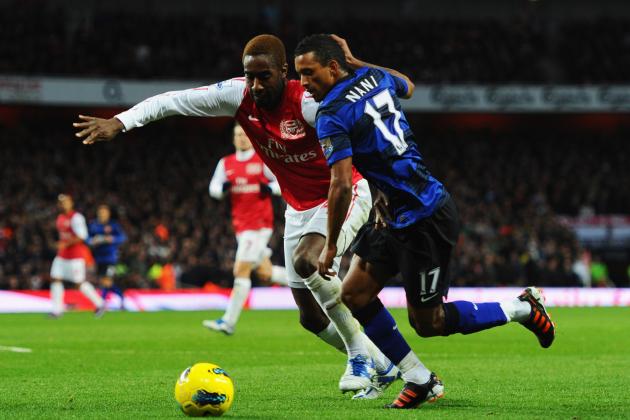 Mike Hewitt/Getty Images
Johan Djourou is an exemplar of Arsenal's current problem.
Arsenal's problems began with the loss of Carl Jenkinson who had taken over from the disappointing Johan Djourou at right-back, after the loss of Bacary Sagana. The last time Jenkinson played was in the 3-0 defeat of West Bromwich Albion.
The effect of the loss was not immediate since Arsenal still had a natural left-back and Koscielny could cover at right-back, a job he did adequately.
The effect became adversely functional after the loss of Andre Santos. Djourou had to be readmitted into the picture at right-back, with Thomas Vermaelen constrained to play at left-back. Arsenal have not been the same since then.
They toiled to eke out a 1-0 victory over Everton at home. They then lost to Manchester City away through a defensive mistake involving the right-back position.
They won away at Aston Villa in a horribly disjointed performance. They threw away two points in a draw with Wolverhampton Wanderers at home. They then labored to beat QPR and succeeded only through the visitor's mistake.
After that victory, Arsenal have lost the three subsequent matches. There's little doubt that the problem has stemmed from the loss of natural full-backs. In the 4-4-2 and 4-3-3 systems, full-backs are essential entities to a team's attacking structure and movement.
The makeshift full-backs Arsenal have used since Jenkinson and Santos both joined their counterparts on the injury table have had one thing in common: lack of overlapping instinct, and this has caused Arsenal fluidity going forward.
Couple that with the make-shift full-backs' lack of instinctual ability to make tackles, by which I mean the ability to win balls off the attacking flank player. Natural full-backs routinely execute these tackles. Djourou, for example, is tackling-challenged at the full-back position.
Note well.
The defeat at City was caused by an error at right-back position. This involved Koscielny, who unfortunately positioned himself leading to the goal as a center-back. Alex Song was required to make the right-back block and was easily brushed aside by Mario Balotelli.
The defeat at Fulham resulted from intelligent targeting of Djourou at right-back by Fulham. This led to the red card that arguably contributed to the loss.
The defeat at Swansea came through defensive lapse on the left flank, when Swansea successfully breached the left-back position. Ignasi Miguel was directly involved, although he wasn't the cause of the initial problem that led to the goal.
In the defeat against Manchester United, the full-back positions were the cause.
Therefore, the reason why Arsenal have slumped in form results from the loss of their natural full-backs.
The argument then is that Wenger should have sought to solve this problem by buying or loaning full-backs as soon as the January transfer window opened. Here is what he, himself, said on the situation:
"It would be stupid for us to drop points because we don't have a left-back.
Vermaelen has a calf strain. It's serious enough not to play on Monday or against Leeds (next Monday) in the FA Cup and we now have three left-backs out."
Let's consider this issue then.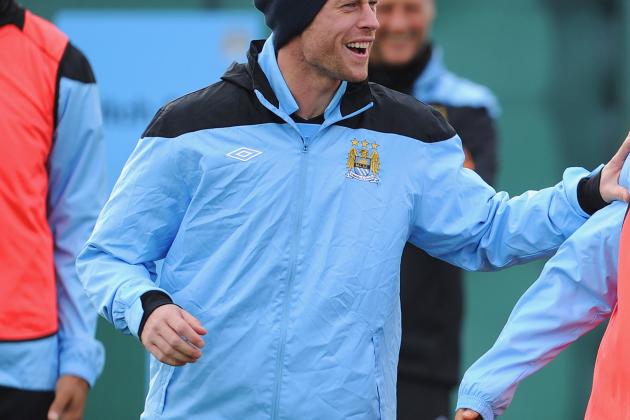 Michael Regan/Getty Images
Should you buy a rusty Wayne Bridge?
First, players are overpriced in January. Possessing clubs know that any team seeking to buy a player at this time must be seeking to address a particular problem, so of course they inflate the price. Financially, a club seldom is making a prudent transaction when it buys in January.
Second, good players or right players are difficult to find in January. The good ones won't be parted with by their clubs. Even when you get a good one and agree to pay the exorbitant price for the player, there's no guarantee he'd be the right one for you. Here's what Wenger says about it:
What can you get in January? I've said this many times now. The players we'd like we can't get.

If the alternative is to sign a second-rate player, we don't want to do that.

Our injuries have led to fans wanting us to sign someone, but I don't want to sign a player who won't get a game when everyone's fit because he's not good enough.
In truth, this is not Wenger speaking even though the person sounds like Wenger. It is Sir Alex Ferguson.
Third, the question regarding the right player is the very reason why January transfer window is not the best time to buy players. The chances of the player settling immediately are very slim. The adjustment time is too short, and the pressure to perform too intense.
In the latter case, the player is put in a "messiah" situation of sorts, the one to solve the particular problem the team aims to fix. If this is not a strong recipe for failure, I don't know what is.
Fourth, concomitant to the preceding point, and in the case of Arsenal, one can't guarantee that buying a full-back or two would have been a better option than using centre-backs as cover.
Luck would play a strong part in this. If you are lucky, the player may settle quickly, if you are not, you'd have wasted your money. Research has shown that players don't tend to settle quickly in pressure situations like this.
Fifth, still building on the preceding points, the best option for a club then, is to look for a loan option. But here's the truth about loans. The good players are not available, which is not to say a few good players may not be warming the substitute bench somewhere for one reason or the other.
The trick, then, is to determine why a potentially good player is not getting games at his club. Moreover, you have to find the potentially good player first. Here on B/R and on many other sites, writers list players which a team should or must buy.
That's well and good, only that the list almost always is made up of good players, whom their clubs would not part with except at inflated prices.
I understand that the only thing many fans care about is that players be signed. However, if they asked the simple question, "where will the money come from to cover both the transfer fee and the subsequent wages," they'd see that signing players is not as easy and as simple as going to their clubs and fetching them.
Sixth, bearing in mind, then, that the players available during the January transfer window are second-rate players (see point No. 2 above), it is apparent why prudent managers are reluctant to buy or loan players in January.
Would you buy a second-rate player at an exorbitant price—who may or may not meet your immediate need—only to bench him when your good player returns from injury?
Bear in mind that you'd still be saddled with the player's wages even when he becomes useless to you.
Seventh, viable option is a key phrase. It addresses the example of Wayne Bridge who was linked with Arsenal late in December of last year and early this year.
Wayne Bridge hasn't been playing. This calls into question his fitness. If he has fitness issues then you can't play him immediately. He, of course, can work hard to regain fitness. But again, you may not be able to call on him immediately since he'd need to adjust to the team and its way of playing.
Moreover, in this particular case, you have to consider the wages. Manchester City's salary scale is much higher than Arsenal's. Are you going to pay a player an exorbitant salary, who in all likelihood may not solve your immediate problem? Understand that if this player were so good, he would not be a discarded entity at City.
Emmanuel Adebayor's wages are being subsidized by City, that's why Tottenham Hotspur are able to pay his wages. Would City be willing to do the same in the case of Wayne Bridge? I doubt that City would have agreed to do so in the case of Adebayor had they known that Spurs would be challenging them for the title.
If you agree to pay a second-rate player high wages (even in a loan situation) isn't that going to cause unrest in the squad? Why should your established players be paid less than a player who really isn't good enough?
Here's Wenger's own take on the above problem.
All over the world we have our eyes and we look for good [players]..

It is very simple in a situation like that. You might take a player who doesn't play at all somewhere, who is not necessarily fit quicker than a player who is injured. Or you take a young, potential player who has not made it somewhere.

A player who plays anywhere in the world at the moment will not be available on loan, it doesn't exist. It can only be a guy who doesn't play or a promising player who has not yet made it completely who you could take advantage of.

That is why it is not an easy situation. You have to consider that a guy who has not played for two months is not necessarily back quicker than Bacary Sagna or another player who is just coming back from injury.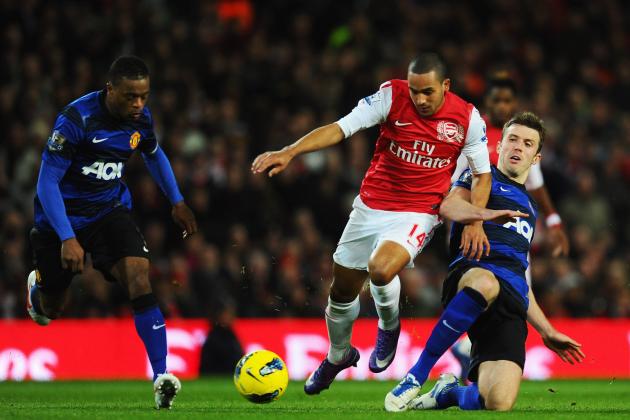 Mike Hewitt/Getty Images
Theo Walcott has been affected by the Djourou factor.
Arsenal's midfield has been affected by the loss of full-backs. Let me explain.
To dictate and control a match, the midfield must dominate its opponent in the middle. Arsenal do this by controlling possession there.
Controlling possession means ability to win the ball back quickly in the midfield when the opponents have it. This means that a big part of the midfield's job is disrupting opponents' attack.
The midfield also becomes the conduit through which the team executes its attacks. To do this, the midfield must have set doors through which to dispatch promising attacks.
This happens often by having the full-backs press higher on the pitch. This releases the wingers to roam or collapse inward to receive any available passes and from the duty of marking the opposing wingers and full-backs.
To understand this, note that when the team is on the attack, it forces the opponent to collapse backward. The full-backs of the opposition retreat to form the four-man defensive line that often seeks to spring the off-side trap.
Thus occupied, they do not pay close attention to the attacking wingers. To make up for this problem, the defending team's wingers are forced to mark the wingers of the attacking team. But when they do so, they leave the full-backs of the attacking team unaccounted for, who then are free to roam or to maraud forward.
Their movement forward has two immediate effects: they become an optional door through which the midfielders can dispatch an attack and they force the defending wingers to pay attention to them; this, in turn, frees up the wingers of the attacking team.
Let's apply this more practically. A big reason why Theo Walcott has been having difficulty this season has been largely because his partnership with Sagna has been disrupted.
He is often caged either by the opposition's full-back or by his opposite number. Experienced full-backs such as Sagna force the opposition into paying attention to them, allowing more freedom to their own wingers. When the opposition's full-backs or wingers focus too much on the attacking team's winger, the attacking team's full-back is allowed space to overlap and whip in crosses.
To summarize, the loss of full-backs has affected the midfield as well. Walcott is often caged, so the midfielders can't dispatch the ball through him.
To say it differently, the makeshift full-backs don't know how to overlap effectively but spend most of their time functioning as quasi center-backs. This doesn't help Arsenal when they attack. This is why in recent matches, they have been tame in possession.
This problem has been on hand in the last five or six matches Arsenal have played. It came about, like I said, by the loss of Carl Jenkinson and Andre Santos and has caused Arsenal to toil mightily to win matches. It has been a major factor in the recent losses.
But what does this means?
It means that since the season's early setback all of Wenger's labors to create a cohesive machine, labors that had began to bear fruit, have gone down the drain through the intervention of injury.
What the average fan does not understand is that a quick January signing isn't immediately going to alleviate this problem.
There is, after all, such a thing as a team understanding itself. To drill a team to fluidity takes time, which is why, I suppose, Wenger is reluctant to experiment that much with players and formation, because you don't simply field players and tell them to do so and so, they have to be drilled into their roles.
Let's elaborate on this in the following.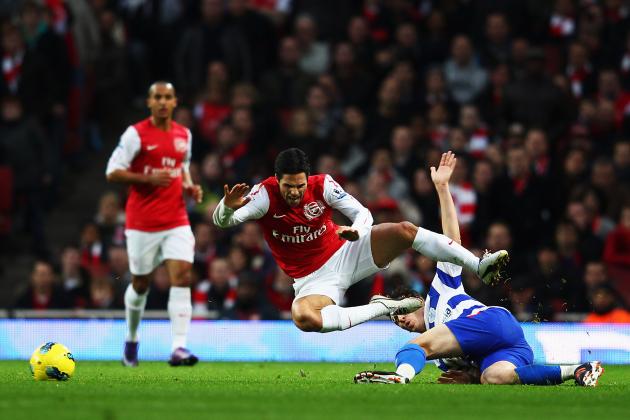 Clive Mason/Getty Images
Mikel Arteta is an indispensable cog in the Arsenal wheel.
Yossi Benayoun didn't do well in the Swansea City game not because he isn't a good player, but because he was played in an ill-suited role. In this match, Benayoun was covering for the injured Mikel Arteta.
What is Arteta's role in the current midfield?
Arteta is the spine of the team. He is to the team what a chasis is to a motor vehicle. Let me explain by way of digression.
Readers who follow me will recall that I identified the absence of Alex Song in the Aston Villa match as the cause of Arsenal's disjointed performance in that match. I said Song is the glue that holds the midfield together.
In saying, therefore, that Arteta is the spine of the midfield, I do not mean to change my tune. I mean to highlight the fact that partnerships in particular roles in a team are very important. When Song was removed from the tripartite partnership that includes Aaron Ramsey and Arteta, the remaining duo labored to execute their roles.
Now that Mikel Arteta has been temporarily removed, the same effect is on hand. This is because it affects the drilled function of the midfield. The three know how to modulate when they are together; when one of them is missing, a brief problem surfaces.
The problem in the Villa game when Song was absent resulted from Emmanuel Frimpong's inability to cover Song's role effectively. Contrast that with Frimpong's partnership with Francis Coquelin in the midfield in the Carling Cup match against Manchester City.
In the case of Ramsey, both Rosicky and Benayoun are adequate covers for him because both are creative midfielders, so that as long as they are slotted into that role, they not only bring their own individual dimension to the game, they also are able to perform the set role with a level of proficiency.
What this means is that neither Rosicky nor Benayoun is an adequate cover for the Arteta role, a box to box role.
The box to box role is just that, which is why I compared it to the human spine or to an automobile's chasis. It means that the player who performs this role should be able to read the game at a wider range than the creative midfielder whose positioning is mostly on the apex of the midfield.
Benayoun's failure in the Swansea game was because he lacked the natural instinct for positioning that a box to box midfielder should have. A box to box is both an enforcer and an influencer, while the creative midfielder performs the role implied by his name.
In the Manchester United match, Rosicky was the cover for Arteta. He performed the role miserably. This is why Manchester United had a field day in the first half.
Now, understand that I'm not saying that Rosicky isn't a good player, no. What I'm saying is that he was ill-suited to the box to box role in this match.
He had little clue as to how to position himself in the match, he was either too deep, which is why Arsenal left acres of space in the midfield in the first half, or he was too high in the pitch, resulting in the same effect.
What, then, could Wenger have done to solve this problem? Little to nothing.
You should have grasped the problem by now. The problem Wenger had in the Swansea game and the United game wasn't just a full-back problem, which has been biting since October, it was also the lack of an adequate replacement for Arteta.
Arteta just got injured so the transfer quick-fix argument does not apply. Plus, Arsenal have two covering players for this position—Jack Wilshere and Abou Diaby—they just happen to be injured.
Remember that Wilshere looked to be available for the season in the summer and it wasn't known until too late that he'd be out for the whole season, so it was impossible for Wenger to sign Wilshere's replacement.
No, that's not accurate. Wenger did sign Wilshere's replacement: Mikel Arteta, but now the replacement is injured and was only expected to miss one game.
Should the manager be expected to buy a replacement for every injured player?
Injuries have made the situation impossible for Arsene Wenger. That's a fact. This has affected the team's playing routine, resulting in disjointed performances. You can't drill well when you can't have players in fixed roles. Recall that the issue of fixed role is what caused Arsenal's loss at City.
When fans cry, "sack the manager" in the face of every loss, they display their ignorance to the nuances of management. Sacking managers seldom solves problems.
Of course, there's usually an appearance of solution, brought about by the new manager's brief period of freedom to buy players.
Why not give the same freedom to the existing coach? Better progress can be made by retaining the manager at hand and giving him the same freedom that new coaches usually are given.
I urge Arsenal fans—including the nonsensical Piers Morgan—to realize that Arsenal and Wenger have been unlucky with injuries this season. That's what is derailing the season.
There's no way—I can say this confidently—Arsenal would have lost to Manchester United or Swansea for that matter, had Andre Santos or Kieran Gibbs, Sagna or Jenkinson and Mikel Arteta (or Wilshere) been available for the two matches.
United only took advantage of Arsenal's problems to win the match, not that they played particularly well.
So, then, if I understand the foregoing, why am I saying that Wenger could wreck Arsenal?
Find the reason in the following.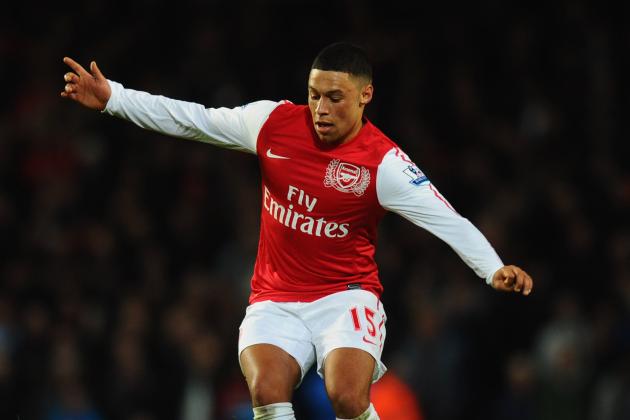 Mike Hewitt/Getty Images
Oxlade-Chamberlain has earned his place in the Arsenal lineup.
When I say that Wenger should retool or risk wrecking Arsenal, I mean he should throw his blind respect for seniority in the team out of the window.
His baffling substitution of Alex Oxlade-Chamberlain to bring on the ineffective Andrei Arshavin probably caused Arsenal the match against United.
The change came after Chamberlain had just produced a sublime assist and after he played Robin van Persie into a dangerous position similar to the one that produced the goal. Throughout the first half, AOC was the brightest player on the pitch.
In the final 25 minutes of the match, leading to the equalizer, Arsenal were the better team on the pitch, they had only begun to find the right balance in their movement. Why then disrupt it with the mindless substitution?
Was AOC sick within the week? Why then was he deemed fit to start the game? And after he started, did he show any sign of slowing down? No. You can't argue that he's not suited to playing 90 minutes.
Wasn't he playing 90 minutes before he came to Arsenal? You can't also say that he is susceptible defensively. He did rather well in this match, better than Arshavin, who came on and then gave the match away.
I don't like blaming players for every mistake. I also prefer to be patient with players, knowing that issues of form can change suddenly. In this case, however, Arshavin no longer deserves the loyalty Wenger has shown him. Loyalty and trust should work both ways. Arshavin has failed to repay that loyalty.
When therefore I say retool, I mean that it's time Wenger benched a few players and admitted others. Park Chu-Young did not spend enough time on the pitch to allow for an adequate gauging of both his movement and contribution as a substitute for Ramsey.
So I can't make a strong argument that Park could be admitted into the lineup in place of Ramsey. In any case, a formation change would be required to do so.
There's no doubt that Ramsey is a gifted player, and one cannot fault his work rate, but the fact is, he isn't efficient. To turn this season around, efficiency is critical.
My advice to Wenger would be that when Arteta returns, Ramsey should be made to fight both Rosicky and Benayoun for the creative position, just as both Song and Arteta should be made to fight Coquelin and Wilshere for their own positions. This will force players to wake up.
Part of the retooling should involve tinkering with formation to admit promising players such as AOC and Coquelin. And now that Thiery Henry is on hand to help, tinkering is all but necessary.
From now on, Wenger, bench Arshavin and bring him on only when it's absolutely necessary.
I find your "captain of Russia" argument both nonsensical and condescending to both AOC and the fans. Arshavin could well be Captain America, but as long as he doesn't produce, it entitles him to nothing. Players should played based on merit, not on seniority.
That said, saying Arsene Wenger should be sacked is a product of hasty emotionalism than of deep and rational study of Arsenal's current situation.