Peyton Manning Trade Rumors: Jets Would Be Foolish Not to Pursue Manning
January 19, 2012

Rob Carr/Getty Images
If Indianapolis Colts quarterback Peyton Manning is available this offseason, the New York Jets would be foolish not to pursue him.
Adam Schefter of ESPN tweeted on Thursday: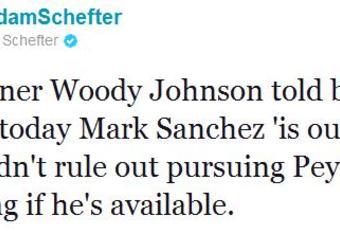 Mark Sanchez's starting status in New York has been a continuous item of debate throughout the years. While head coach Rex Ryan has stood by him through thick and thin, fans and his own teammates have grown restless.
After the New York Daily News cited anonymous teammates blasting Sanchez last week, running back LaDainian Tomlinson said on Wednesday in a TV interview that Sanchez's rift with star receiver Santonio Holmes was "as bad as I've ever been around," per ESPN.
At this point, it's not just about Sanchez's erratic play throughout the years: It's about trust within the locker room. If his teammates don't trust him, particularly his No. 1 receiver, that creates a divide that is hard to conquer.
Let's be honest, Sanchez has only been in the league three years. Quarterbacks like Alex Smith of the San Francisco 49ers have shown a little time can be healing.
But it also doesn't look like things are getting any better for Sanchez.
While he threw a career-high 26 touchdowns this season and improved on his completion percentage and QB rating, his completion percentage was still 56 percent, his QB rating was still 78.2 and he tossed 18 interceptions. Three of those interceptions came against the Miami Dolphins in Week 17 with the Jets' season on the line.
The funny thing about Holmes' apparent rift with Sanchez is that Holmes only had one less reception than last season and had two more touchdown catches. It's becoming more and more clear that Sanchez simply can't win in New York—in both senses of the word.
In that regard, the Jets would have to be fools at this point not to go after Manning wholeheartedly if he's available and relatively healthy. I say "relatively" because even if he's not 100 percent, he would still outperform Sanchez.
I find it contradictory for Johnson to say Sanchez is "our guy," yet still entertain the idea of trading for Manning.
He needs to jump over that proverbial fence.