NBA Trade Rumors: Teams That Must Inquire About Boston's Big 3
January 20, 2012

Jim Rogash/Getty Images
Danny Ainge seemingly has his finger on the trigger, he just needs the right offer to make him pull it. Ainge recently indicated that he is open to trade either or all of his Big Three (Kevin Garnett, Ray Allen and Paul Pierce).
Each of them could potentially offer a contending team a huge lift, but who will be willing to offer a player or package enticing enough to make Ainge make this bold move(s)? If he moves one, some may argue, he should move all three, if possible.
Here are the best suitors for each of the Boston Three Party:

Ray Allen - Chicago Bulls
Why the Bulls?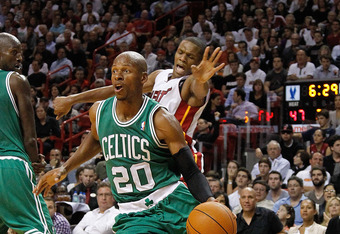 Mike Ehrmann/Getty Images
The Bulls still have a need for a prime time shooting guard. They signed Richard Hamilton in the offseason, but he has been hurt, and even when healthy, he isn't Ray Allen. Allen is averaging 15.6 points per game, and would allow Rip to be a sixth man. It would limit Hamilton's minutes, allowing him to be in peak physical condition come playoff time.
A team that features both Hamilton and Allen would provide so much spacing for Derrick Rose. The Bulls offense would certainly improve, and they would be adding a great clutch shooter. Allen is a free agent at the end of the season as well, which gives them more financial flexibility after signing Rose to a major extension.
What's in it for the Celtics?
Joakim Noah. Yes, I know he is a Bulls fan favorite, but the Bulls have held on to Omer Asik like gold since last year. Now it is time to let him start. The Bulls have looked better this season with Asik on the floor (per 36 minutes, Asik has averaged one more rebound and one more block, with only 1.4 less points per game), and it appears Noah struggles while playing with Carlos Boozer.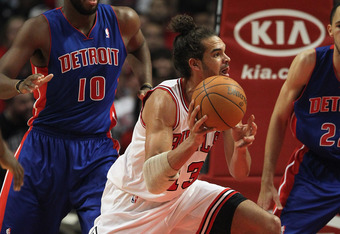 Jonathan Daniel/Getty Images
Noah is a young big that most in the NBA still love, despite his recent struggles (numbers down in points, rebounds, blocks and assists). The 2011 contracts match perfectly (both are due $10 million this season) and Noah would start immediately and thrive with Rondo. He already has the commitment to defense the Celtics require and he's familiar with the system, as his current coach Tom Thibodeau employed it when he was in Boston.
The Bulls would have a logjam at the 2-guard, so they could include Ronnie Brewer or Kyle Korver and their first-round pick in exchange for Chris Wilcox and Brandon Bass, another pending free agent.
The Bulls would be stronger contenders, and the Celtics get younger while staying competitive.
Paul Pierce - Philadelphia 76ers
Why the Sixers?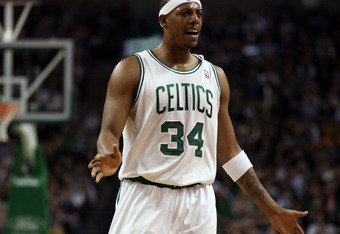 Elsa/Getty Images
The Sixers scoring by committee is nice, but in the postseason, to be serious, you need a go-to guy. Pierce is among the best clutch scorers in the NBA. According to 82games.com, clutch is defined as: fourth quarter or overtime, less than five minutes left, neither team ahead by more than five points.
In that situation, Pierce averaged 28.4 points per 48 minutes played, and that's playing with the Big Three in Boston. In Philly, down the stretch it would be all about him. That is an element the Sixers' gritty defensive squad could desperately use. Louis Williams will not get it done when the Heat throw LeBron James on him in the fourth.
What's in it for the Celtics?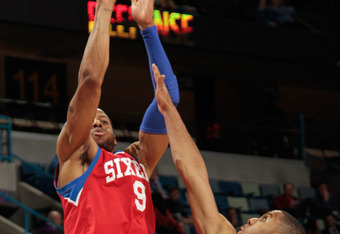 Chris Graythen/Getty Images
The Celtics could get Andre Iguodala here. Iggy is a stat-sheet stuffer, averaging 14.5 points, 6.5 rebounds, four assists and two steals. He isn't a prime-time scorer, but he is as good a perimeter defender as there is in the league.
He makes slightly less than Pierce's $15.3 million salary, and he could be a free agent after the 2012-2013 season, though he does hold a player option. That makes him a amnesty candidate if the Celtics don't want to pay him the $15 million he'd be owed.
He is five years younger than Pierce, and though he isn't the scorer Pierce is, he's a more well-rounded player. The C's would still be a solid team with Iggy.
Kevin Garnett - Dallas Mavericks
Why the Mavericks?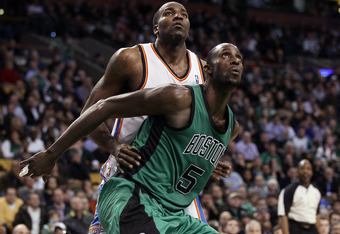 Elsa/Getty Images
The Mavericks need to replace the defensive presence in the middle they lost when Tyson Chandler bolted to New York. Garnett is still a prime time defender, and he has the ability to play the middle. He will elevate the defensive play of every one on the team.
He can still hit the 15- to 17-foot jump shot with regularity, as well as the turn around jump shot. He makes an enormous $21 million this year, but it's coming off the books. This allows the Mavs to still pursue Deron Williams and possibly Dwight Howard in the offseason.
What's in it for the Celtics?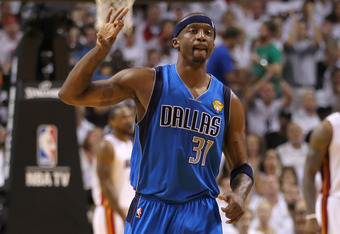 Mike Ehrmann/Getty Images
The Celtics could take Jason Terry and Lamar Odom from the Mavericks. Yes, Odom was unhappy to be traded from the Lakers, but he hasn't built up the same loyalty with Dallas. He seems to be shaking the rejection feeling and ready to start performing like he's capable. Odom has a team option after this season, which the Celtics would presumably not pick up.
Terry is a valuable reserve, but he is also a free agent at the end of the year. The Mavericks can spare the scoring to add the defensive presence in the middle, and KG can still score a bit as well. Garnett currently averages 13.5 points per game.
This trade helps both teams get in better financial position for the offseason, and it makes both teams better or no worse off now.
Were these deals to happen, these are the lineups they would produce:

Chicago Bulls
PG Derrick Rose
SG Ray Allen
SF Luol Deng
PF Carlos Boozer
C Omer Asik
Primary bench players: Rip Hamilton, CJ Watson, Kyle Korver or Ronnie Brewer, Taj Gibson, Chris Wilcox and Brandon Bass.
Philadelphia 76ers
PG Jrue Holiday
SG Jodie Meeks
SF Paul Pierce
PF Elton Brand
C Spencer Hawes
Primary bench players: Thad Young, Louis Williams, Evan Turner, Nikola Vucevic
Dallas Mavericks
PG Jason Kidd
SG Delonte West
SF Shawn Marion
PF Dirk Nowitzki
C Kevin Garnett
Primary bench players: Brendan Haywood, Ian Mahinmi, Rodrigue Beaubois, Brandan Wright, Yi Jianlian
Boston Celtics
PG Rajon Rondo
SG Andre Iguodala
SF Lamar Odom
PF Joakim Noah
C Jermaine O'Neal
Primary bench players: Jason Terry, Kyle Korver or Ronnie Brewer, Keyon Dooling, Mickael Pietrus and JaJuan Johnson.
All of these teams are better for these trades. Somebody get Danny on the phone.
Follow Brian Mazique on Twitter