San Francisco 49ers vs. St. Louis Rams: Injury Report and Prediction
December 31, 2011
Ezra Shaw/Getty Images
The outcome of Sunday's regular-season finale at St. Louis will go a long way in boosting the 49ers' chances for playoff success. 
A win would guarantee a first-round bye and home-field advantage in the subsequent game. With the blazing hot Saints as a possible opponent, any sort of advantage will be welcomed with open arms.  
A loss could drop them to the No. 3 seed for a likely rematch with the Detroit Lions and Coach Schwartz. As entertaining as another Harbaugh-Schwartz handshake sounds, the 49ers are looking to beat the host Rams. 
When the two teams met in early December, it was smooth sailing for the 49ers as they shutout the Rams 26-0 in Candlestick Park. This time around may prove to be a little more challenging for the 49ers who are battling through several injuries at key positions. Then again, the Rams are also dinged-up and, with a 2-13 record, look primed for a shot at the No. 1 overall pick in the upcoming 2012 NFL Draft.    
Injuries will be a decisive factor in Sunday's result between the NFC West rivals.  
49ers Injury Report
Out:
TE Delanie Walker (jaw)
Questionable:
CB Chris Culliver
WR Ted Ginn (ankle)
FB Bruce Miller (knee)
CB Carlos Rogers (knee)
WR Kyle Williams (concussion)
LB Patrick Willis (hamstring)
Outlook
The 49ers are floss-thin at the wide receiver position with the absence of Ginn, Williams, and Edwards who was released earlier this week. As a result, Brett Swain will slide into the starting spot opposite Michael Crabtree and Joe Hastings will be promoted from the practice squad.
Swain, added to the team after the Josh Morgan injury, has seen the field mostly on special teams and has only one reception for nine yards on the season. Hastings, an un-drafted rookie out of Division II Washburn University, will be making his NFL debut.
Despite the inexperience, the young receivers will need to step up as the Rams' defense will shift their focus towards playmakers Vernon Davis and Crabtree. 
Look for star linebacker Willis to sit another game in hopes of being full strength come playoff time. He will be missed, but Larry Grant has stepped up and made plays for a top-ranked defense. The others on the list have been limited in practice throughout the week but should be ready to contribute on Sunday.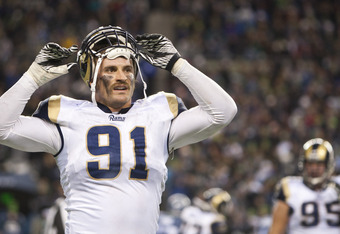 Jay Drowns/Getty Images
Rams Injury Report
Doubtful:
QB Sam Bradford (ankle)
QB AJ Feeley (right thumb)
Questionable:
DE Chris Long (ankle)
Probable:
CB Josh Gordy (abdomen)
RB Jerious Norwood (illness)
LB Brady Poppinga (illness)
Outlook
Quarterback Sam Bradford will miss his sixth start in what has been a disastrous season for the former No. 1 pick. A Rams win would save Bradford's job, but a loss could lead to the selection of QB Andrew Luck in the upcoming draft. 
With backup AJ Feeley also sidelined, Kellen Clemens should get his second consecutive start. For the Rams to have any chance at a victory, Clemens must improve on last week's performance that saw him complete 9 of 24 passes for a measly 91 yards and zero touchdowns. 
The Rams will also need defensive end Chris Long to play and continue wreaking havoc on opposing quarterbacks—13 total sacks on the season and counting. 
Prediction
Injuries aside, the 49ers are the superior team and will prove that this week. It's never easy to win on the road in the NFL, but this is as close as it gets. Look for the 49ers to jump out to an early lead behind a balanced attack through the air with Alex Smith and on the ground with Frank Gore. The Rams will then have to rely on the arm of Clemens, a recipe for disaster as the 49ers defense is constantly on the prowl for turnovers. 
The 49ers' New Year's Eve celebration will continue Sunday as they emerge victorious and the Rams will get a head start in making their New Year's resolutions.
Prediction Within a Prediction
Needing only one sack to tie the NFL rookie record for sacks in a season, Aldon Smith will go the extra mile in gathering two sacks to break the record previously held by Jevon Kearse. 
Final score: San Francisco 27, St. Louis 7