San Francisco 49ers: Playmaker Needed, Should Sign Terrell Owens
December 28, 2011
Jed Jacobsohn/Getty Images
NFL games are won by playmakers on both sides of the football. And for the NFC West champion San Francisco 49ers, to be as successful in the postseason as they have been during the regular season, they need to add another playmaker on offense.
The 49ers should sign a player who helped lead them to their last postseason victory (over the New York Giants in January 2003). They need to bring back Terrell Owens.
Yes, Owens was a toxic teammate at times with the 49ers, Eagles, Cowboys, Bills and Bengals. But, the 38-year-old receiver with the Adonis physique is no fool; he knows this would be his last chance to win a Super Bowl ring—his last chance to allow his football skills to overshadow an often-prickly personality.
Owens would be on his best behavior in San Francisco. He would have to be. Otherwise, no-nonsense head coach Jim Harbaugh would put him on the first plane out of town.
The 49ers should invite Owens to work out this week at their Santa Clara facility. Assuming he retains enough of the skills he showed as a Bengal last season, Owens would give the 49ers what they had hoped to get from Braylon Edwards—a big target who is not afraid to go over the middle and can keep drives alive as a possession receiver or occasionally beat a team on a deep pattern.
Edwards was a bust in San Francisco even before the knee and shoulder injuries that curtailed his season. Because of Edwards's release and injuries to Ted Ginn Jr. (knee) and Kyle Williams (concussion), the 49ers have just two healthy wide receivers: Michael Crabtree and Brett Swain.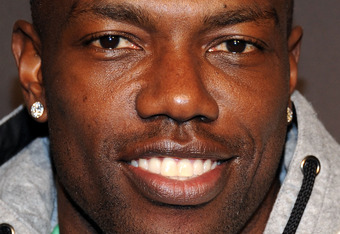 Michael Kovac/Getty Images
Swain, signed during the season after being cut by the Packers, scares nobody. Nor does either wide receiver on San Francisco's practice squad, rookie Joe Hastings and second-year man John Matthews.
In the playoffs, every 49er opponent will try to take All-Pro running back Frank Gore out of the game by putting eight defenders in that virtual rectangular box within 10 yards of the line of scrimmage, forcing quarterback Alex Smith to beat them with his arm.
That is not Smith's strength.
In Harbaugh's conservative offense, Smith is a game manager, not a playmaker.
Take a hard look at the 49ers' roster, and there is no reason to believe Smith will beat a playoff foe that is determined to limit Gore's effectiveness. Smith has no chance to do it without another weapon in the receiving corps; Crabtree and tight end Vernon Davis are not enough.
That's where Owens comes in.
The 49ers should sign T.O. and have him observe from the sideline Sunday as they lock up the NFC's No. 2 seed with a victory over the Rams.
San Francisco can then incorporate Owens into the offense during the two-week break before their home playoff game Jan. 7 or 8 at Candlestick Park.
Owens wouldn't need much time to get up to speed. He's thoroughly familiar with the West Coast offense, and Harbaugh's version of it may differ only in semantics from the offense T.O. ran under former 49ers head coach Steve Mariucci.
T.O. could help the 49ers immeasurably in the red zone where they have been, surprisingly, one of the NFL's worst teams at scoring touchdowns.
Good luck trying to beat the Saints or Packers with five David Akers field goals while Drew Brees or Aaron Rodgers is firing touchdown passes.
Too many 49er drives this season have been bogged down inside the opponent's 20-yard line. But, Owens has always been able to find the end zone.  
The 49ers have championship-caliber units on defense and special teams. It's the offense that needs a spark. The 49ers should not be afraid to give the mercurial Owens an opportunity to provide that spark.