Matt Barkley Going Back to USC Is Not a Disaster for the Miami Dolphins.
December 23, 2011
Stephen Dunn/Getty Images
Oh, those various fickle Miami newspaper columnists certainly take their turns playing Grinch this holiday season.
Their idea of perspective is quite the Christmas treat.
Apparently, the decision of USC quarterback Matt Barkley to go back to school for his senior season is not just a disappointment, according to the individuals assigned to cover the Dolphins.
It's an unmitigated disaster.
Now, the Dolphins won't be able to get their franchise quarterback because only Andrew Luck and Robert Griffin III are worthy of that title, and Miami drafts too low to be able to get either one.
They would have to swing a trade and outbid Cleveland and Washington. In the process, they would have to give up too much to move up enough to select either player. They will never get that franchise-caliber quarterback.
The sky is falling! The sky is falling! 
To quote the immortal 80's music act Frankie Goes to Hollywood, "Relax." 
Look, having Matt Barkley return to Southern California for his senior year certainly reduces the eligible draft pool by one skilled player, but that's really all it does and it's certainly not reason for panic on South Beach.
Here's what we know.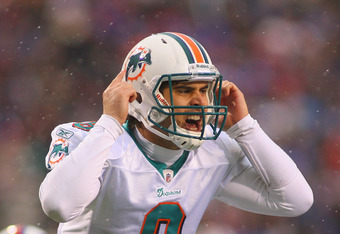 Rick Stewart/Getty Images
Matt Barkley is a talented quarterback prospect who a lot of "draft experts" projected to go in the top 10 picks of the 2012 draft. 
Miami does need to develop a franchise quarterback regardless of what happens with incumbent Matt Moore. It's been way too long since Miami has successfully groomed a quarterback and Moore is only signed through 2012.
Here's what we don't know...and it's a much longer list.
We don't know if General Manager Jeff Ireland would select a quarterback in this year's draft because he is probably under a win now mandate from ownership.
We don't know if Ireland really likes Luck or RG3, or for that matter Barkley. When it comes to evaluating draft prospects, "beauty is in the eye of the beholder." Ireland could be put off by Barkley or Griffin's height.
Heck, I've got reservations, albeit slight ones, about the run-first offense that Luck played at Stanford. The point is every prospect has some flaws that bother talent evaluators more than the media or fans.
We don't know which quarterbacks will rise or fall during the pre-draft process. For example, I fully expect Arizona quarterback Nick Foles' stock to soar over the next few months. He's big, can make all sorts of throws and I have a very distinct memory of him rifling a pass in between three USC defenders for a touchdown this season.
Believe me, that tape will be played over and over between now and next April.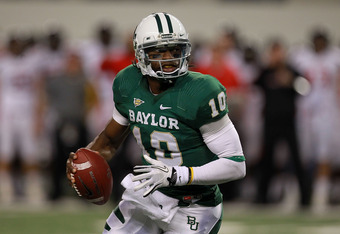 Ronald Martinez/Getty Images
On the flip side, we don't know if Griffin or Luck will slide in the upcoming months.
It seems unlikely but take note of this relevant history lesson.
There was this can't miss prospect, ironically out of USC, who was seen as the sure fire, no doubt number one pick to the Houston Texans in 2006.
That would be one Reginald Alfred Bush, your current starting running back for the Miami Dolphins. Yes, the same Reggie Bush who was taken with the second pick overall by the New Orleans Saints, because the Texans chose defensive end Mario Williams instead. Oh yes, and there was this quarterback Aaron Rodgers. Maybe, you have heard of him. He was supposed to go second overall in the 2005 draft for the longest time right up until selection day. Then he fell to 24th to the Green Bay Packers.
We don't know what will happen during the rest of the offseason before the draft. Will Miami make a play for Peyton Manning if the Colts commit to drafting Luck? Will they try to go after Matt Flynn from Green Bay who some value just as highly as some of the incoming rookies?
Finally, we don't know if Luck, RGIII or even Barkley is any better than Foles, Brandon Weeden, Landry Jones, Ryan Tannehill or even a Kellen Moore.
Yes, perhaps even someone like Kellen Moore, a likely sixth or seventh round pick in April's draft will turn into the best of the lot.
Because the draft really is a crap shoot.
Because for a quarterback that is probably 5'11 and 190 lbs, Moore also has exceptional accuracy and is a proven winner - something that shouldn't be overlooked in today's NFL. 
For a tangible example of how important it is to be a winner in the NFL, just look at that guy Tebow in Denver. I am not predicting similar success for Moore, but I wouldn't be shocked either because the success of quarterbacks can be that unpredictable.
So, my holiday wish for Miami columnists and fans alike is simply one word.
Relax.