Seattle Seahawks: A Golden Opportunity to Redefine the Hawks Attack with Tate?
December 16, 2011
Jonathan Ferrey/Getty Images
Between Marshawn Lynch's Skittle Shower and Doug Baldwin's otherworldly performance against the Rams on Monday night, Golden Tate continued to quietly make the most of an opportunity that seemed out of reach only a few weeks ago.
Eric D. Williams at The News Tribune writes that following Sidney Rice's injury, "Tate has started two games and has had seven catches for 86 yards and a touchdown in those games—including three catches for 39 yards against St. Louis, along with a 14-yard run."
On the surface it's not much, but prior to getting his recent starting shot with the 'Hawks it seemed the only thing the former Notre Dame star would be catching in Seattle is fire for breaking into a donut shop last summer.
Instead now it would appear for the remainder of this season that Tate should be the 'Hawks No. 2 receiving option after Doug Baldwin.
But what can we learn from the next few weeks and what are the long-term implications?
For starters, Tate could actually live up to the promise and not let go of his spot.  He seems determined as he explained in Williams' aforementioned writeup:
"It always feels good to win, for one," Tate said. "But to feel like I'm making an impact on this team late in the season, it feels good. So once again, I'm just very happy I've been given the opportunity to make plays and hopefully I continue that for the remainder of the season."
Beyond that it could unlock a portion of the playbook that we've rarely seen over the better part of the season.  You almost have to wonder if Pete Carroll is contemplating the potential as he begins to gain confidence in Tate: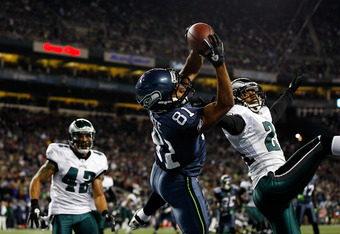 Jonathan Ferrey/Getty Images
"Golden did some good things again tonight," Carroll said after Monday's game against St. Louis. "It's exciting to see him play. And you can all see why we've been excited about him the whole time. And the more chances we give him, the more he contributes."
Can Tate help redefine the 'Hawks offense?  Perhaps taking things up a notch?
If the 'Hawks intend to win the division next year or simply go to the playoffs they will need to lean on someone other than Marshawn Lynch to move the football.  Assuming Sidney Rice comes back healthy and the legend of Doug Baldwin continues to grow, Tate's versatility as the No. 2 or No. 3 guy in a variety of sets can help the 'Hawks find an exciting middle ground between run and pass.
If Mike Williams and Zach Miller can join the party, it makes things even more interesting.  Otherwise this offense risks being as formulaic as the original Tecmo Bowl...which featured four play options.  Yes Marshawn Lynch has looked really good recently, but teams over time will begin to adjust.
Therefore seeing what Tate can really do these next few weeks is important. 
He could very well be the guy that helps keep defenses honest as someone who can not only make your jaw drop, but just as easily make a nice run after a catch.
Hopefully the 'Hawks will open up the playbook a bit and call his number a few more times the next three weeks. Ignoring him could be a huge missed opportunity.