Pittsburgh Pirates: Winter Meetings Review According to Total Player Rating
December 9, 2011
Darren Hauck/Getty Images
As we continue through our list of 30 teams, we start the review process from the winter meetings. Today is always a sad day for die hard baseball fans. It's like the day after Christmas when you realize it will be another year until the next one. Otherwise, teams that went on benders (Angels and Marlins) may wake up with a hangover.
The Pirates have been steadily improving under Neal Huntington. He proves the point that you don't need a lot money to be competitive. You just need competent management. He didn't add a lot of big names so far this offseason, but when you look up, you discover he got quite a bit done.
Infield
His first move in the offseason was still his best move. He stole Clint Barmes from the Houston Astros with a two-year contract. Barmes isn't the kind of shortstop that makes you forget any of the all-time greats. Yet, when you look up at the end of the year, he has put up fielding numbers commensurate with a Gold Glover. Plus, he'll add 15 or so home runs at the bottom of the lineup.
They also added Rod Barajas to replace the departed Ryan Doumit and Chris Snyder. Barajas has always been a solid defender, but he also doesn't provide the sock that Doumit did. Still, the combination of McKenry and Barajas should do fine.
Neil Walker is the most consistent member of the infield at second base. He isn't much with the glove, but he can hit near the middle of the order.
That leaves the corners. Derrek Lee came over in a trade with the Orioles and almost immediately got hurt. He still managed to rake in his limited action, so the Pirates would like to have him back. Given the lack of options for Lee on the open market, it wouldn't be a shock to see him come back.
Bob Levey/Getty Images
Finally, there is Pedro Alvarez. The former No. 2 overall pick is long on talent, but he has yet to live up to it. Fans and pundits believe he will make good on his promise next season. If he does, the Pirates could have a 30-home run threat on their hands. That, and Lee might be enough to vault them up the standings.
Outfield
While Alvarez may become a star, Andrew McCutchen is a star today. If he didn't play in Pittsburgh, he would be a household name. He does everything in center field. Look for him to have an even better season as he grows into a legitimate superstar.
He is flanked by a couple of youngsters. The Pirates believe Alex Presley is ready for prime time. Of course, such beliefs may be more of a negotiating ploy with Lee.
Right fielder Garrett Jones can slip to first base if need be. That is, if the Pirates really do believe in Presley. If Presley is ready, then Jose Tabata slides to right field and everyone is happy.
Huntington signed Jose Tabata to a long-term deal late last season in a move that made me scratch my head. Tabata is a capable fielder and is young, but he has not accomplished much at the big league level yet. Signing contracts on spec can be a risky proposition. That being said, the Pirates have enough depth in both the outfield and infield to surprise next year.
Starting Rotation
Huntington has shown some impressive acumen with building a rotation. His moves this offseason appear geared to support the pitching staff defensively.
It is unclear at the moment what the Pirates want to do with Paul Maholm. He would give them a third positive impact starter. In the first four months of the season, all of the starters were very good, but they turned back into pumpkins in August.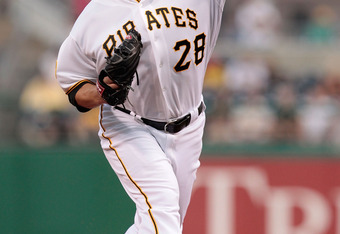 Jared Wickerham/Getty Images
In particular, Kevin Correia fell of the proverbial cliff. He had a brilliant first half (comparitively), but became a sub-replacement level pitcher in the second half.
Still, there is room for optimism. Huntington signed Erik Bedard to give the group more depth, and if they add Maholm back, they will have four average or better starters.
Bullpen
Joel Hanrahan was manna from heaven for the Pirates. In fact, you could argue that the improvement in record was due to his performance alone. They hadn't had a closer that effective since well, um, er Kent Tekulve?
Unfortunately, the bullpen behind Hanrahan leaves a lot to be desired. Jose Veras and Jason Grilli were almost average, but after that, it gets scary.
If Huntington had a choice between adding Maholm back or adding two solid relief pitchers, he might actually do better with the relievers. Then again, good relief pitchers aren't exactly cheap these days.
Rest of the Offseason
Huntington has a lot on the to do list, but all of the items are doable. He needs to settle the first base job one way or another, sign either Maholm or another solid starter and sign a bullpen arm or two. When you are in a budget crunch, you sometimes have to leave one of those needs open.
Looking at what the Pirates have on board indicate that they could leave first base to Garrett Jones and then focus on the pitching staff. Huntington is doing a good job. Sometimes, it is hard to see progress when you continue to have losing seasons, but the Pirates were playing meaningful games in August for the first time in a decade.