Los Angeles Lakers: CP3 Is a Huge Fail Unless He's Part 1 of a Two-Part Plan
December 9, 2011
Harry How/Getty Images
Wow, what a day to be a Los Angelino.
I've been writing for Bleacher Report for going on two years and have never written three articles in one day. I mostly covered the Clippers, of course, and back then there wasn't all that much to write about.
Today, however, the sports world is focused on Los Angeles. From the news out of Anaheim that Albert Pujols and CJ Wilson, the best available hitter and pitcher this free agent period, both signed with the Angels to word that the Clippers added the best available small forward in Caron Butler; it's been a fun day.
Now we find out that the Lakers wanted a little press and moved Pau Gasol and Lamar Odom for Chris Paul. In a word, fail!
Hear me out, Laker fan. The club needs to get younger, and, on that note, mission accomplished. But isn't the goal in Lakerdom to win championships? Consider last year, the first in three years they didn't make the Finals, and all hell broke loose!
Making the playoffs just isn't enough for the Lakers, they need to win! By adding CP3 they actually lowered those chances.
Do you really see a front court of Metta World Peace, Andrew Bynum and Derrick Caracter hoisting the Larry O'Brien trophy? Even my basketball-loving daughter is smart enough to see there is a better chance of Herman Cain taking the Presidential oath.
This trade is a huge, monstrous, epic, fail. Unless...
When the Lakers gutted their roster in the summer of 1996, they did it with the goal of landing Shaquille O' Neal. Looking back now, we know that worked out well for the club, but there were anxious moments when everyone was let go and they had yet to sign the big fella. It's like letting go of one rope before you grab a hold of the other.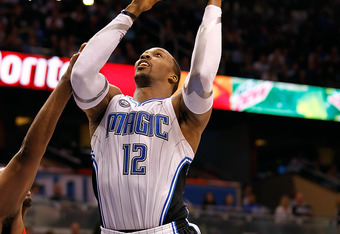 J. Meric/Getty Images
You hope you can reach it. You hope the rope holds. You hope letting go of the first one wasn't a mistake. That's were the Lakers appear to be right now.
They let go of one rope while reaching out to the next one, hoping Dwight Howard "holds."
Nothing else makes sense. Why give up height and experience for youth? Not the Lakers, that just isn't how they do things. They made this trade as Part 1 of a two-part plan. They better hope now that part two pans out, because if not the 2011-2012 season will see the biggest flip-flop in personalities since Jamie Curtis and Lindsay Lohan in Freaky Friday.
You know that movie, right? Back when Lohan was still a viable actress in Hollywood.
In that flick she and her mom, Curtis, switched bodies and hi-jinks ensued. If the CP3 trade is the one shot the Lakers fire this offseason, the 2011-2012 season will see the Clippers as the more engaging, more entertaining and more competitive team out of Los Angeles.
Yes, the Los Angeles Clippers! Who would you rather see, the aforementioned Laker "big" three of Bynum, Caracter and Peace, or Blake Griffin, DeAndre Jordan/Chris Kaman and Caron Butler. Is that even fair? 
Sure, the Lakers still have Kobe, but adding CP3 does nothing to bring back those knees. They need Dwight Howard, and without him, the Lakers become the new Clippers.
In Freaky Friday it wasn't until Lohan's character appreciated her mom and Curtis's character appreciated her daughter that the roles were set right. In this real life drama, it's going to take the addition of a seven-footer from Florida with a huge smile and quirky personality to set things in basketball order.
Nothing else will do.