NBA Trade Rumors: Chris Paul to NY Shakes Up Eastern Conference Playoffs
December 2, 2011
Patrick Smith/Getty Images
Apparently Chris Paul is taking after Carmelo Anthony during last season and is reportedly requesting a trade out of his current franchise to team up with Amare Stoudemire in NY. Was anyone else just waiting for the ball to drop or were most New Orleans' fans just hoping and wishing that he would remain out of loyalty and patience?
After watching plenty of seasons of the NBA and scoping the many trades and player exits that have taken place, neither one of those motives hold up when it comes to business.
That is what the league is.
It is a business that functions primarily because the young men that occupy these roster spots are chasing a common goal. That goal is to eventually link up with a special group of men that will make a postseason push that ends up on the NBA Finals stage.
Paul is a transcendent point guard and a pure competitor. There is no way that the New Orleans front office could have expected him to stand firm as their primary benefit without being surrounded by feasible components that could properly compete in the Western Conference against teams like the Los Angeles Lakers and the Dallas Mavericks.
The time is now for Hornets' executives to make the right move and push Paul out the door before he gets free will to do it on his own and New Orleans is sitting in the same situation as the Cleveland Cavaliers were after hometown fans' hearts were broken during "The Decision."
There are plenty of other repercussions that follow a possible trade of Chris Paul to the New York Knicks. The main variable that will be affected is how the Eastern Conference Playoffs seeds will be shaken up due to a possible trio being formed in the Big Apple.
The Miami Heat were still favorites to go into the Finals and win it all, but with CP3 perhaps heading to the Knicks' franchise, the rankings will most definitely be altered as it will be contemplated whether or not the Heat will even make it out of the East alive.
The contenders in the Eastern Conference are the Miami Heat, NY Knicks and undoubtedly the Chicago Bulls. Sure, there are plenty of other teams who could make free agency moves that will boost their odds in the postseason and there are more than three spots available for the playoffs. To be specific, there are eight per conference. That leaves the potential for five other teams to get a try at the Eastern Conference title.
However, there will be no room for error or growth. With a shortened schedule slated to be played mainly within a franchise's conference, with back-to-backs scheduled no more than four times, it is going to be interesting to see how the Knicks can shape up against the complacent franchises that already sit at the top of the EC. There should be little reserve, however, in NY that Chris Paul can hop into the swing of things.
He is a professionally scripted guard that can create his own shots as well as allow Carmelo Anthony to focus on his deadly stroke on the perimeter. Chauncey Billups was injured and out against the Boston Celtics which truly put a damper on New York's last season hopes at a playoffs push. Paul is not a player that could have been rattled easily and his versatility gives the Knicks so much more on defense than they could ever hope for from the players already settled onto the roster.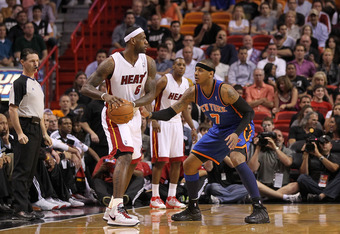 Mike Ehrmann/Getty Images
Problems for Miami
The guard position has just become a problem for Miami in the worst way possible. They already had to find a way to contain Derrick Rose with the Chicago Bulls (LeBron James). Now there is the responsibility to figure out how to stop Paul, possibly through a seven-game series, while also stopping the pure scoring abilities of Anthony. This will be a very tough matchup as the man-to-man assignments will probably be as follows:
Chris Bosh vs. Amare Stoudemire
LeBron James vs. Carmelo Anthony
Dwyane Wade vs. Chris Paul
This will be hard for the South Beach's Big 3 to handle first and foremost because in their last meeting, Anthony had a great time stopping James dead in his tracks around the basket more times than once. James needs to have reformed his aggressiveness under the rim in order to combat Melo's lackluster defense.
The stops the former Denver shooting guard made during Bron's strides were attempts in which James tried to float the ball to the hoop instead of pushing it with polished power and finishing hard. This has been a major problem for the man who declared multiple championships at a preseason bash thrown for Pat Riley's free agency slam dunk.
This possible playoff series matchup is one that will be determined by how good LeBron can defend Carmelo's jumper and how much contact he can draw under the basket by forcing the issue.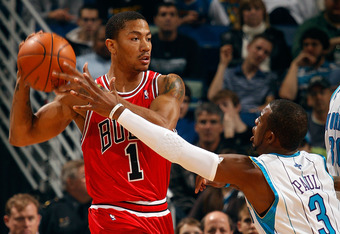 Chris Graythen/Getty Images
Problems for Chicago
In a possible seven series matchup between the Bulls and the Knicks, there will be a lot of matchup issues exposed if Chicago does not go into the free agency fishing for a few replacements. One huge issue will be scoring.
For the extent of the 2010 season, Rose was the primary source of offense for Coach Tom Thibodeau. Now that Rose will be matched up with Paul, not only will his ability to consistently score be tested, but he will also be forced to defensively stop CP3 who avidly worked Kobe Bryant over in last season's Western Conference playoffs series.
Paul played the game so intellectually that multiple times he forced Bryant to go up for the shot block on the perimeter that resulted in a shooting foul and three opportunities at the line. It does not matter if Paul was truly going to let one off. All that mattered was that his defender was fooled by what it seemed to be.
That is what makes him so hard to guard. Rose is no mediocre guard either.
His athletic ability will test Paul's legs and give him one of the greater tests of his career. With more time in the league comes improvement from the 2010 regular season MVP and he will give Paul every bit of the fight he is looking for on his way to the NBA Finals. This will be an interesting matchup but it will not ultimately be the determinant of whether or not the Bulls can push past NY.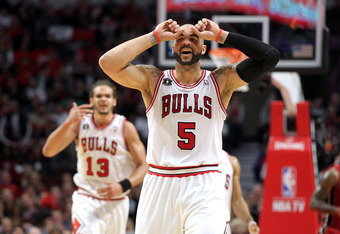 Mike Ehrmann/Getty Images
The true determinant would be a possible matchup between Carlos Boozer and Amare Stoudemire. Boozer had issues last season containing Chris Bosh after attempting to play some mind games with the underrated Big 3 member. Unfortunately for him, Bosh showed up in a big way in the Chicago series and proved that he was not just the side man.
The attention he received in the free agency was well-deserved.
Stoudemire will only get better this season as the talent around him will drag something much better defensively out of him. Stoudemire already has strong finishes around the rim, and Boozer has an awkward way of disappearing in the defense as the game trails on. It will be whether or not Boozer can show up in those moments that count that will sway the outcome of the series.
Why only Miami and New York? 
Let's be real about the situation at hand. Going into the season, with a rare and clear picture of the Eastern Conference franchises, which teams sit at the top of your power ranking?
It is amazing how one swipe of the pen or one leaked request can change the entire lookout on the direction of a season, but that is why we love the NBA so much. When things are happening, there is no telling what the possibilities are.
Chris Paul has reportedly decided to take advantage of big business and the league's business will only be greater because of it.