The Absolutely Worst of the NFL, Week 12 Edition
November 28, 2011
Peter Aiken/Getty Images
The dark meat is dry. The white meat is wet. The green bean casserole is green around the gills. The stuffing is long since gone, but that cranberry Jell-O will be in the back of the fridge past Christmas.
Some people would blanch at cobbling together a meal out of ingredients like these—but if nothing sounds better to you than a fourth straight day of leftover sandwiches, you're reading the right article. Pour yourself some flat cola and fire up that microwave, because we're about to tuck into The Absolutely Worst of the NFL.
The Absolutely Worst Clean Player: Ndamukong Suh, Detroit Lions
After weeks of swearing he's a clean player—while sending his game checks straight to the league office to cover fines—Detroit Lions defensive tackle Ndamukong Suh paid a visit to commissioner Roger Goodell. They spoke, allegedly, to make sure the two men were on the same page regarding acceptable on-field behavior.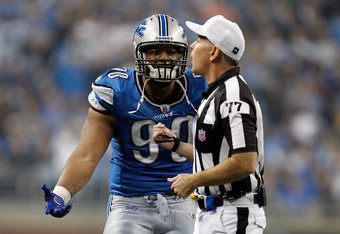 Gregory Shamus/Getty Images
It's clear they weren't even reading the same book. Suh, allegedly after being manhandled all day by the Packer offensive line, flipped out on Packers offensive lineman Evan Dietrich-Smith. After repeatedly pounding Dietrich-Smith's head into the turf, Suh apparently tried to stomp on Dietrich-Smith.
With a captive national audience and days of NFL downtime for the national media to opine and re-opine on it, Suh was tried, sentenced and imprisoned by the court of public opinion. Per ESPN's Adam Schefter, the Commissioner may not be any less harsh; Suh is "expected to be suspended for at least two games."
The Absolutely Worst Win: New York Jets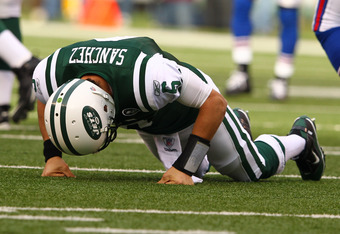 Al Bello/Getty Images
Knotted in the AFC East standings with the Buffalo Bills at 5-5, the New York Jets faced the Bills in a critical divisional contest—and came away with the win. That's all that matters, right?
Sure, but it was the least confidence-inspiring win imaginable. Quarterback Mark Sanchez somehow slipped four touchdown passes between the cracks of a rickety 17-of-35, 180-yard performance. Sanchez also threw a terrible-looking pick from the shadow of his own end zone.
The Jets have pretensions of standing amongst the NFL elite, but an elite team wouldn't have had to rely on the reeling Bills to miss on a pair of potential game-winning passes. Despite the crucial win, the Jets have to answer a lot of questions about their performance against a team that's now lost five of its last six games.
The Absolutely Worst Kerfluffle: Steve Johnson's Touchdown Celebration
Okay, so Bills WR Steve Johnson scored a touchdown in that Jets vs. Bills game and afterwards busted out a celebration. He did a little takeoff on the Dougie and then mock-shot himself in the leg á la Plaxico Burress, then aped the Jets "Flight Boys" celebration—and ended it by collapsing to the ground to insinuate the Jets had crashed.
IN NEW YORK, HOW DARE HE?
Normally, I have to complain about the heavy hand of Hangin' Commissioner Goodell and the rest of his No Fun League bailiffs. Instead, I find myself defending the clever, layered, multi-barbed satire against the suddenly delicate sensibilities of the NFL media and blogosphere.
Johnson mocked Burress, who said afterwards he had no problem with it, and an opponent's existing touchdown dance. All of that is completely in-bounds, and rather clever. Johnson was just making fun of his opponents and doing a darn fine job of it. Of course Johnson was not trying to mock the tragedy of 9/11/2001. Of course Johnson was not trying to make light of gun crime.
Of course, Johnson was forced to apologize for it.
The Absolutely Worst Team: Indianapolis Colts
After dropping one of the few winnable games they have left, the Colts are in big, big trouble. The 2008 Lions have their finest bubbly on ice, just in case...but they could be waiting several more weeks to pop it.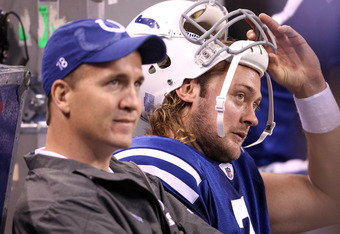 Andy Lyons/Getty Images
The Absolutely Worst Officials: NFL Officials
After all but covering Ford Field turf in a giant yellow tarp on Thursday, NFL officials looked even more ridiculous on Sunday. At the start of the overtime period between the Denver Broncos and San Diego Chargers, referee Jeff Triplette appeared to completely forget how overtime works in the NFL these days.
NFL officials have an incredibly hard job that most of us couldn't ever do well. But ceremoniously explaining how the game works is the primary job of the referee. A ref hasn't botched an overtime announcement since...oh, that's right: Thanksgiving, 1998.
Maybe it's the tryptophan.