San Francisco 49ers vs. Baltimore Ravens: Live Score, Video, Tweets and Analysis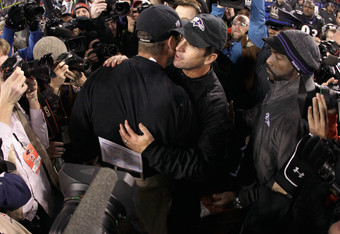 Rob Carr/Getty Images
We expected a defensive battle in tonight's Harbaugh Bowl, and that's exactly what we witnessed.
In a game that featured just 467 yards of total offense, field goals and big hits were bountiful. The 49ers failed to score a touchdown on the night, as Baltimore's defense showed why they are clearly among the top three units in the NFL.
The Ravens tied their franchise record with nine sacks, and they were in 49ers' QB Alex Smith's face nearly every time he dropped back to pass. The team even lined up in a few 3-TE sets to help protect their QB, but it didn't matter.
And his numbers reflected the pressure he faced, as he completed 15-of-24 passes for only 140 yards (one interception).
We expected a heavy dose of RBs Ray Rice (21 carries, 59 yards) and Frank Gore (14 carries, 39 yards), but neither were the difference-makers in tonight's game. The elite running backs were kept in check by the stout, physical defensive fronts.
This game was won and lost in the trenches.
The key drive was enabled by a couple of missed tackles by the 49ers, and occurred midway through the fourth quarter when the game was tied, 6-6. Flacco made a few of key third-down completions and capped the 76-yard, 16-play drive off by hitting TE Dennis Pitta in the end zone for a 8-yard strike.
It was Pitta's first touchdown catch of his career—and a big one—the only touchdown of the game.
Tonight we witnessed an old-fashioned, smash-mouth-football affair.The Ravens defense completely dominated—holding the 49ers to just 170 net yards—and led the way to a 10-point victory in front of the home crowd.
John (Harbaugh) has won this round.
Just in case you missed the highlights from tonight's 49ers-Ravens matchup, we've got you covered.
Watch the video clips here!
Missed the two Harbaugh brothers hugging before the game?
Thanks to the 49ers' Twitter, you can view it here: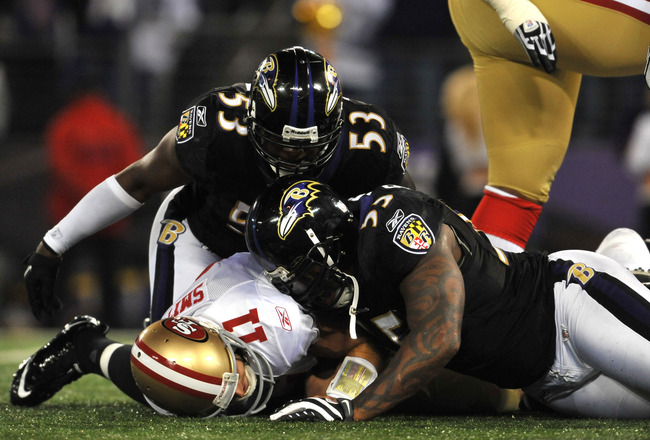 Want to thank everyone for coming out and enjoying the game with us here at B/R.
We witnessed an old-fashioned defensive battle, full of field goals, sacks and plenty of power-running.
But at the end of the day, the Ravens were victorious, keeping the 49ers out of the end zone and winning, 16-6.
LB Ray Lewis is elated after the fourth-down stop.
That'll do it, Ted Ginn drops what-would-have-been a first down completion for 15 yards to the sideline. Ginn ran a great route and was wide-open against CB Jimmy Smith, but the ball hit him in the chest.
Drop was an epic fail and that will do it, as (John) Harbaugh gets the victory!
Ravens are up by 10 points and will kneel down to end the game.
And the Ravens bring pressure again on second down and force Alex Smith into an intentional grounding penalty.
That could be killer, as they now face a 3rd-and-22 situation.
This could be the last legs for the 49ers.
CHALLENGE FLAG OUT! John Harbaugh is challenging the spot of the Crabtree catch.
I doubt he'll win this, as the spot looked fair, but he had a timeout to burn and I guess the reward outweighed the risk in this decision.
Big fourth-down completion on 4th-and-4 to Michael Crabtree will extend the drive and make it interesting.
Two-minute warning, and the 49ers are on their own 42-yard line. They'll need to take some chances down the field to get back in this one, one touchdown does no good.
With two minutes remaining, the spotlight is on Alex Smith. Is he a game-manager or a game-winner?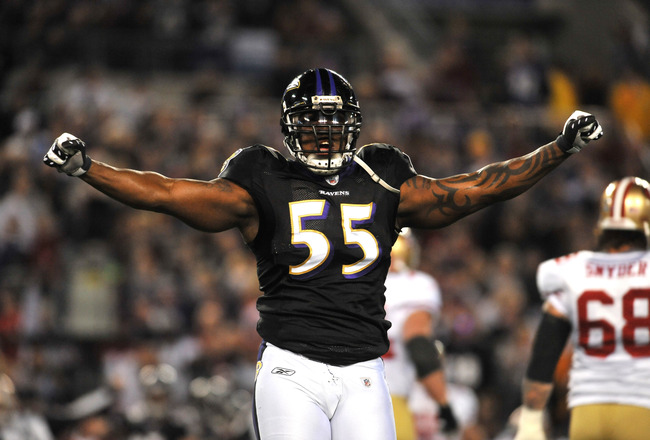 And the Ravens just tied a franchise record with nine sacks!
49ers had 8-man protection and Suggs still managed to sack Smith! Wow, that should NOT happen.
Cundiff's 39-yard field goal is GOOD!
Baltimore builds their biggest lead of the game in this defensive battle.They'll look to shorten the game and keep San Francisco out of the end zone, something they've done all night thus far in this defensive battle.
Ravens 16, 49ers 6
Here's a screen cap of what a 'real' Harbaugh jersey would look like!
Half Ravens, half 49ers!
Ravens are down to the SF 25-yard line and looking to build their biggest lead of the night and go up two scores.
3rd-and-goal coming from the 20-yard line. Big play coming here.
That's a huge first down for RB Ray Rice as Flacco hit him on the check down coming out of the backfield.
49ers had a chance to bring him down but missed a tackle, and it could be all downhill from here. The 49ers defense is getting gassed and looks fatigued.
Look for a heavy dose of RBs Ray Rice and Ricky Williams from here on out.
Rice has 18 carries for 57 yards, and four carries for14 yards thus far.
Ravens will look to ground-and-pound their way to victory.
And Alex Smith continues to be faced with a ton of pressure on every down. Suggs brings him down for a sack and then forces an incomplete pass.
Ravens run the football back to their own 42-yard line on the return and they are in total control of this game, with 7:26 remaining.
Ravens looking to control the clock and ground-and-pound the football to victory with a 7-point lead.
A lot of Rice/Williams from here on out, as the Ravens are at midfield and the 49ers appear to be wearing down a bit.
It's been a physical game thus far so it's understandable that the defensive front would be a bit fatigued.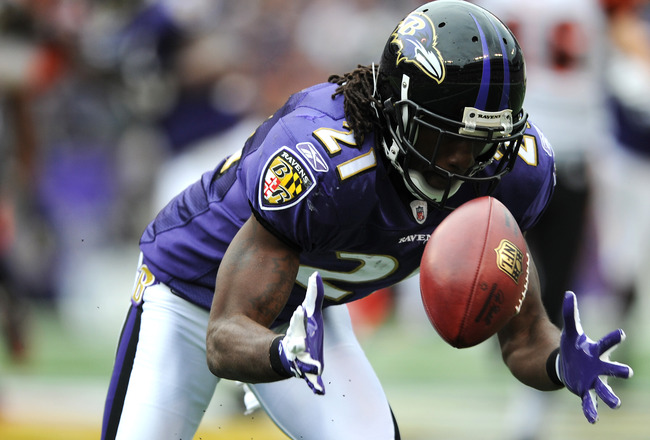 And Alex Smith goes down AGAIN, as the Ravens bring heavy pressure on third down.
CB LarDarius Webb came off the edge on a zone blitz and sacked Smith.
Webb then fields the punt with a nice run back to the BAL 28-yard line.
49ers just lined up with their 'jumbo' package, with three tight ends in the game, attempting to run RB Frank Gore up the middle.

Unfortunately, the intricate formation caused an illegal shift, and cost them five yards.
2nd-and-seven coming.
49ers will start from their own 28-yard line.
Big drive coming here, can Alex Smith respond?
A boring third quarter, indeed:
And the 49ers may still have not given up a rushing touchdown all season, but TE Dennis Pitta managed to gash them for a touchdown coming over the middle. His first TD catch of the year.
Baltimore 13, 49ers 6
End of the third quarter, setting up for a big play to start the final quarter.
Ravens will have third-and-goal from the SF 8-yard line.
First-and-goal from the six-yard line after a big completion to TE Ed Dickson.
Can the 49ers continue to be stout in the red zone?
Flacco making a couple of big completions on this drive, and the Ravens are now knocking on the door.
49ers had chances to halt the drive but could not get a stop on third down. Couple of missed tackles on a completion earlier in the drive may really come back to haunt them.
First-and-10 from the SF 23-yard line.
Akers is CLUTCH:
This article is
What is the duplicate article?
Why is this article offensive?
Where is this article plagiarized from?
Why is this article poorly edited?

San Francisco 49ers: Like this team?