Miguel Cotto vs Antonio Margarito II: Boxing's Next Big Rematch
November 16, 2011
Patrick McDermott/Getty Images
On December 3, 2011 number one jr. middleweight Miguel Cotto, 36-2 (29) will meet Antonio Margarito, 38-7 (27) in a long awaited rematch. The fight will be held in Madison Square Garden, New York City and broadcast on HBO pay-per-view.  
If you are a more casual boxing fan who only really knows Miguel Cotto and Antonio Margarito as two of the opponents chopped down by Manny Pacquiao over the past couple of years, hopefully by now at least you are already up-to-speed enough to be aware that these two have history together.
Those who follow the sport more closely understand that each man wants to beat up the other very, very much. 
To recap the back story quickly: Back in 2008 before either man had battled the diminutive but explosive Filipino Congressman, Miguel Cotto was undefeated and pretty much standing on the top of the world. He was fresh off an overwhelming TKO of Zab Judah, a unanimous decision over Shane Mosely and a fifth round demolition of Alfonso Gomez.
Margarito, meanwhile, was a long battling contender with a number of impressive wins on his resume, including TKOs over Sergio Martinez, Kermit Cintron (twice), Sebastian Lujan and a decision victory over Joshua Clottey.
When they met on July 26, 2008 it was, as HBO commentator Max Kellerman declared at the fight's end: "A modern boxing classic." Cotto used superior boxing skills to build a large early lead against the lumbering but determined Margarito. But as the fight wore on, the larger Margarito managed to wear Cotto down before finally beating him into submission in round 11.
Although there were probably tactical errors Cotto made during the fight that ended up costing him, Margarito's victory had appeared decisive. Then, five months later, on January 24, 2009, Margarito was caught wearing plaster reinforced hand wraps prior to his fight with Shane Mosley.
Once his hands were re-wrapped legally, Margarito proceeded to get thoroughly trounced by Mosley, and ultimately stopped in nine.
Before the ref was even done waving his arms to stop that fight, boxing fans all over the world were asking: "Was Margarito fighting with loaded hand wraps against Cotto?"
It was the obvious question to ask. Cotto had beaten Mosley and Mosley easily beat Margarito. To many it only seems natural to assume that Margarito, a known-cheater, must have also cheated against Cotto, who after all seemed to be so much better than him during the early rounds of the fight. 
So did Margarito fight Cotto with loaded hands?
Margarito has maintained his innocence, except for the one time against Mosely, where he got caught (and, coincidentally, beaten for the first time since losing to Paul Williams over a year and half before). His trainer mostly took the fall, receiving a lifetime ban from the sport; Margarito sat out a year suspension and is now headlining his second pay-per-view since coming back.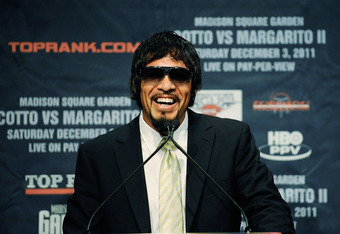 Patrick McDermott/Getty Images
His primary strengths as a fighter are a super-human willingness to absorb punishment in order to deliver it and being 5'11" in a weight class where the average height is probably 5'7"-5"9". But these are not inconsiderable strengths for a boxer and they have allowed Margarito to be competitive at a very high level despite fairly pedestrian technical skills. 
There is enough smoke to suspect fire in regards to Margarito's hand wraps, but loaded wraps or not, Margarito took a remarkable beating of his own before he finally put Cotto away in the first fight. It took a genuine act of will for him to win the fight, even if he had to cheat as well.
This may be why Margarito has seemed so earnest when in insisting that he was innocent against Cotto and beat him fairly. 
While Cotto has not outright accused Margarito of cheating during the fight, according to Max Kellerman during the Cotto-Margarito Face Off segment, it is a not very well kept secret that in private, at least, Cotto maintains that Margarito had something extra in his gloves when they fought last time.
The bad feelings between these two were obvious during the promotional segment. While Juan Manuel Maquez and Pacquiao were both determined to beat each other, they were perfectly comfortable sitting or standing next to each other during the build up to the fight.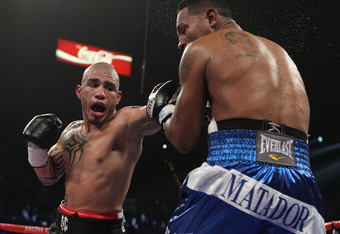 Al Bello/Getty Images
Margarito and Cotto look like they would truly rather not be together in any situation that doesn't allow for punching each other in the face.
Ultimately, there is no way to know whether or not Margarito cheated last time. In lieu of actual proof, both men seem to have seized on this rematch as a kind of ultimate referendum. 
If Cotto wins, he feels he will have de-legitimated his only defeat aside from the loss against Pacquiao. More importantly, he gets good old-fashioned blood justice. 
If Margarito wins, he feels he will have vindicated his career legacy, which now stands under a cloud of doubt. For a fighter as proud as Margarito, who has famously declared his willingness to die in the ring, this is a tremendous motivation. 
Cotto, though ranked number one on most lists at 154 pounds, is still somewhere outside of most peoples' pound-for-pound top ten. Margarito is not even currently ranked in the division's top ten. Most times, two resumes like these would not justify a spot at the top of a pay-per-view event.
This isn't most times. These two guys turned in a highly entertaining war last time and the rematch has been marinading in a spicy sauce of personal animosity and resentment for more than three years.   
Throw in a loaded undercard and 15 thousand fans packed into the historic Madison Square Gardens arena and you are looking at a strong possibility  that this is going to be "one of those nights" the kind that you will want to talk about with other boxing fans for years to come.