One Tempting Free Agent Every NFL Team Should Avoid in 2012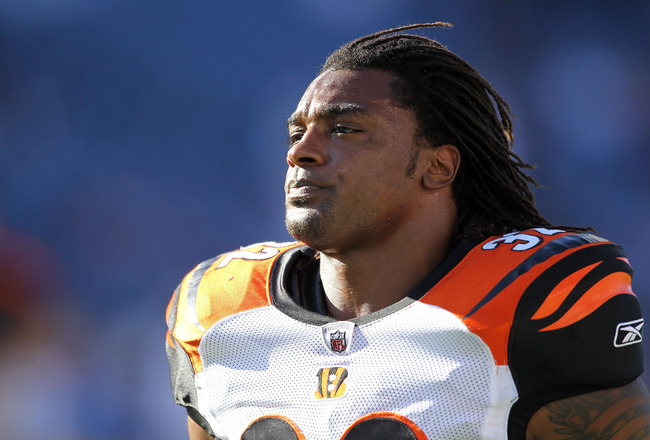 Andy Lyons/Getty Images
The free-agent frenzy that occurs during the offseason is always an interesting time for the NFL and its fans. Teams will overpay for players, and there a number of players that specific teams should avoid at all costs.
The Eagles are 2011's poster child for an unsuccessful free-agency period, but it is still extremely early to say that the team won't be successful in the future.
I have selected one player that each team should stay away from this offseason, and there can be a number of reasons why this player does not belong.
Here is one player that each NFL team should avoid in the 2012 free-agency period.
Arizona Cardinals: Anthony Spencer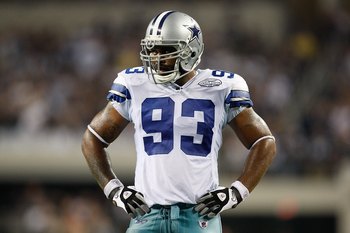 Ronald Martinez/Getty Images
Spencer benefits from playing opposite the league's best outside linebacker, and he hasn't emerged, as he was poised to do two seasons ago.
He is a strong run defender and is more than capable of putting some pressure on the quarterback, but I can see a team such as the Cardinals overpaying for his services.
Atlanta Falcons: Aubrayo Franklin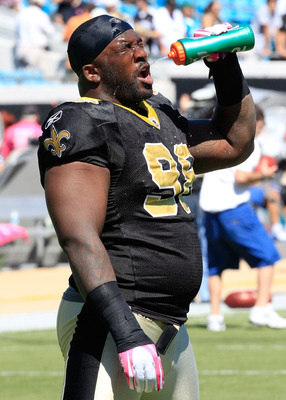 Sam Greenwood/Getty Images
Franklin would fit in nicely with the Falcons 4-3 front, but the fact that he will be 32 next season makes him much less attractive.
Atlanta's No. 1 priority in the offseason will be to re-sign John Abraham, which means that the team should look to add a young interior player that can be groomed under the veteran.
Baltimore Ravens: E.J. Henderson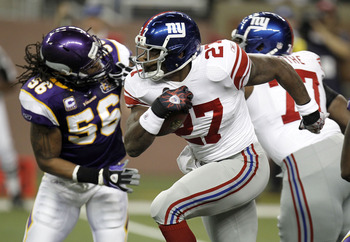 Gregory Shamus/Getty Images
Henderson has become one of the most underrated backers in the league, but his age is concerning if you're a Baltimore Ravens fan.
The linebacker would be a nice fit, but Baltimore should be looking to add a linebacker that would be able to learn under Ray Lewis in this year's draft.
Buffalo Bills: Reggie Wayne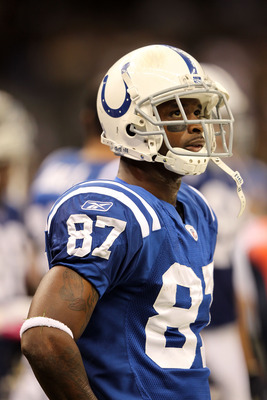 Jamie Squire/Getty Images
The Bills have some talent at the wide receiver position, but they lack depth at tight end and should consider adding a big name this offseason to make this group elite.
A veteran such as Reggie Wayne may sound like a good idea, but the Bills need a big physical receiver to go along with Steve Johnson and David Nelson.
Vincent Jackson is taller and younger than Wayne, and I see him as a better fit in Buffalo.
Carolina Panthers: DeSean Jackson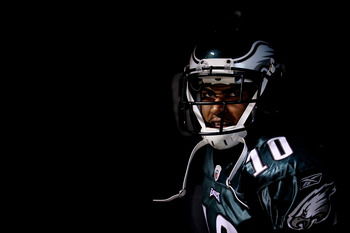 Nick Laham/Getty Images
Jackson's deep-threat ability would make him a logical fit with Cam Newton, but the Panthers already have that weapon in Steve Smith.
What Carolina needs is a physical possession receiver, and there happens to be two perfect candidates on the market in Dwayne Bowe and Vincent Jackson.
Carolina's offense would be one of the scariest in the league with the addition of either of these two playmakers.
Chicago Bears: Brandon Lloyd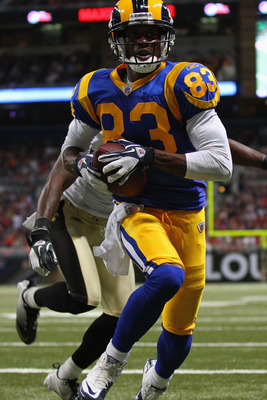 Dilip Vishwanat/Getty Images
Brandon Lloyd has developed into a dangerous playmaker, but I don't view him as being a great fit in Chicago.
The Bears have a number of small receivers besides veteran Roy Williams, which brings the need for a tall playmaker at the position.
Chargers wide receiver Vincent Jackson would be a perfect fit with the Bears, as he would be the second coming of Brandon Marshall for Jay Cutler.
Cincinnati Bengals: Cedric Benson
Andy Lyons/Getty Images
Cedric Benson has endured a ton of success during his time in Cincinnati, but the Bengals should cut ties with him at the end of this season.
Benson will be 29 next season, which is when running backs usually tend to experience a drop-off in production.
The Bengals also own two first-round picks in the 2012 NFL draft, and it would make sense for them to use one of those picks on either Trent Richardson or Lamar Miller.
Cleveland Browns: Peyton Hillis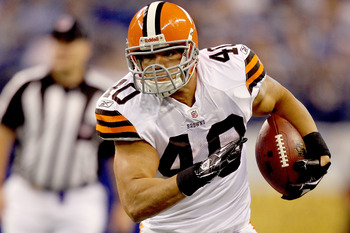 Matthew Stockman/Getty Images
Peyton Hillis has been officially diagnosed with the Madden curse.
The running back has only played in four games this season and has missed action for a number of reasons.
Hillis wants a new contract from the Browns despite the fact that he is not playing, which means that it is time for the Browns to move on from the 25-year-old.
Cleveland should look to draft a tailback, or they can look to add a veteran free agent such as Marshawn Lynch.
Dallas Cowboys: Tracy Porter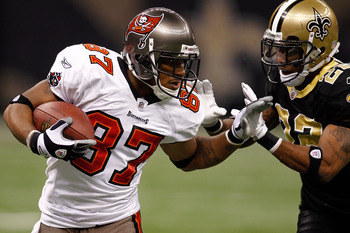 Chris Graythen/Getty Images
Porter is a solid No. 2 corner in any system when healthy, but his biggest problem is the inability to complete a 16-game season.
The Dallas Cowboys will look to add a defensive back in the offseason to improve their weak secondary, but I do not see Porter as the answer.
Cortland Finnegan seems to be a more logical choice, as he has been solid vs. the the pass as well as being excellent against the run.
Denver Broncos: Alex Smith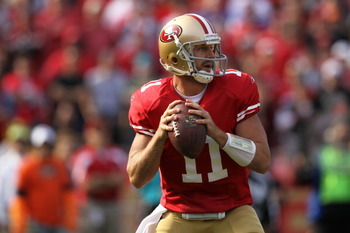 Ezra Shaw/Getty Images
There is almost a zero percent chance that the San Francisco 49ers would let Alex Smith go after his stellar season thus far.
The Denver Broncos would be a logical fit if the 49ers did allow Smith to test the free-agent waters, but Denver should pursue other avenues before putting their eggs in Smith's basket.
Smith has only proven his worth over a small sample of time, and I would rather see Denver draft a quarterback over signing an above-average veteran.
Detroit Lions: Brandon Carr
Thearon W. Henderson/Getty Images
Brandon Carr has played well so far this season, but he will command a price tag that is a bit above the average of a No. 2 corner.
Detroit should go after Cortland Finnegan or Brent Grimes before they decide to throw money at Carr.
Green Bay Packers: Sione Pouha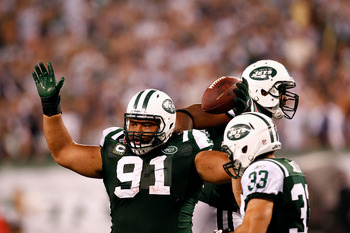 Jeff Zelevansky/Getty Images
The Green Bay Packers have built their championship team through the draft, and that is exactly what they should continue to do.
Sione Pouha has been a consistent starter for the New York Jets, but the Packers should be able to draft a defensive tackle or end at the end of the first round.
Jared Crick out of Nebraska seems like a logical fit for the Pack.
Houston Texans: Brandon Lloyd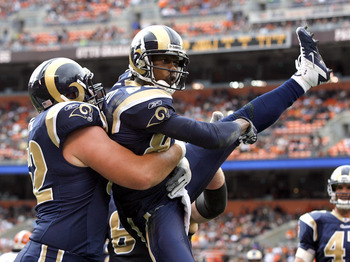 Matt Sullivan/Getty Images
There is no getting around it—the wide receiver depth is below average behind Andre Johnson for the Houston Texans.
Houston is going to be throwing a ton of money around to Arian foster and Mario Williams in the offseason, so there is no way that the team will be able to land a top free agent wide receiver as well.
Houston should be drafting in the mid-20s when draft time rolls around, which means wide receivers such as Michael Floyd and Dwight Jones will be available.
Indianapolis Colts: Reggie Wayne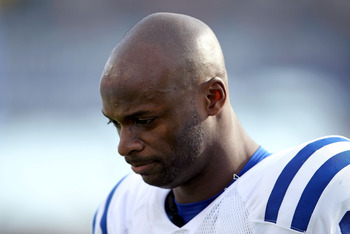 Andy Lyons/Getty Images
That face says it all.
Reggie Wayne should be playing his last few games in a Colts uniform even if the Colts don't draft Andrew Luck and stick with Peyton Manning.
Wayne has become eerily frustrated, and it is unlikely that he would even accept an offer to return to Indy.
Jacksonville Jaguars: Robert Meachem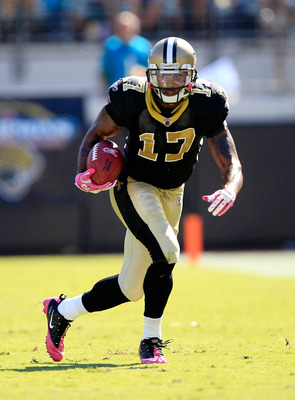 Sam Greenwood/Getty Images
The Jacksonville Jaguars have arguably the league's worst set of wide receivers, and the group would not get much better with the sole acquisition of a guy like Robert Meachem.
The team would need to sign a true No. 1 like Reggie Wayne, Marques Colston or Dwayne Bowe before they invested a lot of money in the above-average Meachem.
Kansas City Chiefs: Kareem McKenzie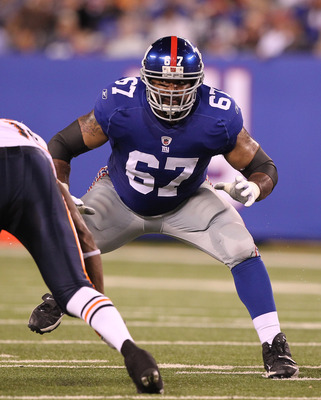 Al Bello/Getty Images
The Chiefs need a right tackle, and Kareem McKenzie (if not re-signed by the Giants) will be the best on the open market.
Kansas City should be picking at or before the 20th slot, which means tackles like Riley Reiff and Cordy Glenn should be available when their pick comes around.
Kansas city has done an excellent job of drafting since Scott Pioli took over, and I expect them to continue with that method.
Miami Dolphins: Kyle Orton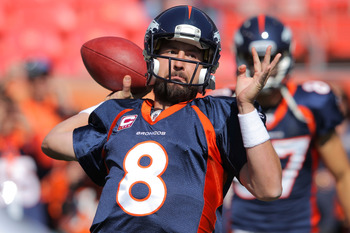 Doug Pensinger/Getty Images
Kyle Orton was supposed to be a Miami Dolphin this offseason, but when the two teams argued over value—the deal fell through.
Orton could become a Dolphin this offseason, but I would rather take my chances with Packers backup Matt Flynn over Orton.
Flynn is set to be a free agent this offseason, and he could compete with Matt Moore for the starting job if the Dolphins lose the Andrew Luck sweepstakes.
Minnesota Vikings: DeSean Jackson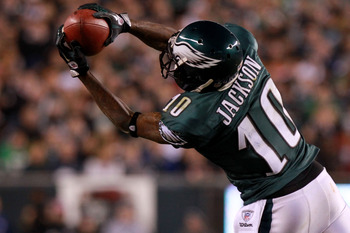 Nick Laham/Getty Images
The Vikings are in desperate need of another wide receiver, but signing DeSean Jackson would be a mistake for the purple and gold.
The Vikings already have a similar playmaker in Percy Harvin, and they would be throwing money at a player who is very fragile.
Brandon Lloyd would come at a cheaper price and would be a much better fit overall for the Vikings.
New England Patriots: Calais Campbell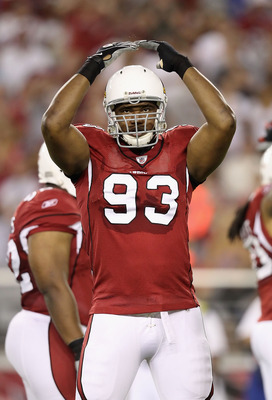 Christian Petersen/Getty Images
The Patriots, like the Packers, could use some help on the defensive line.
Calais Campbell would be an interesting pickup for the Patriots because of his experience in a 3-4 scheme, but unless Robert Mathis is that guy, they should use the draft to upgrade.
New Orleans Saints: London Fletcher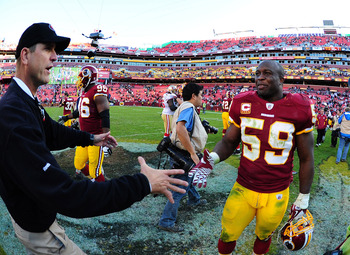 Scott Cunningham/Getty Images
London Fletcher only has a year or two at the most remaining in the NFL, and I expect that he will look to play for a contender this offseason.
The Saints will be looking to pick up a linebacker this offseason, but the experienced Fletcher should not be the answer.
The Saints should go to the draft to fix this problem, but E.J. Henderson and Curtis Lofton should be higher on the Saints' list if they decide to go the free-agency route.
New York Giants: Jason Jones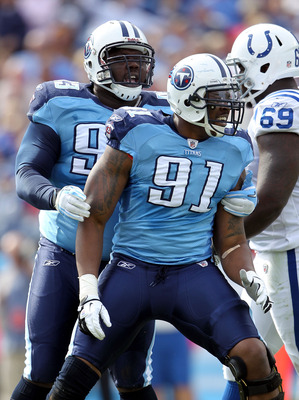 Andy Lyons/Getty Images
It is highly unlikely that the Titans would let another top-flight defensive line slip through free agency, but that could happen again this year with Jason Jones.
Jones is one of the league's best interior pass-rushers, but that is exactly what the Giants don't need.
The team should look to upgrade the position through the draft.
New York Jets: Calis Campbell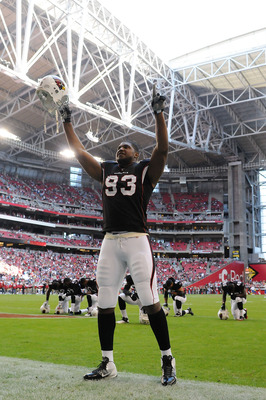 Norm Hall/Getty Images
Calis Campbell would be a nice fit in Rex Ryan's 3-4 scheme, but what the Jets need a is an elite pass-rusher to force some pressure on the quarterback.
Robert Mathis may not fit into a 3-4 scheme, but he would provide Rex Ryan with a dynamic rusher who could provide double-digit sacks.
The Jets should go after Mathis if the price is not too high.
Oakland Raiders: Michael Griffin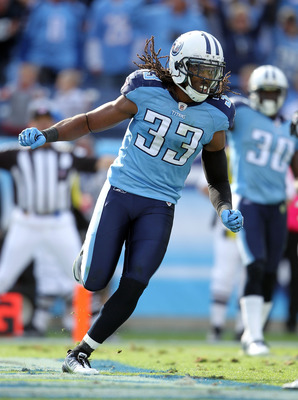 Andy Lyons/Getty Images
Michael Griffin has been one of the league's most inconsistent safeties over the last couple years.
Griffin has gone from being Pro Bowl-caliber to below average and back up again.
The Raiders have a knack for picking up these types of players, and they will have to make a move in free agency because of the draft picks they traded away.
LaRon Landry should be higher on the Raiders' wish list than the inconsistent Griffin.
Philadelphia Eagles: Kareem McKenzie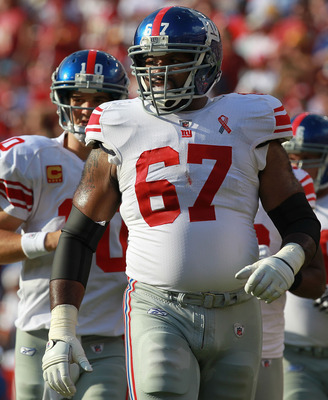 Ronald Martinez/Getty Images
The Eagles are in need of a tackle, and veteran tackle Kareem McKenzie could potentially be hitting the open market.
McKenzie has been a staple along the Giants offensive line over the past seven seasons, but the Eagles should consider adding a younger tackle to be the iron man at the position for a number of years.
Pittsburgh Steelers: Carlos Rogers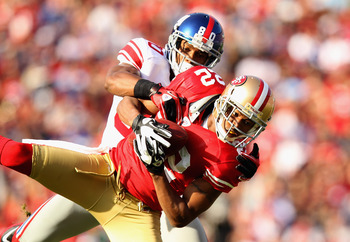 Ezra Shaw/Getty Images
Carlos Rogers has been an integral part of San Francisco's success this season, which will certainly warrant a hefty contract to come his way.
Pittsburgh has invested a lot of money in their defense as of late, and a contract such as Rogers could put them in a hole.
This year's draft class is extremely talented at the cornerback position, and it would allow the Steelers to draft a solid corner at the end of the first round at a much better price.
San Diego Chargers: Carl Nicks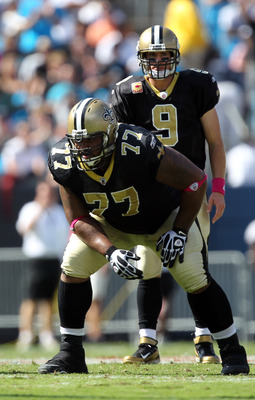 Streeter Lecka/Getty Images
The Saints would love to keep Carl Nicks for the long haul, but it will be hard to do so if the guard does not give them a hometown discount.
Nicks is going to make a ton of money wherever he goes, and the Chargers have a need at guard.
Ben Grubbs should be ahead of Nicks if he is available, because Grubbs is a much better run-blocker.
San Francisco 49ers: Marcus Trufant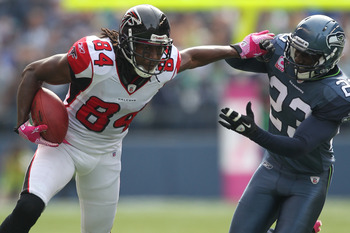 Otto Greule Jr/Getty Images
The 49ers may lose Carlos Rogers in the offseason due to free agency, and they will have to upgrade the position if they do.
Marcus Trufant has been one of the league's best and under-appreciated corners this decade, but his age is a little bit concerning.
Cortland Finnegan would be an excellent acquisition for this team, and it would make them even better than they have been this year.
Seattle Seahawks: Kyle Orton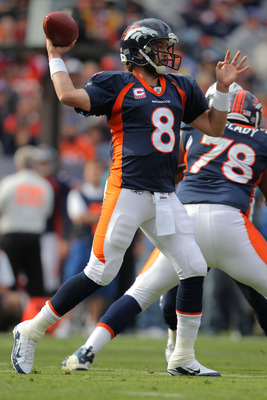 Doug Pensinger/Getty Images
I like Kyle Orton, but I am going to the draft to select a quarterback if I am the Seattle Seahawks.
There are a number of talented prospects that will be available on draft day, and the team already has a decent starter in Tarvaris Jackson.
St. Louis Rams: Vincent Jackson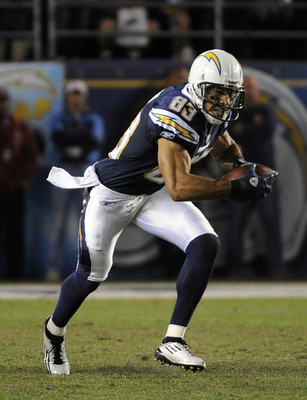 Harry How/Getty Images
The Rams are in a rebuilding stage, and the last thing they need is a player that is going to demand a lot of money and bring along potential character issues.
Reggie Wayne would be a perfect fit here to go along with Brandon Lloyd, but the Rams will have to lock up Lloyd before that conversation starts.
Tampa Bay Buccaneers: Dan Connor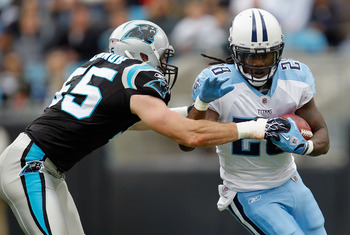 Streeter Lecka/Getty Images
The Buccaneers are one of the league's most inconsistent teams, and there is a lot of work that needs to be done this offseason.
The Bucs could use a wide receiver opposite of Mike Williams, and they can also use another linebacker.
Dan Connor would be a good fit if the Buccaneers failed to land players such as E.J. Henderson and Curtis Lofton.
Tennessee Titans: Calis Campbell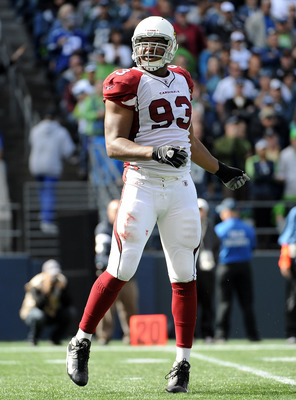 Harry How/Getty Images
The Titans need help at the defensive end position.
Calais Campbell will be a free agent and he has been a great player for Arizona this season, but he does not fit in well with the Titans 4-3 defense.
Cliff Avril and Robert Mathis fit in much better with this team, but the team will most likely go to the draft to correct this issue.
Washington Redskins: Alex Smith
Thearon W. Henderson/Getty Images
Alex Smith would be a perfect fit in Mike Shanahan's run-first offense, but the Redskins need to draft a quarterback that can lead this franchise for years to come.
This fanbase is becoming fed up with the inconsistent play from the quarterback position, and bringing in veterans has not worked in recent memory for this franchise.
The Redskins should be selecting Landry Jones, Matt Barkley or Robert Griffin III in this year's draft.
Keep Reading