Fixing the New England Patriots with a 2012 NFL Mock Draft
Jim Rogash/Getty Images
Whether fans in Boston want to admit it or not, something has gone horribly wrong in New England. Suddenly, the Patriots have lost two straight games, leading to columns announcing the fall of Rome in Foxborough.
This isn't supposed to happen to Bill Belichick. He's the mad scientist. He's a winner. With Hall of Fame quarterback and reigning MVP Tom Brady in place, the Patriots are never really out of Super Bowl contention, right?
Wrong.
Take a look at what happened in Indianapolis. Even with a healthy Peyton Manning this season the Colts would be looking up at the Houston Texans and probably even the Tennessee Titans. The Colts failed to build a team around Manning, instead relying on the aging arm of a legend to save the franchise. The Colts made this mistake, the Patriots cannot.
With six selections in the first four rounds of the 2012 NFL draft, Belichick and the Patriots must identify players who can help now. The old trend of trading draft picks for more picks in the future hasn't paid off. It's time to invest in the here and now.
How do the Patriots fix their problems? By nailing down talent with their 2012 draft picks.
Round 1, Pick Range 22-32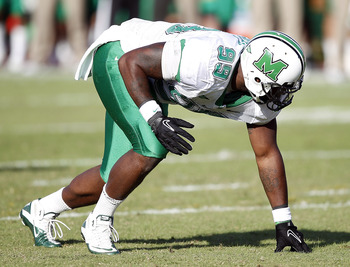 Bob Levey/Getty Images
Vinny Curry, Defensive End, Marshall
A huge part of the problem in New England is on defense, where the Patriots currently rank No. 32 in the league. Bill Belichick has focused draft picks here in the past, but only in the secondary. The Patriots haven't drafted a linebacker or defensive lineman in the first round since 2008, when they nabbed Jerod Mayo. That pick worked out, it's time to do it again.
Vinny Curry is a slightly undersized defensive end at Marshall, but he would be a great fit in the Patriots' hybrid defense. As New England runs more 4-3 sets this year than ever before, it will be interesting to see what type of players they target in the draft.
Curry would be able to play both outside linebacker and defensive end, especially in pass rushing situations. The Patriots rank No. 24 overall in sacks. A dedicated pass rusher like Curry could start making a difference immediately.
Round 1, Pick Range 22-32 (from New Orleans Saints)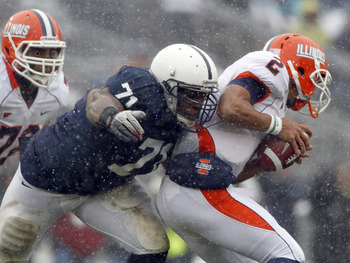 Justin K. Aller/Getty Images
Devon Still, Defensive Tackle, Penn State
Much like the Vinny Curry selection, the New England Patriots should use their second first-round pick to target a versatile player along the defensive line who can help in either three or four-man front.
Devon Still is the best available at this.
Still has the body type to slide inside or outside along the defensive line. He is strong enough to play head-up on the tackle in a 3-4, but quick enough to play in gaps if the Patriots run the 4-3 we've seen this year.
Vince Wilfork is great, but he's a space-eater. The Patriots need a defensive tackle who can penetrate and pressure the backfield. Albert Haynesworth used to be this type of athlete, but his best days are far behind him. Still gives Belichick's defense a difference maker at tackle.
Another player to consider here would be Nebraska's Jared Crick if he falls due to a torn pectoral muscle.
Round 2, Pick Range 45-60 (from Oakland Raiders)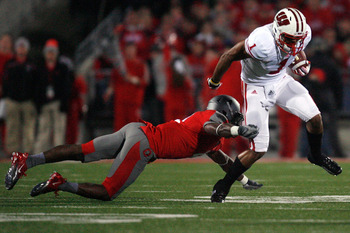 Kirk Irwin/Getty Images
Nick Toon, Wide Receiver, Wisconsin
The New England Patriots have shown a propensity in the past to draft heavily when they identify a need.
In 2010 they wanted to improve at tight end, so they spent two picks in the first four rounds on Rob Gronkowski and Aaron Hernandez. In 2011 they targeted running backs, adding Shane Vereen and Stevan Ridley in back-to-back rounds.
This year, they'll look at the defensive line (addressed in Round 1) and wide receiver.
Nick Toon has everything you look for in a No. 1 wide receiver. If he can stay healthy he has the talent to become an contributor very early on in the New England offense.
Round 2, Pick Range 54-64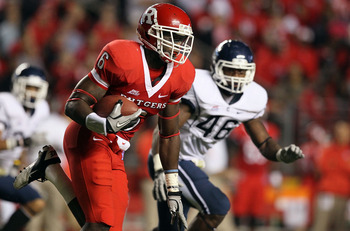 Jim McIsaac/Getty Images
Mohamed Sanu, Wide Receivers, Rutgers
As mentioned one slide before, the Patriots are historically very aggressive once they target a need. In this case, Tom Brady gets another outside receiver.
Teaming Mohamed Sanu with Nick Toon on the outside, with Wes Welker in the slot and Rob Gronkowski and Aaron Hernandez at tight end would give Brady the most talented group of receivers he's ever worked with.
Sanu is a possession receiver who works well outside the hashes and has shown the ability to make plays post-catch. Speed is needed on the edge to keep safeties off Welker and the tight ends. If the Patriots want to open up their offense, this is the way to go.
Round 3, Pick Range 86-96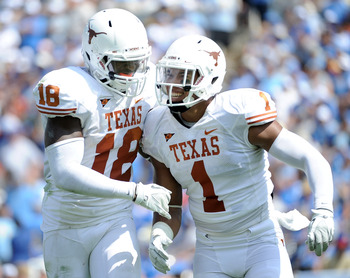 Harry How/Getty Images
Keenan Robinson, Linebacker, Texas
The lack of an athlete at strongside linebacker has been an issue for the New England Patriots all season. Rob Ninkovich is a nice player, but he would be better as a depth player.
The Patriots need speed on defense. Brandon Spikes and Jerod Mayo are both talented, but they need a true athlete on the outside. Keenan Robinson is a sure tackler with elite speed and agility.
Whether the Patriots continue with a 4-3 defense or revert back to their 3-4 set, Robinson has experience in both and could be a big help against the spread offenses dominating the NFL.
Round 4, Pick Range 118-128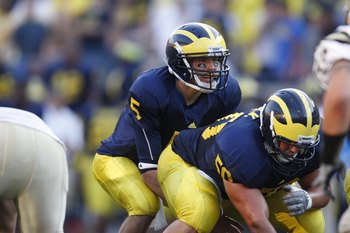 Gregory Shamus/Getty Images
David Molk, Center, Michigan
The hole in the middle of the New England offensive line has been problematic all season. Dan Koppen is on IR and Dan Connolly is proving why he was nothing more than a depth player for years. It's time to draft for the future.
David Molk is a bit undersized, but his intelligence and athleticism make him an underrated prospect at center. Molk has experience in both a shotgun offense and a traditional set, giving him a level of experience few college centers have in the days of the spread offense and Pistol looks.
Molk wouldn't be expected to start immediately, but he would be penciled in as the center of the future in New England.
Keep Reading

New England Patriots: Like this team?