Saint Louis Rams: Should Rams Pursue Andrew Luck over Sam Bradford?
November 5, 2011
Ezra Shaw/Getty Images
The Saint Louis Rams may have taken themselves firmly out of the Andrew Luck Sweepstakes with a surprising win over the New Orleans Saints last week, but that doesn't mean they don't still have a chance. 
The Colts may look like the bottom of the barrel at this point, but we're only half way through the season and this team still has two games against Jacksonville and one against Carolina and Tennessee at home. 
When studying the first overall pick since 2000 (using the glorious database at pro-football-reference.com) the most likely scenario is a two-win team coming in with the first overall pick. There has been only one team since 2000 to go undefeated. That was the Detroit Lions' epic year of ineptitude. 
But it's important to remember that even the Lions had a chance of winning multiple games. These are professional football teams, and they win unexpectedly, just as the Rams did. The Dolphins and Colts still have talent on their rosters. 
The Rams do as well, and it seems unlikely with the way they played against the Saints that they would still end up with two No. 1 overall picks in three years. However, if they don't win consistently in their next four games they'll look like the prime contenders for Luck. If they can't take at least two games away from at Arizona, at Cleveland, home for Seattle and home for Arizona, then they are pretty much hopeless. 
Let's not debate the likelihood of it anymore. The real question is what will the Rams do if given the opportunity to take Andrew Luck? 
The differences between Bradford and Luck are not startling. Both are classified as franchise-changing quarterbacks; the face and future of their organizations. Both played for good college teams and are high accuracy quarterbacks with strong arms.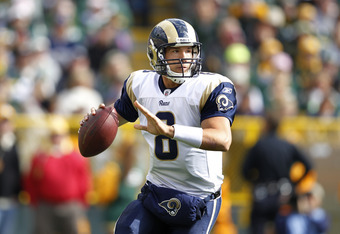 Joe Robbins/Getty Images
Bradford had more risk when he was taken at No. 1 overall because of his shoulder injury that sidelined him in college. He did not miss a game his rookie season and has only missed two games this season because of a high ankle sprain, not a shoulder injury. 
Bradford has struggled this year, though that may be more of his receivers' inability to catch and the offensive line's inability to block, more than anything. Luck does not know the meaning of the word struggle, as the college game looks to be too small for him. 
So is Andrew Luck a better quarterback than Sam Bradford? It's hard to say. Andrew Luck has been described as the most surefire prospect in 10 years. Scouts think he's the easiest bet since John Elway. 
That makes makes me more nervous than secure if I'm selecting Luck. How many sure draft picks have we heard about over the years ranging from Ryan Leaf to JaMarcus Russell? Not all of them may have been as "surefire" as Luck is, but it does raise some questions. 
If Andrew Luck really is that good of a prospect, do the Rams keep him and trade Bradford, or vice versa? A franchise quarterback of that caliber is like purchasing 10-15 years of winning. If it weren't for Peyton Manning in Indy, do you really think that team would have had nine straight years of 10-plus victories? Not likely. However, Bradford might be that prospect. He looked exceptional as a rookie and was able to assault some of the records Manning set himself. 
Not all first overall picks are created equal. It's hard to put a price tag on a franchise quarterback and ship him to the highest bidder. If the Rams were considering trading the first overall pick to someone, it would have to be another team with a very high draft pick (considering the Rams will be very interested in Justin Blackmon), and they would likely have to ship a few first-round draft picks from future drafts on top of it. 
Bradford would probably not fetch such a bounty—which is strange considering people have actually seen him play in the NFL and know he has the ability to elevate his team. He's a franchise quarterback, he's just not the franchise quarterback people think Luck could be. 
Should the Rams take Luck if given the opportunity? Yes. He's too valuable to pass up. He can be made into even more first-round draft picks. Should the Rams pursue him over Sam Bradford? That's tricky. The Rams are committed to Sam Bradford, and he's done well for them in the little time he's played in the league. It's hard to cut ties with a guy you've dedicated yourself to like that. 
Even if Luck is Peyton Manning and Bradford is Eli Manning, what does it matter? Both will win you a Super Bowl. The Rams can assure their team will be overflowing with talent for years to come if they were to trade Andrew Luck. They could get the skill players and secondary they need to compete with the top teams in the league, and they could do it in only a couple of years. 
The Rams will hopefully win a few more games, and this discussion won't be necessary in the future. The win over the Saints could be a turning point for the Rams, or it could be a blip on the radar and the Rams could finish with another one-win season. Either way, the Rams will have their quarterback, and a good one at that.