Fantasy RB Rankings for Week 9: McCoy vs. Forte in a Monday Night Showdown
November 4, 2011
Jonathan Daniel/Getty Images
Week 9 Running Back Power Rankings 
Click here to see Other Positional Rankings plus RBs 11-50
10. Shonn Greene (@ Buf)
Before last week's bye, Greene put up his first 100-yard game of the season in a hard-fought 27-21 win against the Chargers. He failed to score a touchdown, which has been a major problem for him and his fantasy owners this year, but at least Rex Ryan is sticking to his guns and getting him 20 or more carries a game.
With the Bills allowing a hefty 4.9 YPC this season, 20 carries should be enough to do some damage and possibly get him into the end zone as Buffalo has given up eight total TDs to opposing running backs.
9. Ray Rice (@ Pit)
Rice only has two 100-yard games on the year, but one of them came at a crucial time way back in the first week of the season when the Ravens absolutely destroyed the Steelers 35-7 at home in Baltimore.
Of course, being on the road is a whole different story in the NFL, so I'm not expecting the same type of output that he had in their first meeting, especially with three of his four worst fantasy games this season coming on the road.
That said, Pittsburgh CAN be beat on the ground this year, and since the Ravens passing game is a bit shaky right now, you know the coaching staff is going to feed him the ball as much as possible.
8. Frank Gore (@ Was)
Last week, Gore became just the fourth running back in the modern era to rush for 125 yards or more and a TD in four straight games (O.J. Simpson, Terrell Davis and Larry Johnson). Can he do it for a fifth straight week?
It's possible as two of the last three RBs to face the Redskins went for over 100 yards with LeSean McCoy putting up 126 yards and a TD.
Gore, however, tends to have his bigger games at home with 11 of his 16 100-yard games since 2008 coming in San Francisco, so temper your expectations a touch.
7. Matt Forte (@ Phi)
Matt Forte has put up more than 150 total yards in five of seven games this season, with his lowest output otherwise being an 82-yard game against the Packers in Week 3.
When the Bears took on the Eagles in Week 12 last season, Forte ran for 117 yards on 14 carries while adding another 22 yards on two catches. However, he couldn't find the end zone, an ongoing deficiency that has been the only real downfall to his game since his 2008 rookie season.
Jonathan Daniel/Getty Images
With the Eagles cornerbacks likely to have no problem with the Bears passing game, Forte should see a good 25 touches this Monday night and come out of the game with clear RB1 stats.
6. Beanie Wells (vs. StL)
I gotta say, Beanie Wells is one gutsy cookie. Last week against a tough-as-nails Baltimore Ravens rush D, Wells decided to suit up and give it a go despite dealing with a sprained knee that was supposed to keep him out for at least one week, if not two or more.
I would assume most fantasy owners didn't even bother getting him in the lineup despite news of his starting, but what you missed was a nice 83-yard performance including a one-yard TD which put him in the top 10 for RBs on the week.
Now that he's past the Steelers and Ravens, the NFL set him up with a juicy St. Louis dream matchup that owners had better get him in for or else risk missing out on a show that could put you over the top for the week.
5. Fred Jackson (vs. NYJ)
The surprise running back of the first part of the season has been playing so consistently, it's almost no longer a surprise!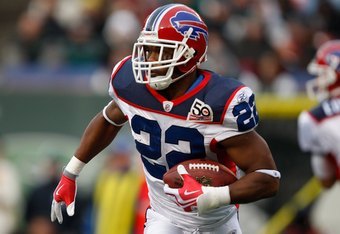 Jared Wickerham/Getty Images
Fred Jackson now has five 100-yard games on the season, the only running back in the league to do so and has rushed for no less than 66 yards in any one contest. He also has no less than 168 total yards in each of his last three games.
This week, Buffalo will quickly find out that they simply cannot pass on the New York Jets and will likely get F-Jax a good 25-30 carries/touches because of it. With that type of love, there's no way he doesn't have a strong fantasy outing with the Jets allowing the sixth-most fantasy points to opposing RBs this year.
4. Steven Jackson (@ Ari)
Like I've said all season, Steven Jackson looks like a man on a mission this season. Last week he single-handedly manhandled the New Orleans Saints, going off for 159 yards rushing (191 total yards) and two touchdowns. In the two weeks prior to that, S-Jax faced two top-of-the-line rushing defenses (Green Bay and Dallas) and put up double-digit fantasy points against both of them.
Watching him play in those three games, not only does he look bigger than normal, but he also looks to be running with more purpose than I've seen him play with before.
With Arizona being tied with a few other teams for allowing the most TDs to running backs this season, look for The Beast's mission to continue.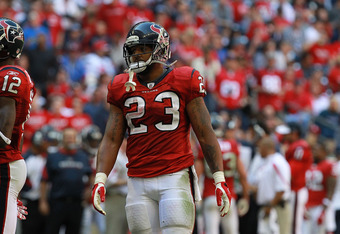 Ronald Martinez/Getty Images
3. Arian Foster (vs. Cle)
Foster has been an absolute beast since recovering from his early-season injury woes. If not for that half-game he played back in Week 2, Arian would actually be leading the league in fantasy points per game again this season with a whopping 22.2 per contest.
Cleveland's rush D may have kept opposing runners out of the end zone this season, but that doesn't mean they've been good. They allow the seventh-most rushing yards per game on the year (127.3).
With Foster putting up three 100-yard rushing games, two 100-yard receiving games and five total TDs in the last five weeks, you really can't go wrong with the guy here even if the Browns decide to stack the line with WR Andre Johnson likely to sit one more week.
2. Michael Turner (@ Ind)
Turner may not be the running back he used to be, but he still tears apart bad run defenses and believe me, Indy definitely has one of those.
In his three games against bottom-tier rush Ds this season, The Centaur ran for 114 yards or more in each one of them while averaging a touchdown per contest.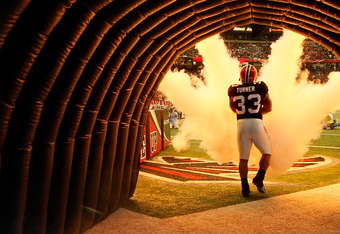 Kevin C. Cox/Getty Images
With six total TDs this year, he still finds the end zone with great regularity and should continue to do so this Sunday against the lowly Colts. Book it.
1. LeSean McCoy (vs. Chi)
Last Sunday, at 23 years, 110 days old, McCoy became the youngest RB ever to put up 700-plus yards and eight or more rushing TDs in his first seven games of the season (Emmitt Smith and Eric Dickerson were also 23, but both were older in days).
Being the best cut-back/stop-and-go/change-of-direction runner since Barry Sanders, I like his chances to keep up his high level of play against a Bears defense with a tendency to over-pursue the runner due to their overall team speed.
In addition, Chicago will likely keep their safeties deep this Monday night to guard against the big play, so all McCoy will have to do is get past the first wave of tacklers in order to break off a couple of big runs.
Last year against the Bears, LeSean had 120 total yards, but I'm expecting much more than that on Monday with this one being played in Philly.
Click here to see the Full List of RBs 1-50
Listen & subscribe to our Pyro® Weekly Podcasts: http://pyromaniac.buzzsprout.com
Follow Pyro® on Twitter:  https://twitter.com/pyroman1ac
Follow Pyro® on Facebook:  http://www.facebook.com/pyromaniac