Jaguars vs Texans: 5 Biggest Keys to Victory for Houston
October 27, 2011
Bob Levey/Getty Images
Coming down from the high of their dominant performance against division rival Tennessee, it's time to get back to focusing on another division rival in Jacksonville.
With the Jaguars coming off of a big win against Baltimore, they have to be feeling good about their chances on the road in Houston. 
The thing about games between the Jaguars and Texans the past decade is that no matter how much better or worse one is than the other, the game has almost always been a toss-up. That's the way it goes in a good rivalry. You can toss their record or anything they've done prior to that week out the window, because it's a clean slate when these two franchises meet.
With that said, let us take a look at a handful of things that can keep the Texans from having a let-down game this Sunday at Reliant Stadium.
Stay Committed to The Run 
Something that Gary Kubiak said after the game this past week was that he was determined to stay committed to the running game to set up the passing game. This has to continue this Sunday against Jacksonville. 
When Matt Schaub has the running game working, he has a game like he did last week, in which he did not throw an incompletion in the second half. But when the team gets away from the run and goes pass-happy, Schaub struggles against a strong defense like the Jags.
Keep feeding the ball to Arian Foster and Ben Tate to keep the Jags front seven honest.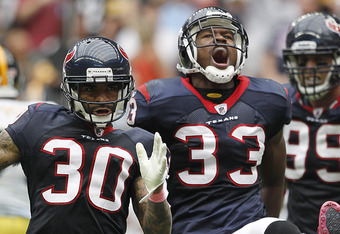 Bob Levey/Getty Images
Secondary Play Needs to Stay Consistent
The loss of Danieal Manning is going to hurt more than I can write. The Texans have never had a quality safety in team history before this season. Look at the difference it has made already. This is likely going to finish as the best defense in franchise history.
With Troy Nolan stepping in for the injured Manning, he just needs to do what is required of him and not go over the top trying to impress the coaches or be a ball hawk.
As far as the Jason Allen-Kareem Jackson debate, they need to pick one of them as the starter so there is some stability there. Moving them around so much isn't going to help.
Stop The Run, Make Gabbert Beat You
The Jaguars offense has been mundane in 2011, to say the least. They're averaging just 12 points per contest this year and that is largely because of starting a rookie quarterback. Gabbert has shown flashes of potential, but the receivers on this team aren't good enough to make him look consistent.
The offense is run through Maurice Jones-Drew and it's no secret. Teams are going to focus on "MoJo" and challenge Blaine Gabbert to beat them. This is a formula that the Texans should be expected to follow this week as well.
No Andre, No Problem
It's not a good idea to get overconfident, but this is a team that Houston should be able to beat even without Andre Johnson. In fact, I'm in the minority of Texans fans that think he should be held out a couple more weeks against weaker competition.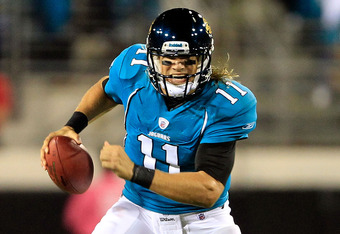 Sam Greenwood/Getty Images
It's still up in the air whether he will play or not this Sunday, but with Jacksonville and Cleveland as the next two on the schedule, I'd be fine with Andre resting up until the Tampa Bay game on November 13th. They should be able to take care of business the next two weeks without him.
Get After Blaine Gabbert
The Houston pass rush has been superb this season, with and without Mario Williams on the field. That's more a credit to Wade Phillips' scheme than it is a knock on Mario. You didn't see a ton of pressure last week in Tennessee, but Phillips also didn't blitz too much due to Houston's comfortable lead.
With a rookie quarterback out there, I expect to see lots of blitz packages and Gabbert to get his uniform dirty more than once.
In the end, Houston just needs to make sure they come out of the gate with the same intensity they did last week and sustain it through four quarters and they should be fine. They're clearly the class of the division and they need to play like it.
Forget about what Texans teams of the past have done and focus on the now. I don't think that will be a problem, because it's clear as glass that this is quite a different team from the ghosts of Texans past.
Mike Kerns is a featured columnist for the Houston Texans at Bleacher Report. Feel free to follow him on Twitter at @Zepp1978 and catch his latest Texans podcast at State of The Texans.