World Football: Creating the World's Finest Starting XI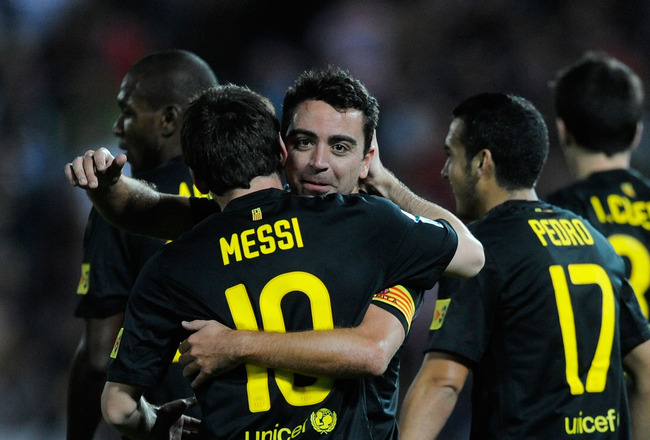 Denis Doyle/Getty Images
The world has always searched for the best football players. They come from across the globe, as far as Argentina to Spain.
In this slideshow, I will pinpoint the best players at each position, and create the ultimate starting XI in a 4-4-2 formation.
In addition, I will place the second best player at each position as a substitute to the world's best player.
Please do not hesitate to write a comment in the section below if you disagree with anything written in this slideshow.
Enjoy!
Goalkeeper: Iker Casillas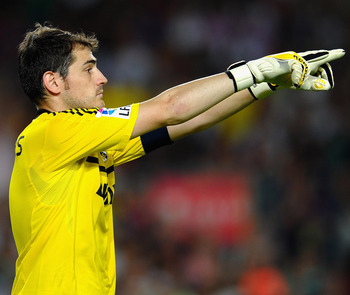 Laurence Griffiths/Getty Images
Age: 30
Nationality: Spain
Current Club: Real Madrid
There was really no hesitation that Iker Casillas would be the starting keeper for this squad.
The Spanish international has been sensational, helping Spain to their first World Cup ever. Real Madrid has also enjoyed his services for 13 fantastic seasons.
He is the most capped goalkeeper in the history of Champions League, and has won practically every trophy there is to win in Spanish club football.
He is known for his incredible reflexes and amazing agility. He has pulled off a countless number of, if you will excuse my colloquial speaking, crazy saves. One of the best was in a '09-'10 game against Sevilla, where he ran from one end of the goal to the other to make the save.
There is no doubt in my mind—and most likely the readers'—that Casillas is the best-choice keeper in the entire world.
Possible Substitute: Peter Cech
Left-Back: Ashley Cole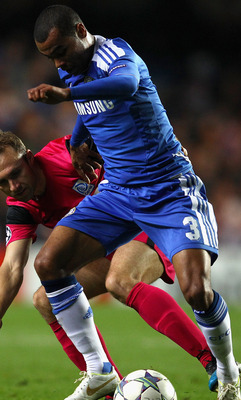 Richard Heathcote/Getty Images
Age: 30
Nationality: England
Current Club: Chelsea
Ashley Cole is widely considered one of the best defenders in the world and the best at left-back. He has been chosen in the PFA Premier League Team of the Year four times, and UEFA Team of the Year twice.
His career has excelled since his move from Arsenal to Chelsea in 2006 and has aided Chelsea to four top three EPL finishes and one EPL title.
Cole is known for his ability to aid the offensive movement by charging the ball up the side of the field. Also, when at the top of his game he can be very difficult to beat.
Possible Substitute: Patrice Evra
Center-Back: Gerard Pique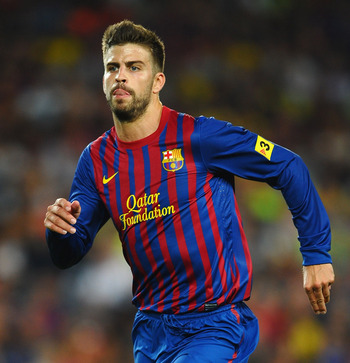 Laurence Griffiths/Getty Images
Age: 24
Nationality: Spain
Current Club: FC Barcelona
Gerard Pique is the starting CB for not only the World Cup-winning Spanish team, but for the reigning Champions League champions, Barcelona. If that is not enough evidence that he is one of the best in the world, I don't know what is.
While Pique may not be as good as Puyol when Puyol was in his prime, Pique is much better than the 33-year-old at the moment. It was very difficult for me to put him over Puyol, yet Pique has risen over the aging defender. If Puyol were younger, there is no argument who would start.
Pique is right now the best center-back in the world. Dubbed "Piquenbauer" by a Catalan paper last year (in reference to legendary German defender, Franz Beckenbauer), he is a commanding force from the back field that serves as a leader throughout the pitch.
Welcome to the world's best starting XI Pique, I salute you.
Possible Substitute: Pepe
Center-Back: Nemanja Vidic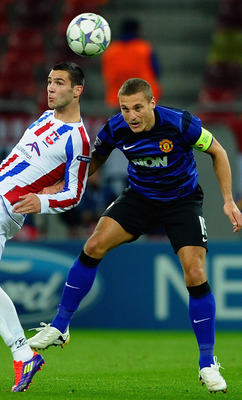 Laurence Griffiths/Getty Images
Age: 30
Nationality: Serbia
Current Club: Manchester United
The monstrous defender for United stands 6'2" with the ability to win any aerial battle. Nemanja Vidic wipes the rest of the competition away with his raw force, brute strength and the ability to stop an attacking player.
The Manchester United and Serbian captain has excelled in his prime and risen to another level of defending.
Vidic's ability to exert power and strength on the pitch is matched by no other active player. He always has a desire to regain possession for United, and surge forward on the counter attack.
The Serbian international has been chosen for the PFA Premier League Team of the Year four times, most recently last year when United won the Premier League.
Possible Substitute: Thiago Silva
Right-Back: Dani Alves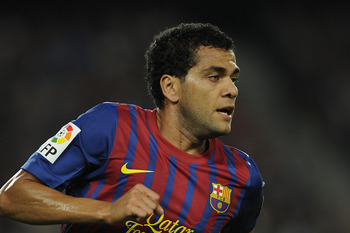 David Ramos/Getty Images
Age: 28
Nationality: Brazil
Current Club: FC Barcelona
The Brazilian international has been battling against international teammate, Maicon—the former being first-choice fullback for the Brazilian national team.
As the best in the world at the position, Dani Alvez gets the nod for Brazil as well as this list.
The Barcelona defender has flourished as an attacking defender as his style of play has been integrated into Barcelona's pass-based attack.
He is able to move freely along the right flank and his attacking skills are an amazing factor to Barca's third line.
Possible Substitute: Maicon
Left Winger: Arjen Robben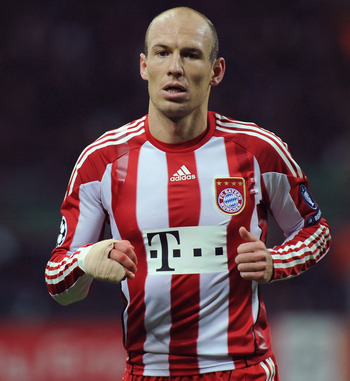 Valerio Pennicino/Getty Images
Age: 27
Nationality: Netherlands
Current Club: FC Bayern Munich
The Dutch international continues to amaze with his performances for Dutch national team and for Bayern Munich, who look like one of the best teams in the Champions League.
Arjen Robben's career has spanned from the Premier League to La Liga and then finally to the Bundesliga. Robben has obtained quite a number of nominations and awards, most recently for the 2010 FIFA World Cup Golden Ball, which lost to Diego Forlan.
The left winger has the ability to drive the ball up the opposing left flank to deliver deadly crosses on target. He is a threat on goal to any defense. With his attacking prowess, he is also quick and creative.
Possible Substitute: Mesut Ozil
Center Midfielders: Xavi Hernandez and Andres Iniesta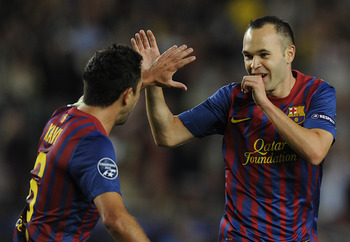 David Ramos/Getty Images
Ages: 31 (Xavi) and 27 (Iniesta)
Nationality: Spain
Current Club: FC Barcelona
While many of the other players mentioned on this list have their own slide, Xavi and Iniesta had to have had their own, bearing in mind the partnership they possess.
The two form a deadly combination that cannot be stopped.
They were both on the Spanish national team during the World Cup, Iniesta scoring the winning goal in extra time. With these two players controlling the midfield, it is no wonder Barca wins so much.
Xavi is known for is vision of the field and his ability to make a quick, accurate pass. His ability during set pieces is deadly and can become very difficult to stop. He can hold onto the ball in tight situations to keep possession.
Iniesta is one of the best passers in the sport today. He never gives up on his team and works ceaselessly to win. The midfield maestro can dictate much of the gameplay. His versatility allows him to drive the ball forward, while also halting an attacking forward.
Possible Substitutes: Wesley Sneijder and Cesc Fabregas
Right Winger: Bastian Schweinsteiger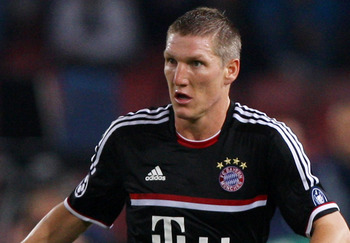 Paolo Bruno/Getty Images
Age: 27
Nationality: Germany
Current Club: FC Bayern Munich
The German international is an attacking force that drove Bayern Munich to their Champions League appearance in 2010, and Germany's third place World Cup finish.
The winger became the vice-captain of the club to fellow international teammate, Lahm.
Bastian Schweinsteiger has become a monster from a set piece with excellent dribbling skills and ball control. Accurate crosses driven from the right flank give Bayern Munich an edge over the opposing team, who have trouble controlling him.
With these attacking skills, he also possess incredible defensive ability. He uses his talent to perform tackles and win the ball to initiate counter attacks.
Any team with him on the right wing will have an incredible edge.
Possible Substitue: Franck Ribery
The reason I picked Schweinsteiger over Ribery is simple: The German has developed so much in the past year. While Ribery may have been better in previous years, he has simply been outdone by the rising star.
Attacking Forwards: Lionel Messi and Cristiano Ronaldo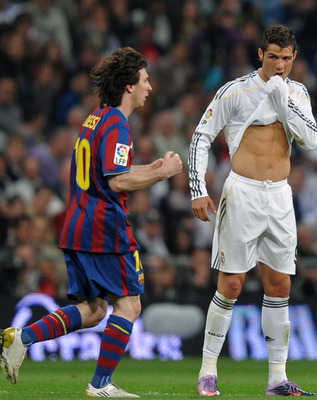 Jasper Juinen/Getty Images
Ages: 24 (Messi) and 26 (Ronaldo)
Nationalities: Argentina (Messi) and Portugal (Ronaldo)
Current Clubs: FC Barcelona (Messi) and Real Madrid (Ronaldo)
Was there any doubt that these two football phenoms would be at the helm of the best starting XI in world football?
The two drive their own teams, which happen to be rivals. Together, Messi and Ronaldo—the best and second-best players in the world, respectively—would be unstoppable.
Messi has already built a name for himself for his fantastic abilities. His dribbling skills are second to none. Once he begins a run down the midfield, he cannot be stopped. He has incredible balance over the ball and has been compared to Maradona and Pele.
Ronaldo is the epitome of a great football player. He is tall, muscular and fast. His lightning-fast footwork mesmerizes any defense and leaves them trying to understand how he got by them. The Portugal international as an incredible threat on goal when awarded a free kick.
While he is a winger, his presence at the front of the team can not only drive the ball past the defense, but he can also cross it in on goal. The two most amazing players on the planet, on one team.
Possible Substitutes: Robin Van Persie and Mario Gomez
Conclusion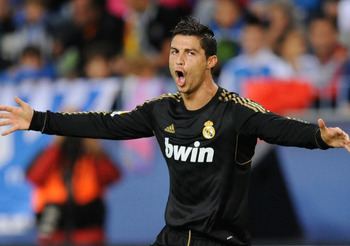 Denis Doyle/Getty Images
The best players in the world on one team. For fun, lets see how many players from each team made the cut to this incredible list.
FC Barcelona: 6
FC Bayern Munich: 4
Real Madrid: 4
Manchester United: 2
Chelsea: 2
Inter: 2
Arsenal: 1
AC Milan: 1
I hope you enjoyed the article!
Keep Reading

Arsenal: Like this team?