Tampa Bay Rays: What Matt Moore's Start Means for the 2012 Rotation
October 1, 2011
Tom Pennington/Getty Images
It's not often that a 22-year-old with one career start and just over nine career major league innings gets picked to start the opener to a playoff series, but it's not often that a team will come across a talent like Matt Moore either.
The surprise star of the opening round of the 2011 postseason followed up his 11-strikeout starting debut against the Yankees with a spectacular seven innings of shutout ball against the powerful Texas Rangers lineup.
The same Rangers that scored the third most runs in the majors in the regular season.
This seems like a little bit of a surprise to see someone so young that can make everything look so easy on such a grand stage, but the Tampa Bay Rays seem to have a new ace talent emerge every year in September.
Whether it was David Price in 2008, Wade Davis in 2009, Jeremy Hellickson in 2010, or Matt Moore now, the Rays are finding ways to pitch their way to dominance with one of the youngest staffs in the majors.
With every successful newcomer, someone must be sacrificed and this offseason could start a talent dump similar to what the Rays seem to do every season.
There is a serious jam in the 2012 starting rotation, with tons of talented guys filling just five slots.
The rotation undoubtedly starts with James Shields and David Price. The two remind me of a cheaper version of Roy Halladay and Cliff Lee. After the two aces, comes rookie sensation (and potential game four starter) Jeremy Hellickson, whose 2.95 ERA in 2011 will earn him a spot in 2012.
The back end of the rotation will become a huge logjam for the Rays, a phrase that GM Andrew Friedman and manager Joe Maddon are likely ecstatic to hear.
The fourth spot is likely for Wade Davis, considering he received a very team-friendly extension at the end of March. He wasn't spectacular in 2011, but he is young and likely viewed as a starter before a reliever.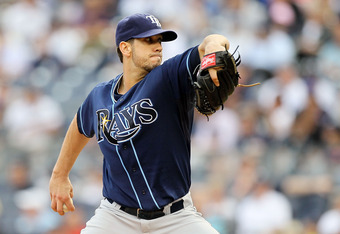 Jim McIsaac/Getty Images
The final spot is the murkiest as it would seem foolish to give it to anyone other than Matt Moore. His 2-0 record with 17 strikeouts in 12 scoreless innings as a starter seems to indicate that he is ready to go as what could be the best fifth starter in the majors.
One problem with this arrangement is that it leaves out a few notable talented starters, including Jeff Niemann, Alex Cobb, and Alexander Torres.
Niemann is a name to watch as a potential trade chip as well as James Shields, because there just isn't enough space for the Rays to carry this much talent. They've had to trade Scott Kazmir and Matt Garza in the past, so it wouldn't be a stretch to assume that they would sell once more.
The unbelievable thing is that the Rays may be faced with this problem once again after 2012, as Christopher Archer seems likely to take a leap forward in the minors next year.
For now, the Rays may need to use the playoffs to continue player evaluation because they'll need to make a change before next spring.