Lions vs. Cowboys Week 4: Preview Interview with Long Ball
September 29, 2011
Ronald Martinez/Getty Images
The Dallas Cowboys (2-1) play host to the Detroit Lions (3-0) this Sunday. When the 2011 NFL schedule was announced after the Super Bowl, I'm sure that every fan of both teams went through it and mentally checked off probable wins and loses. 
Did anyone look at the Dallas game last winter as a very winnable game for Detroit? I didn't think so. 
After three games, the undefeated Lions actually look like a playoff contender. They've won two on the road and crushed the Chiefs at home. However, this here is the Dallas Cowboys. A huge test.
Dallas, after an awkward start, seems to be finding some traction behind the gutsy play of QB Tony Romo and a dominating defensive front seven. 
The Cowboys seem to be a team teetering on the edge, barely holding onto a share of the NFC East lead. There are a slew of questions surrounding "America's Team."
I decided to ask my old pal, Long Ball, the questions that most Lions fans have going into the game. Long Ball is an authority on "The Big Uglies" as a scout and analyst for DraftTek.com.
Long Ball is also a reliable source of information on Cuzzin Jerruh, and the Cowboys, who play in his Texas back yard.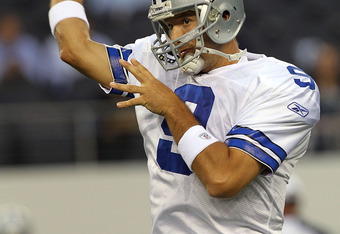 Ronald Martinez/Getty Images
MS:  First, thanks for taking time to answer some questions that we Lions fans have going into Dallas. 
LB:  "Glad to do so Mike...I think there are some interesting parallels coming into this contest, but before we get into those, let me provide a little historical perspective on Detroit/Dallas parallels.  
Through the years, I have become friends with Rick "Goose" Gosselin who is originally from Michigan and was a Lions fan. We discovered that we both attended one of the hardest-hitting games I've ever seen: the 1970 divisional playoff game at the Cotton Bowl the day after Christmas which Dallas won 5-0. 
Parallels on those two teams (in addition to uniform colors and the first letter of each city) included one pocket QB (Bill Munson for the Lions, Craig Morton for the Cowboys,) one running QB (Greg Landry for the Lions, Roger Staubach for the Cowboys,) Pro Bowl DT's (Alex Karras for the Lions, Bob Lilly for the Cowboys,) Pro Bowl CB's (Lem Barney for the Lions, Mel Renfro for the Cowboys,) a stable of quality RB's (Altie Taylor, Mel Farr, Steve Owens for the Lions, Duane Thomas, Calvin Hill, Walt Garrison for the Cowboys...)I could go on and on, but you get the idea.
What I see in the Lions team today are building blocks of a team similar to the Dallas teams of the '90s...pieces are coming together nicely and once the OL is addressed, I look for Detroit to challenge Green Bay for NFC North supremacy."
MS:  Yeah, that game had everyone's stomachs in a knot. Let's talk about the Dallas offense first.
Dallas goes into the Detroit game a pretty beat up bunch. Do you see head coach Jason Garrett resting RB Felix Jones' (shoulder) and WR Miles Austin (hamstring) going into the bye week?  Perhaps even QB Tony Romo?
LB:  "Miles Austin is definitely out, Tony Romo and Felix Jones should play...but you're right about the "Cowboys M.A.S.H. Unit."  Here are starters (and significant contributors) who are pieced together with bubble gum and baling wire:
QB Tony Romo—cracked rib, punctured lung
RB Felix Jones—dislocated shoulder
WR Miles Austin—hamstring (out)
WR Dez Bryant—deep thigh bruise
LT Doug Free—back injury
RG Derrick Dockery—knee injury (out)
RT Tyron Smith—hyper-extended knee
TE Jason Witten—bruised ribs
TE Martellus Bennett—ankle sprain (Redskin game, first game back)
OC Phil Costa—knee injury and hearing deficiency
RG Bill Nagy—neck injury
CB Orlando Scandrick—high ankle sprain (out)
CB Terence Newman—groin injury (Redskin game, first game back)
CB Mike Jenkins—shoulder injury
LB Anthony Spencer—shoulder injury
DE Jason Hatcher—hamstring (out)
K David Buehler—groin
I count 17 there—is my country-boy arithmetic correct?"
MS:  We all know about Romo's situation, and it appeared that the Redskins really dialed up the blitz against him on MNF. Now comes a Lions front four that looks like more than a handful for the Cowboys interior linemen.
How will Dallas deal with the "rush the QB on every down" mentality of the Detroit defense, and the possible return of DT Nick Fairley?
LB:  "Simple—by spraying Coach's Liniment in their athletic supporters!  
Seriously, as Dallas has re-tooled their OL with an over injection of youth, they have held up relatively well against the pass rush. Dockery's absence will hurt as he adds strength and experience to the OL...I would imagine you would see more of the three-step drops, quick slants, smoke screens, etc. that we saw against the Redskins.
The running game will have to depend on quick pitches and off-tackle slants, i.e. allowing the DL to take their pass rush lanes and continue pushing them that way for cut-back opportunities."
MS:  There seemed to be more than a little confusion among the Dallas receivers against Washington. It looked like Romo was directing traffic at a Chinese fire drill at times.
What can the Cowboys realistically do in a short week to correct this problem?
LB:  "Play three TE sets? Fewer option reads for the WR's will probably be the order of the day as they are young:  Dwayne Harris is a rookie, Dez Bryant is in his second year as is Jesse Holley, Kevin Ogletree is in his third year and Laurent Robinson his fifth, but only second week with the team."
MS:  TE Jason Witten looks like the most dangerous weapon at Tony Romo's disposal. The Cowboys even like to flex him outside. How do the Lions (or, any team for that matter) scheme for Witten?
LB:  "It's difficult because he is too fast for LB's and too big for safeties; however, Witten's best attribute is his ability to read the coverage, find the soft spot and use his body to shield the ball from the defender. A hybrid-type defender (small LB or big safety) with good speed and ball skills should maintain the middle zone as a combo: spying on Romo and a second defender on Witten."
MS:  Which is more important in the consensus of Cowboys fans: A stronger run offense, or better production from the wide receivers?
LB:  "Dallas has to pass to set up the run (just the opposite from the old football axiom)—as we saw in the Washington game, Felix Jones got most of his yardage in the second half. However, this is not unusual—believe it or not, the Cowboys of the 90's also utilized this philosophy as a majority of Emmitt Smith's yards were in the second half.
I don't believe Dallas is going to sign a veteran WR, so we won't see the production improve until Austin recovers (projected for the New England game after their bye.)"
MS:  The Cowboys were awful in red zone offense against the Redskins. I don't think that six field goals is going to cut it against Detroit's potent offense. What's the answer?
LB:  Yes, their red zone offense was meager—but let's keep in mind that this was a rivalry game within the division. When Dallas and Washington hook up, you can throw out the records...they normally split the season games and it doesn't matter if one team is a Super Bowl contender and the other is pitiful (case in point: in the first year of the Jerry Jones/Jimmy Johnson regime, Dallas only won one game and yes, it was against Washington!)
Those teams know each other well—and Washington was undefeated coming into the game and Dallas should have been, if they had corrected only one of three major mistakes in the fourth quarter against the Jets.
Every team will have tough "back-to-back" travel stretches during the season, but Dallas started off on the East Coast and then went out to the West Coast the first two games of the season—anyone that would project them to come out of that better than 1-1 would be smokin' hopium."
However, the answer you're looking for is for HC Jason Garrett to quit being cute and not line Dallas up in a spread formation when they're inside the five yard line."
MS:  Finally, who presents the bigger challenge to the Dallas offense? Washington, or Detroit?
LB:  "Good question—let's compare by unit:
DL—Due to Mr. Suh's dominance, I would probably give the edge to Detroit but not by as big a margin as you might think. Washington has Barry Cofield on the nose, flanked by Adam Carriker and Stephen Bowen—extremely solid, when you add rookie Ryan Kerrigan and second-year man Brian Orakpo coming off the edge from the OLB positions.
LB—Washington has the aforementioned Messrs. Kerrigan and Orakpo on the outside and London Fletcher and Rocky McIntosh in the middle—maybe a slight edge to the Redskins or a push.
DB—DeAngelo Hall and Josh Wilson at CB, Atogwe and the incomparable Laron Landry at safeties—Washington is pretty tough here.
Plus, I would probably give DC Jim Haslett the edge over Gunther Cunningham."
MS:  That's an interesting point of view, Long Ball. Let's talk about the Dallas defense versus the Detroit offense.
With the big arsenal of offensive weapons at Stafford's disposal, it would seem to me that the biggest key to this game is getting pressure on QB Matt Stafford. Would you agree?
LB:  "Absolutely. The late "Dandy" Don Meredith once said "I never remember completing a pass on my butt!"  This is the one area that provides hope for Dallas, due to the Lions' OL."
MS:  That Dallas front seven are positively scary, Long Ball. Detroit's running game is almost non-existent. Pretend that you are Detroit's offensive coordinator. How do you game plan against Dallas? 
LB:  Very similar to the suggested game plan for Dallas—quick passes, three step drops, swing passes (only problem is the speed the Dallas defense has on the flanks) and if Detroit wants to go deep, play-action on first down."
MS:  The Dallas secondary is probably the weakest unit on the Cowboys defense. Stafford loves to take his shots down field to Calvin Johnson. Will the Cowboys play a two-deep cover scheme to get some extra help on Megatron?
LB:  "Actually, Dallas has petitioned the NFL front office to allow extra CB's to ride on the shoulders of the starters so maybe they can tip a pass or two...OK, not funny!  
Actually, I anticipate that DC Rob Ryan will run more disguised coverages than he has in the first three games, i.e. if it looks like a blitz, it probably ain't!
There are a number of "hybrid" defenders (special-teamers, half LB/half DB) that he is not afraid to insert at any time to flood zones.
I could answer this question better if I had more of a read on Ryan, but unfortunately I do not...and neither does anyone else LOL!"
MS:  I really see no way to run effectively against Dallas, but how many carries does Detroit need in order to keep the Dallas defense honest? And, who do they run at?
LB:  "In the base 3-4, off-tackle slants with one cut-back are often effective—and at times, you can take one of the A gaps if Jay Ratliff shoots one or the other and you guess right.
Sean Lee has turned into a stud and he diagnoses plays quickly, so it's got to be one cut and go—as for how many carries, I would think somewhere in the 15-to-18 range minimum in order to make play-action effective."
MS:  Let's get to some fun stuff, Long Ball. Here's some quickies for you. Miles Austin or Calvin Johnson?
LB:  "Can I say depends who's on the other side? LOL, you should have compared Calvin to Dez as they are more of the "freak" variety...I'm going to cheat and say I would take Miles over Nate and Calvin over Dez, but since you asked it this way I'll say Calvin." 
MS:  Dez Bryant or Nate Burleson?
LB:  Dez, if healthy. Now you've left me with Calvin and Dez and I'd rather have Calvin and Miles."
MS:  Dallas' O-line or Detroit's O-line?
LB:  "Dallas, but only because the rebuilding process has already started and they have their bookends for the next 10 years in Doug Free and Tyron Smith, and they will have at least one keeper among the youngin's in the middle."
MS:  Romo or Stafford?
LB:  "I anticipate this answer will change in 2-3 years, but for now I'll say Romo."
MS:  Detroit's front four or Dallas' linebackers?
LB:  This would have been Detroit's front four hands down before the emergence of Sean Lee (and Bruce Carter, this year's second rounder will only add to that once healthy.)
I think we would all agree that Mr. Suh and Mr. Ware are in the top echelon in dominance at their respective positions. I'll stick with the Lions front four for now, but that may change in a year or two."
MS:  Dallas' secondary or Detroit's secondary?
LB:  "I notice you didn't offer "none of the above"—Detroit."