Jets vs. Ravens: TV Schedule, Live Streaming, Radio, Game Time and More
March 30, 2017
Rob Carr/Getty Images
The New York Jets (2-1) take on the Baltimore Ravens (2-1) in one of the marquee games on the NFL's Week 4 schedule. The Jets suffered their first defeat of the season last week against the Oakland Raiders, while the Ravens dismantled the St. Louis Rams, thanks to a breakout game from Torrey Smith.
When you combine a tough schedule with the emergence of the Buffalo Bills and the continued greatness of the New England Patriots, it all adds up to a tense season for Jet fans. It will likely be the final week before the Jets' playoff fate is decided.
It's been an interesting start to the season for Baltimore. The Ravens have crushed the Pittsburgh Steelers and Rams (two teams that most people expected to be good) and lost by 13 against the Tennessee Titans (a team that was supposed to struggle). They're dangerous but need to be more consistent.
Where: M&T Bank Stadium in Baltimore, Md.
When: Sunday, Oct. 2 at 8:20 p.m. EDT
Watch: Sunday Night Football on NBC
Listen: WEPN 1050 AM (New York) and WBAL 1090 AM (Baltimore); Sirius Satellite Radio – XM 92 or Internet 861 (New York) and XM 93 or Internet 862 (Baltimore)
Live Streaming Audio: NFL.com Audio Pass ($29.99 for year, $27.99 team specific, $9.99 a month)
Betting Line: Ravens -3
What's at Stake?
Baltimore is the second of three straight early-season road tests for the Jets. Due to the ineffectiveness of Shonn Greene and LaDainian Tomlinson on the ground, New York has utilized a more pass-oriented offense this season, which should help the development of Mark Sanchez.
The secondary, led by All-Pro cornerback Darrelle Revis has done a good job stopping opposing aerial attacks, but the same can't be said for the front seven against the run. The Jets rank 31st against the run at more than 135 yards per game.
What happened against the Titans we may never know, but Baltimore bounced back in a big way against the Rams. Through three weeks they are shaping up as one of the most dangerous teams in the league. The main reason for that being they don't have a glaring weakness.
Perhaps the only thing more unexpected than Baltimore's loss to the Titans was Torrey Smith's monster performance last week. In the rookie's first career start his first three catches were touchdowns and he finished with 152 yards. He adds another weapon to an already solid offense.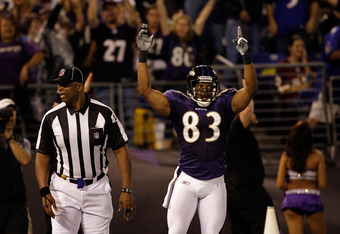 Rob Carr/Getty Images
Jets' Injury Report
WR Logan Payne (out), DB Antonio Cromartie (questionable)
Ravens' Injury Report
DB Jimmy Smith (out) WR David Reed (out), DB Haruki Nakamura (out), WR Lee Evans (questionable), K Billy Cundiff (questionable), WR Torrey Smith (probable)
What They're Saying
Manish Mehta of the New York Daily News posted an article about problems the Jets had trying to stop Raiders running back Darren McFadden.
Linebackers, linemen and safeties were out of position or manhandled at the point of attack in an embarrassing performance that yielded the most yards on the ground in 41 games under Ryan. Darren McFadden earned AFC Offensive Player of the Week honors after carving up the Jets for 171 yards and two touchdowns.
Edward Lee of the Baltimore Sun posted an interview with Ravens cornerback Lardarius Webb. The former D1-AA player had some interesting comments about becoming a productive NFL player.
It's not just pride, it's privilege to be here. And in my heart, I've always wanted to be the best. So I'm always trying to show my best, and that's on kickoff returns, punt returns or corner or nickel back. I just want to be the best. So coming from a small school, I've always had a little chip on my shoulder.
Jets Player to Watch: WR Plaxico Burress
Burress is still working off some of the rust from his time away from the game, but he remains a top-notch option in the red zone for Sanchez. He'll continue to benefit from teams shading coverage to Santonio Holmes' side and could put up double-digit touchdowns.
Ravens Player to Watch: LB Ray Lewis
Watching Lewis play football is a gift to humanity. If everybody had the same passion and can-do attitude about their respective jobs as Lewis does for playing middle linebacker in the NFL, the United States economy would be in a lot better shape. Enjoy Ray-Ray while you can.
Key Matchup: Joe Flacco vs. Jets secondary
While Baltimore will attempt to run the ball as much as possible against the Jets' defense on Sunday, Flacco will need to complete some key passes (especially on third down) for the Ravens to prevail. Even though Lee Evans has struggled early, getting him back would be a nice boost to the offense.
On the Hot Seat: Jets RB Shonn Greene
The Jets have been able to survive pretty well without a consistent running game through three weeks, but they will need Greene to provide some semblance of threat on the ground to become a legitimate contender moving forward.
He is averaging just 3.3 yards per carry after being given props by the New York coaching staff throughout the preseason. He did make seven catches in Week 3, so at least he contributed in that facet of the game.
Tomlinson isn't performing much better and can't carry the full load at this point in his career. That means it's up to Greene to make the rushing attack a vital piece of the Jets' offense once again.
Prediction: Ravens 20 Jets 17