Carlos Tevez: Unwanted, Unsellable and Now Friendless
September 28, 2011
Julian Finney/Getty Images
As I watched Manchester City's leggy and disappointing performance against Bayern Munich in last nights Champions League group game, it never once entered my mind that Carlos Tevez was the man we needed to turn things round.
It is a simple observation that many City fans shared after his penalty kick against Wigan that was emblematic of his limited performances this season.
Even before last nights incredible scenes, many City fans saw Tevez as a man willing to do almost anything to force a move, and some even suggested that the penalty miss was another shot across Roberto Mancini and City's bows. Pick me at your peril.
In hindsight, perhaps Tevez's penalty was a deliberate miss and should be seen as the start of the Argentinian's 'industrial actions'?
The ever thinning veneer of professionalism that Tevez has hidden behind is no longer protecting him from the plain, honest appraisals of footballers past and present, journalists and managers and the vitriol of fans of all clubs.
He and his adviser, Kia Joorachian, have played a game with the media for well over a season, but last night the wheels came off their bandwagon and there is no way back.
For Joorabchian it is a problem he can not talk his way round, and lets face it Tevez's words have mostly been provided to him by his adviser.
Without the slimy hand of Joorachian, Tevez makes himself look foolish, childish and plainly ridiculous.
His claims in summer that Manchester has only two restaurants is one example of this ridiculous view of the world.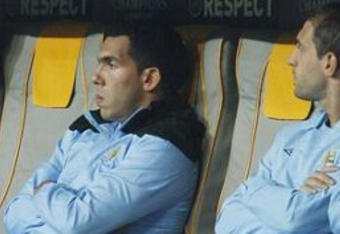 Its a view of the world that only Tevez holds.
On the bench last night, Tevez can be seen watching Edin Dzeko's tantrum at being substituted. If you watch closely you can see the moment that Tevez decides to make the most of that disruption and add his own brand of madness to the mix.
Shortly after that moment, when it is clear that Mancini wants Tevez to get ready, a member of the coaching staff attempts to cajole him into warming up and get ready to enter the field of play—he refuses.
Shortly after he is seen in conversations with Pablo Zabaleta, a fellow Argentine who is also fluent in English.
After he too had a conversation with Tevez, a heated one, he is seen ignoring Tevez's conversation.
The whole debacle ends with a picture of Tevez sat between two empty seats, shunned by his team mates.
After the game, in Tevez's own words, he stated that he was not 'physically or mentally ready to play'.
This morning, no doubt after frantic conversations with Joorabchian, that statement is changed to once claiming that there was a misunderstanding and that he never refused to play.
The plain facts are that he did refuse to play, that he timed this decision to cause most upset and embarrassment to Manchester City (perhaps it was premeditated, or perhaps he saw an opportunity caused by his wildly inaccurate assessment that Dzeko's actions and his own would be seen as the similar).
Mancini will undoubtedly now be backed by the board of Manchester City in banishing Tevez, I see no other course of action the club as a whole can take.
Tevez finds himself friendless at the club and in the media.
He is the focus of media attention now more than at any other time and, when you consider the problems he has had in the past at Corinthians, West Ham, Manchester United and previously at City, that is a remarkable feat in itself.
But the biggest problem for Tevez now is that he can, apparently, be fired by City whilst the club can also retain his registration, stopping him from playing elsewhere until a suitable deal is agreed.
He has, after all of his and Joorabchian's machinations, killed his own career in a way nobody expected.
After a couple of seasons bending to the ever increasing needs of Tevez, City have been provided with a get out of jail free card by the man himself.
I suspect that there is a considerable amount of panic in the Tevez household as he realises that this one cannot be easily fixed and, in fact that, it will likely cost him and his friend Joorabchain millions of pounds.
But it is also a nail in the coffin of Joorabchian's wider ambitions, as his own public statements concerning another City player, Nedum Onuoha will surely be revisited.
City have already asked FIFA to investigate Joorachian's involvement in player issues as he is not a licensed agent and, as such, cannot be directly involved.
So perhaps not only has Tevez queered his own pitch, but he has also dropped his friend in the smelly stuff as well.
All in all a great nights work for a wrecking ball.