Trevor Cahill's Struggles Leave the Oakland Athletics with Questions
September 17, 2011
Ezra Shaw/Getty Images
In 2010, just his second year in the big leagues, he was an American League Cy Young Award candidate and an MLB All-Star. With an 18-8 record, a 1.11 WHIP and 2.97 ERA, despite missing the first month of the season, there was talk of his bright future and of him being amongst the best young starting pitchers in baseball.
And after earning the Opening Day start to the 2011 campaign, the Oakland Athletics' Trevor Cahill appeared to continue where last season left off, catapulting to a 6-0 record with a 1.72 ERA through May 9. Gaudy numbers to be sure that were to foreshadow another spectacular year for the right-hander.
It looked as though Cahill had made that rather quick ascent into that elite level of starting pitchers.
Unfortunately for Cahill, the remainder of this season has seen a precipitous drop in his performance. Moreover, a deeper look at his numbers supports the notion that he has regressed tremendously from his remarkable sophomore campaign. The question has evolved into not whether Cahill has declined, rather how and why his decline has occurred.
The numbers alone speak for themselves. Including last night's 3-1 loss to the Detroit Tigers in Oakland, Cahill has an 11-14 record with a 4.31 ERA and a 1.44 WHIP. Shocking stats. But worst of all is his rapid plunge since that blistering 6-0 start. A deeper examination explains just how Cahill has accumulated such rubbish.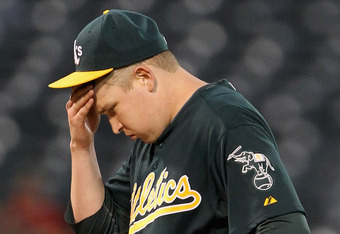 Ezra Shaw/Getty Images
The sinker-ball specialist has seen his bread­-and-butter pitch fall into an abyss. For some reason, the movement hasn't been as consistent as it was last year. And with teams having studied his scouting report more finely, they are more apt to be ready for it. Last year, opposing batters hit .220 against Cahill; this season they are batting .268. The strength of his sinker has definitely dipped.
This has led to a surprising slide of his overall accuracy. Though not exactly known for his pinpoint command, last year Cahill excused a respectable 2.88 walks per nine innings. This year he's seen that average crescendo to 3.71. His 88 bases on balls allowed are second-most in the American League.
Another sign that he's lost his grip on his control is his eight hit batsmen and 15 wild pitches, the latter being the second-most in the AL, too. He had only two wild pitches all of last season. This shows that his grasp of the curveball has also slipped a bit.
Despite the fact that he has allowed more baserunners, his sinker hasn't produced the easy outs that he did in 2010. After inducing 27 double-play grounders last year, Cahill has thrown only 14 such twofers this season. He certainly could use as much help as possible to get out of innings. But apparently baserunners simply are not staying put at first base, as he has allowed 27 stolen bases—fourth-most in the league.
All this work pitching from the stretch has lengthened Cahill's pitch count as well as hitters' comfort at the plate. Opponents are batting a rather robust .282 with runners on base, a tremendous display of coziness against the A's ace.
His stat sheet this season indicates that he simply is not fooling anybody the way he did last year. Though he will undoubtedly achieve a career-high in innings pitched, Cahill has only 19 quality starts in 32 starts for the season. His not going deep into ballgames indicates that he isn't exactly a victim of consistently poor run support.  
Again, these numbers are not overpoweringly monstrous. As far as big league pitchers go, Cahill isn't having the most rancid of seasons. Sadly, it's simply been an unexpected outcome for the Oakland Athletics' Opening Day starter. Nobody would have predicted that he'd be trending downward instead of upward, bottoming out in August with an 0-4 record and 7.15 ERA.
To be sure, it has been a regrettable year for the A's team as a whole. But one thing needs to be righted by the right-hander next season if Oakland has aspirations of assembling a competitive unit.
Whoever is manager next season—Bob Melvin or otherwise—will have to figure out how to get Cahill back to last year's form. Though this season was the first as the A's pitching coach for Ron Romanick, he has been with the club since '08, so Cahill can't blame new unfamiliarity for his training. The coaching staff needs to get the ace of their pitching staff back on track, or else people will wonder if 2010 was a fluke.
Hopefully for Oakland's sake, Cahill will be back to take the mound next year and be king of the hill again.