Should the Oakland Athletics Keep Bob Melvin as Manager Next Season?
September 15, 2011
Rick Yeatts/Getty Images
For the Oakland Athletics, it has been an anguishing and deplorable 2011 campaign, another in a seemingly everlasting stretch of rebuilding. What started out with hope, promise and division title dreams turned into a nightmare of injuries, clubhouse bickering and general disappointment. All this has equated to, worst of all, losing.
Nearly everything that could go wrong in a baseball season did, including and culminating in the firing of then-manager Bob Geren. Replacing in the interim is Bob Melvin, who inherited a team that was in the midst of a season-high 10-game losing skid.
Though an unenviable position to be in, Melvin's managerial experience made for a somewhat encouraging transition. In fact, many felt that despite the horrid stretch in May and June, bringing in a veteran like Melvin could induce a torrid 180 in the right direction for the remainder of the season. There was still hope.
Unfortunately for Oakland, replacing Geren with Melvin didn't prevent the team from bobbing up and mostly down throughout the remainder of the season so far. While the Athletics recovered from the in-house tumult leading up to Geren's dismissal, they did not recover from the lengthy injury list and pathetic performance that ultimately kept them from playoff picture. In the end, there were too many afflictions to overcome.
So as the season winds to a close, the Athletics brass has several personnel questions to ask internally regarding the team's future, not the least of which is, "What about Bob?"
Should Melvin be kept on as manager next year?
Yes, at the time that Geren was shipped to shore in early June, the A's had an insufferable 27-36 record. This meant his departure was not that surprising. In four-and-a-half seasons at the helm, Geren did not steer the A's to the postseason once, and he certainly was not meeting preseason expectations this year.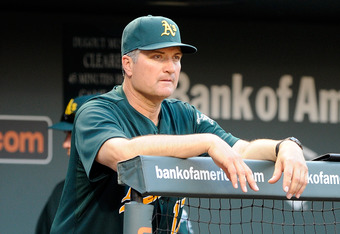 Greg Fiume/Getty Images
But since Melvin took over the reins, the A's have not done much better, going 40-46. With this negligible difference in records, it can be said that Melvin did not turn the team around and exhausted what remaining hope was left in the organization.
Still, there have been signs of life in the Athletics' performance not reflected in their overall record. And for the A's front office, they can look at several C's when considering Melvin.
Out of the gates, Melvin instilled consistency that had been lacking, ridding Geren's platoons, inconsistent batting orders and nightly carousel of outfielders. Without Geren's continuous shuffling of the players on the field and in the batting order, the offense began to click—a little bit.
The consistency was a breath of fresh air to certain players, notably designated hitter Hideki Matsui. Facing left-handed pitching as the now-everyday third-place hitter, Matsui saw a healthy number of at-bats, resulting in a .369 batting average for the month July.
It is this commitment to the personnel—specifically the veterans—that won over the clubhouse. Melvin consecrated to the abilities of his veterans to turn their performances around. He believed in Matsui's hitting versus left-handers, Conor Jackson's ability to play first base every day and Coco Crisp's flexibility within the batting order. And he stood by his decision-making, not over-adjusting if someone had a bad game. Through his commitment to his players, Melvin has shown that he is committed to winning as a team.
That's not to say that Melvin isn't candid when evaluating player performances when they do fail—which has happened often during Oakland's pedestrian 18-24 record since August 1. Despite having confidence in his club, Melvin has been honest in his assessment of their erroneous inconsistency.
In his defense, the team's league-worst defense is putrid and there have been several potholes that could not be sidestepped, including season-ending injuries to starters Dallas Braden and Brett Anderson. While Geren was ambiguous in interviews, Melvin did not hold back if his team played awfully.
His confident candor is honest when need be, instead of being politically correct. He's not here to win votes, rather to help his team improve. Sometimes the truth hurts, but honesty is the best policy.
Lastly, throughout this turbulent season, Melvin has remained positive, even cheerful at times. It's his encouraging and optimistic approach that has guided his players through this arduous stretch.
With the molding of several young players, Melvin's patient yet rigid approach has the A's believing in themselves, showing promise in short spurts. It's just a shame that there have been a litany of injuries to prevail over. But most often, Melvin has been poised about what he has seen, and he has expressed his desire to be here beyond the interim, stating, "I would like to be here long-term, and they know that."
There has been some positivity under his lead. The mix of youth and veteran experience has been a good mix for Melvin. But with an unknown future for the organization as a whole, nobody can be sure of what direction the team will take. All he can do is play out the rest of the season.
Still, has Melvin done enough to warrant a contract offer from the A's?