Arsenal FC vs. FC Barcelona: A Rewind to One of Arsenal's Greatest Matches Ever
September 3, 2011
Shaun Botterill/Getty Images
Arsene Wenger has been under a lot of criticism recently. It is my belief that people have been quick to forget what the French tactician is capable of. So let's rewind to earlier this year, for one of the greatest matches in the history of Arsenal Football Club.
February 16 2011. I will never forget that day. It was a misty, cool, overcast, California Wednesday. Arsenal were set to take on FC Barcelona at the Emirates stadium. Anyone who knows me and believes that I didn't skip class on that day would have to be the most naïve person on earth. The nerves building up to that game are something impossible to describe with words. We were going up against my most despised side in football. A year after they had knocked Arsenal out of the same competition, this Champions League match would show how far along we had come in a year.
I was wearing my long sleeved, Thomas Vermaelen jersey, who ironically had been out injured for most of the season. Sitting in my palatial 10 by 14 dorm room at CSULB, I was ready. The sound of the whistle blew me to the edge of my seat, where I would remain for two 45-minute intervals.
After a back and forth start, Barcelona were fired ahead by David Villa in the 26th minute. Here we go again. The nervousness, frustration, sadness and anger all mixed together to form an emotion I've yet to experience since. Halftime came, and I paced around my room, mumbling angrily to myself. Any normal person would have surely had me institutionalized. It'd be a lie for me to say that at that moment, I belonged anywhere else.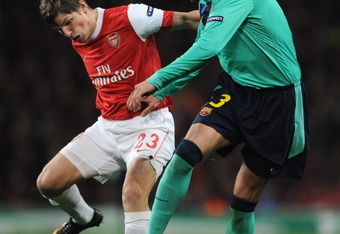 Jasper Juinen/Getty Images
The second half began, and back to the edge of my seat I returned. Barcelona always looked a threat. The way they play puts the fear of god into any opposition they face (unless your coach is a wizard graduate of Hogwarts…I'm looking at you Jose Mourinho).
Finally in the 78th minute, Robin van Persie scored, what I consider to be, the most important goal ever scored at the Emirates. An absolutely impossible shot, beating Victor Valdes at the near post down the left side. This prompted Dan Mason, host of the ESPN Soccernet Podcast, to tweet "If you don't buy a ticket, you can't win the lottery." A more accurate description of the goal would be impossible to come by.
Arsenal were level 1-1, but Barcelona had the all-important away goal. Surely, if Arsenal were to have any hope of making it through to the next round, they would need something more. Fast-forward to the 83rd minute. Is that Samir Nasri (curse his name) breaking down the right flank? It is! And wait, is that Andrey Arshavin finding space in the center of the box? Why yes it is! This next moment took place in slow-motion.
The ball glided across the box. My eyes wandered to see the tiny Russian in a pocket of space. If this were a game of FIFA, I would surely put away this chance. Right-Bumper Andrey! It will add finesse to your shot. The Russian curls the ball with the inside of his right foot. The highest of highs arrives as I leap out of my seat. The excitement that overcomes me is unreal. But my body is quickly overtaken by a "please god don't screw this up mindset." Arsenal were 2-1 up after the Russian fired a gorgeous shot around Valdes.
Arsenal would hold on to win 2-1, in the best game ever played at the Emirates Stadium. This magnificent display, which gave Arsenal supporters a belief in their squad, is one of the defining matches of Arsene Wenger's Arsenal career.
What Happened Next: Unfortunately, Arsenal would be unable to prevent Barcelona from going through after a 3-1 victory at the Nou Camp would see the Spanish side advance, and eventually, beat Manchester United in the finals of the competition.