Power Ranking All 32 Backup NFL Running Backs
September 2, 2011
Kevork Djansezian/Getty Images
In the fantasy game, backup running backs are like a free lottery ticket: no risk and high reward. While the majority of backups will toil away for 16 straight games with little fanfare or hype, every season produces at least a couple backs who come out of nowhere to emerge as stars.
Last year was as dramatic an example as any in NFL History, as Arian Foster, Peyton Hillis, LaDainian Tomlinson and Mike Tolbert all finished as top-20 backs.
This list attempts to rank all 32 backup running backs (according to the most updated depth charts) for fantasy purposes. Talent, level of involvement and upside were taken into account to formulate the rankings, which is organized by tiers named after shows currently on HBO's programming docket to indicate the level of affection, excitement, or distaste you should feel for each tier.
Six Feet Under
32. Bernard Scott, Cincinnati Bengals
Bernard Scott is stuck behind Cedric "25 carry, 75 yards" Benson, who is perhaps the only player fantasy owners have complained about being too consistent. The Bengals offense is going to be anemic this year, and I doubt Scott can take the pounding necessary to be effective when you're averaging 3.0 YPC against defenses that are sticking eight in the box on every play.
31. LaRod Stephens-Howling, Arizona Cardinals
Although Howling is backing up Beanie the Weenie in Arizona, the Cards will probably bring in a free agent RB like Clinton Portis before the start of the season. Furthermore, the Arizona backfield has been one of the least productive in the NFL over the past couple years.
30. Earnest Graham, Tampa Bay Buccaneers
29. Isaac Redman, Pittsburgh Steelers
Earnest Graham and Isaac Redman are stuck firmly behind every-down backs (LeGarrette Blount in Tampa Bay and Rashard Mendenhall in Pittsburgh), and there really isn't anything to get excited about with either one of them except for Graham's slight resemblance to Kimbo Slice and Redman's Chuck Norris-like effect on Steelers fans.
28. Kendall Hunter, San Francisco 49ers
27. Toby Gerhart, Minnesota Vikings
26. Javon Ringer, Tennessee Titans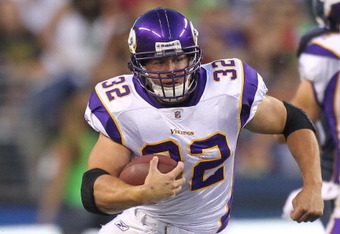 Otto Greule Jr/Getty Images
It's hard to imagine Hunter, Gerhart and Ringer coming within shouting distance of the numbers that Frank Gore, Adrian Peterson and Chris Johnson put up, even if the starter were to go down with a serious injury; the situations just aren't very good. I had Ringer higher on this list until Chris Johnson's recent signing, which took away what little upside he had.
25. Donald Brown, Indianapolis Colts
24. Cadillac Williams, St. Louis Rams
23. Justin Forsett, Seattle Seahawks
Brown, Williams and Forsett should all get a few carries even if Joseph Addai, Steven Jackson and Marshawn Lynch are healthy. But Brown is fighting off Syracuse product Delone Carter for the second string spot, S-Jax is one of the league's most durable backs and Seattle's offense is too bad for Forsett to hold any real upside...
22. Montario Hardesty, Cleveland Browns
Montario Hardesty is a hard one to rank—he has a great pedigree, the Browns offense is run-heavy and the O-line is underrated (Peyton Hillis' breakout season was no accident). If Hillis goes down, Hardesty will have serious value. On the other hand, Hillis doesn't strike me as the fragile type.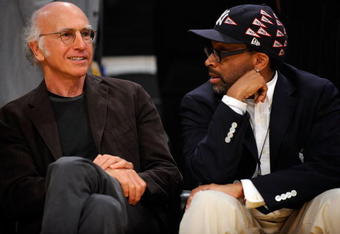 Kevork Djansezian/Getty Images
21. C.J. Spiller, Buffalo Bills
C.J. Spiller will get a solid portion of the carries (think a 60-40 split between him and Fred Jackson), and it wouldn't be a surprise if the electric second-year back takes over as the lead back by the end of the year. He's a classic post-hype sleeper candidate.
Curb Your Enthusiasm
20. Jacquizz Rogers, Atlanta Falcons
For the past two years, Jacquizz Rogers was one of college football's most exciting players at Oregon State. As the backup for the overworked Michael Turner, he is one injury away from being the featured back for an elite NFL offense. Rodgers' size means that he would yield some carries to Jason Snelling, but even 12-15 carries per game in this offense would make Rodgers an RB2. His pass-catching ability makes him potentially even more valuable in PPR leagues.
19. Ricky Williams, Baltimore Ravens
18. Marion Barber, Chicago Bears
Ricky Williams and Marion Barber are veterans, which is normally a nice way of saying that a running back is over the hill. But these two ex-Pro Bowlers could be in for solid seasons. Both will figure into their team's rushing attack, perhaps in a goal-line capacity (much to the chagrin of Ray Rice and Matt Forte owners). Should the two aforementioned backs go down, both Rasta Ricky and Marion the Barbarian would be capable starting running backs in standard leagues.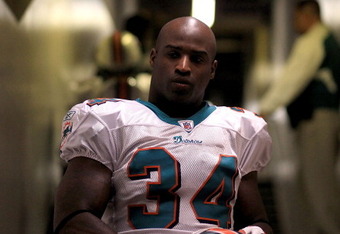 Ezra Shaw/Getty Images
17. Roy Helu, Washington Redskins
I'm not as high on Roy Helu as many analysts are. A popular sleeper pick, the pint-size Nebraska rookie has lots of fantasy owners excited. I'm not one of them; the Washington backfield is too crowded, Lucifer Shanahan is calling the shots, and Rex Grossman is the team's starting QB. Color me skeptical. 
16. Tashard Choice, Dallas Cowboys
15. Jerome Harrison, Detroit Lions
Both Choice and Harrison have the advantage of backing up two of the NFL's smallest, most fragile starting running backs. Felix Jones and Jahvid Best have medical histories longer than Suge Knight's rap sheet, and the chance of either one starting all 16 games is pretty slim. Both Harrison and Choice have flashed potential in their careers (ask any owner who played against Harrison in the 2009 fantasy playoff weeks), and both will probably have the opportunity to start a few games this year, which gives them the nod over Helu, Williams and Barber.
Eastbound and Down
14. Ronnie Brown, Philadelphia Eagles
13. Rashad Jennings, Jacksonville Jaguars
12. Ben Tate, Houston Texans
Brown, Jennings and Tate all find themselves in similar situations. All three backs have serious talent, play for teams with a solid running game, but find themselves firmly planted behind All-Pro running backs (LeSean McCoy, Maurice Jones-Drew and Arian Foster, respectively). Despite this, all three have serious upside.
Even if McCoy stays healthy, Ronnie Brown could have moderate value as a change-of-pace back, especially if Andy Reid chooses to employ any Vince Young-Ronnie Brown wildcat sets.
MJD's injury concerns have been well-documented, and if he misses any time then the speedy Jennings would become a solid starting option in most leagues. He averaged 5.5 YPC last year, and could have an expanded role in the Jags backfield.
Ben Tate has been a stud so far in the preseason, and looks to be the same player analysts deemed a major sleeper-pick a year ago. I've looked at Tate's value in the wake of the Arian Foster injury here.
11. Danny Woodhead, New England Patriots
10. LaDainian Tomlinson, New York Jets
Woodhead and LT are solid if unspectacular options at RB. Both will see a decent share of their respective teams' carries and will do most of their damage catching passes out the backfield. It's unlikely that either will end up winning your league for you, but they nevertheless offer a solid and dependable RB for your bench. Plus, if you draft Woodhead you'll get a running back and a salesman in the same package.
Big Love
9. Thomas Jones, Kansas City Chiefs
8. Michael Bush, Oakland Raiders
Jamaal Charles and Darren McFadden were two of the breakout stars of last season, establishing themselves as dynamic and exciting runners en route to gaudy YPC averages. The pair's meteoric rise through the fantasy rankings has killed the value of Michael Bush and Thomas Jones, who could both surprise fantasy owners this year.
Both of these powerful runners will have significant roles in their respective offenses and will surely be a thorn in the side of Charles and Run-DMC owners all year. Jones and Bush already have meaningful roles that warrant a bench spot, and their upside if Charles or McFadden were to go down is tremendous. Bush gets the slight nod because I'm not fully convinced by one healthy season from McFadden.
7. Brandon Jacobs, New York Giants
The Giants have a high-octane offense, and if Jacobs can run hard and stay out of Tom Coughlin's dog house, his goal-line prowess could make him a valuable fantasy commodity.
6. James Starks, Green Bay Packers
Starks ran very well down the stretch for the Packers last year, and he's probably the most explosive member of the Green Bay backfield. Ryan Grant is coming off an ankle injury that cost him the 2010 season, and there were rumors (although admittedly far-fetched) that the Packers were considering cutting Grant last week. Best case scenario for Starks is that Grant gets injured or Starks overtakes him as the starting RB; worst case is that he's mired in the lower half of a platoon. Considering Grant's Yahoo! rank of 37 and Starks' Yahoo! rank of 133, Starks is the Packers RB to own.
5. Pierre Thomas, New Orleans Saints
Pierre Thomas is a consistent back who knows Sean Payton's system, and if rookie RB Mark Ingram starts to struggle with pass-blocking or comes down with a case of fumble-itis (as rookie RBs often do), then Thomas will emerge as a great RB2 option.
4. Willis McGahee, Denver Broncos
McGahee is another veteran who figures to get most of the goal-line work for the Broncos. Knowshon Moreno has a bit of an injury history in his brief career, and his flashy running style makes him susceptible to injury.
3. Jonathan Stewart, Carolina Panthers
Stewart's value is often inflated, but his platoon partnership with DeAngelo Williams is one of the best in the league. If Williams goes down, Stewart would be an elite RB2; as it stands he is a solid flex play in deeper leagues. He gets the nod over Thomas and McGahee because he has a higher floor.
2. Mike Tolbert, San Diego Chargers
Tolbert's draft stock has skyrocketed over the past month, from the mid-90s all the way up to late-50s. The primary reason is Norv Turner's apparent dedication to a platoon, which was brought on by Ryan Mathews' poor preseason (more on Mathews here). A good pass-catching back who will handle the lion's share of the red zone work, Tolbert could again score 10-12 touchdowns and deliver a handsome profit to owners who pick him in the later rounds
1. Daniel Thomas, Miami Dolphins
Thomas has been the subject of much media scrutiny over the past two weeks, to the point where Reggie Bush now sits atop the Dolphins depth chart. The negative hype on Thomas has presented a nice buy-low opportunity, as I talked about in depth here. The rookie out of Kansas State is a big bruiser who will be the thunder to Reggie's lightning in Miami.